Hurry before you miss it… This year's Summer Exhibition at the Royal Academy [RA] closes on 16 August.
The RA was founded in 1768 to provide a voice for art and artists and the Summer Exhibition was initiated the following year with the primary purpose of funding the Royal Academy Schools. All the profits from submission fees and sales at the Summer Exhibition go directly to the schools; An independent art school which offers the only three-year postgraduate programme in Europe – There are no fees and bursary support is available to facilitate the production of new work.
The RA Schools has trained some of the UK's finest artists, from William Blake to 2013 Turner Prize-nominee Lynette Yiadom-Boakye.
The Summer Exhibition has taken place every year without exception since 1769 – that's nearly 250 years, 9 British monarchies, 43 US Presidents, 2 World Wars and more than 50 British Prime Ministers! It is quite simply the world's largest open entry exhibition; anyone can enter and all the works are chosen by leading artists.
This year, the exhibition has been co-ordinated by Michael Craig-Martin RA – a leading artist of his generation and the teacher who nurtured the talents of Gary Hume, Sarah Lucas and Damien Hirst. His distinctive creative vision has created room after room bursting with variety, colour and remarkable new work by leading and emerging artists – all handpicked from 12,000 entries.
The hanging committee includes Royal Academicians Norman Ackroyd, Olwyn Bowey, Gus Cummins (Rye Society of Artists) Jock McFadyen, David Remfry, Mick Rooney, Alison Wilding and Bill Woodrow.
Everything you'll see at the Summer Exhibition represents what is happening in the art world right now; New and recent art created by everyone from emerging artists to the biggest names in contemporary art and architecture. In the front courtyard, you will be confronted by the towering formation of steel ​'clouds', created by Royal Academician Conrad Shawcross, before ascending Jim Lambie's kaleidoscopic staircase to the Main Galleries.
Two Sussex based artists who have been selected to exhibit this year for the first time are Dani Humberstone SWA and Will Taylor SGFA.
Dani was born in London, but grew up in East Sussex. A member of the Society of Women Artists (SWA) for several years, she has recently been elected to the council and will now be supporting the President, Sue Jelley, alongside other council members, in matters relating to selection and organisational development.
Her current work is allegorical. She is interested in memory – personal & collective and the tip of the iceberg that represents consciousness verses the vast expanse of the unconscious.
Painting in oils, predominantly Old Holland Classic oil colour – using transparent glazes over opaque colour in order to creates intense levels of luminosity and depth, Dani often utilises the symbolism of ripe fruit to illustrate her narrative.
Fruit has been used metaphorically in art and language for centuries. It has helped illustrate Fairy Tales, Mythology, The Bible and Shakespeare. An apple in Renaissance painting was symbolic of ​'a fallen woman' and we still use fruit analogies to describe ourselves and our lives today.
Will is an artist and printmaker based in Rye, East Sussex. He is a member of the Society of Graphic Fine Art and the Rye Society of Artists.
He has regularly exhibited work across Kent and East Sussex and at major exhibitions in London since 2005.
He grew up in Liverpool and qualified as a Mechanical Engineer. After a first career in business consultancy for oil & gas companies, in 2001 he chose a dramatically different direction to become a full-time artist. He attended short schools at the Slade School of Fine Art London and Kent Institute of Art and Design Maidstone, but, is predominantly self-taught. His work explores traditional techniques in etching, pen, silverpoint and charcoal, and always contains a strong element of draughtsmanship.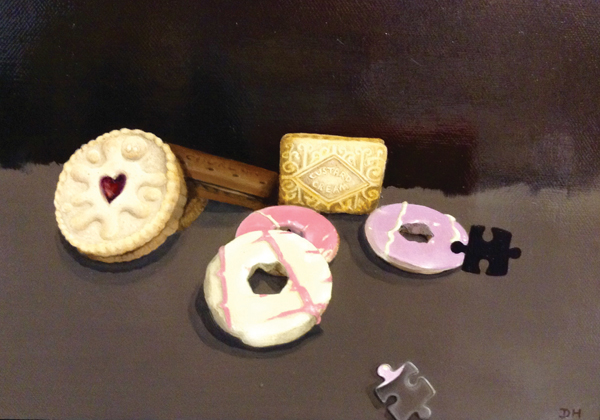 Dani Humberstone – Jigsaw: Biscuits SOLD!
Dani says of her selected work:
​"I am intrigued by the art and beautiful design of everyday objects, things we, on the whole, take for granted – especially iconic, memory jogging childhood foods, including; biscuits, sweets and fruit etc. – and then give them a (surreal) twist – alluding to the fact that things are definitely not always as they seem – the jigsaw imagery highlighting this thought.
I used transparent glazes over opaque oil colour, which creates a luminosity and depth, strong light and shade, giving the work drama. I also like to use elements of abstraction, landscape or line drawing to hint at a deeper narrative beyond the immediate image."
And of being selected:
​"Given that the general view is that this has been the strongest RA summer exhibition collection for some time, I was delighted to be selected and then further thrilled to discover my painting had sold even before the show officially opened to the public."
www​.dani​hum​ber​ston​eart​.com
Will says of his selected work:
​"My selected work is one of a series of works completed following an extended visit to India in 2014. This painting trip, accompanied by James Horton, President of the Royal Society of British Artists (RBA), explored Rajasthan's cities, villages, and country, experiencing serenity, sensational chaos and everything in between. The inspiring locations and working alongside some very talented artists helped me expand the boundaries of how I work. The result was a series of works in oils, watercolours and etching, some completed ​'en plein air' with the frenetic attention of locals, and others reworked in the calm of my studio upon my return.
Etching is a process that requires drawing the image with a needle onto a prepared copper plate. The plate is immersed in acid to eat into the drawn lines. The cleaned and carefully inked plate, faced with dampened paper, is run through a high pressure press to create an image or ​"impression" on the paper. Each impression is individually hand inked and printed, and the number produced is restricted, for reasons of quality and rarity, to create a " limited edition".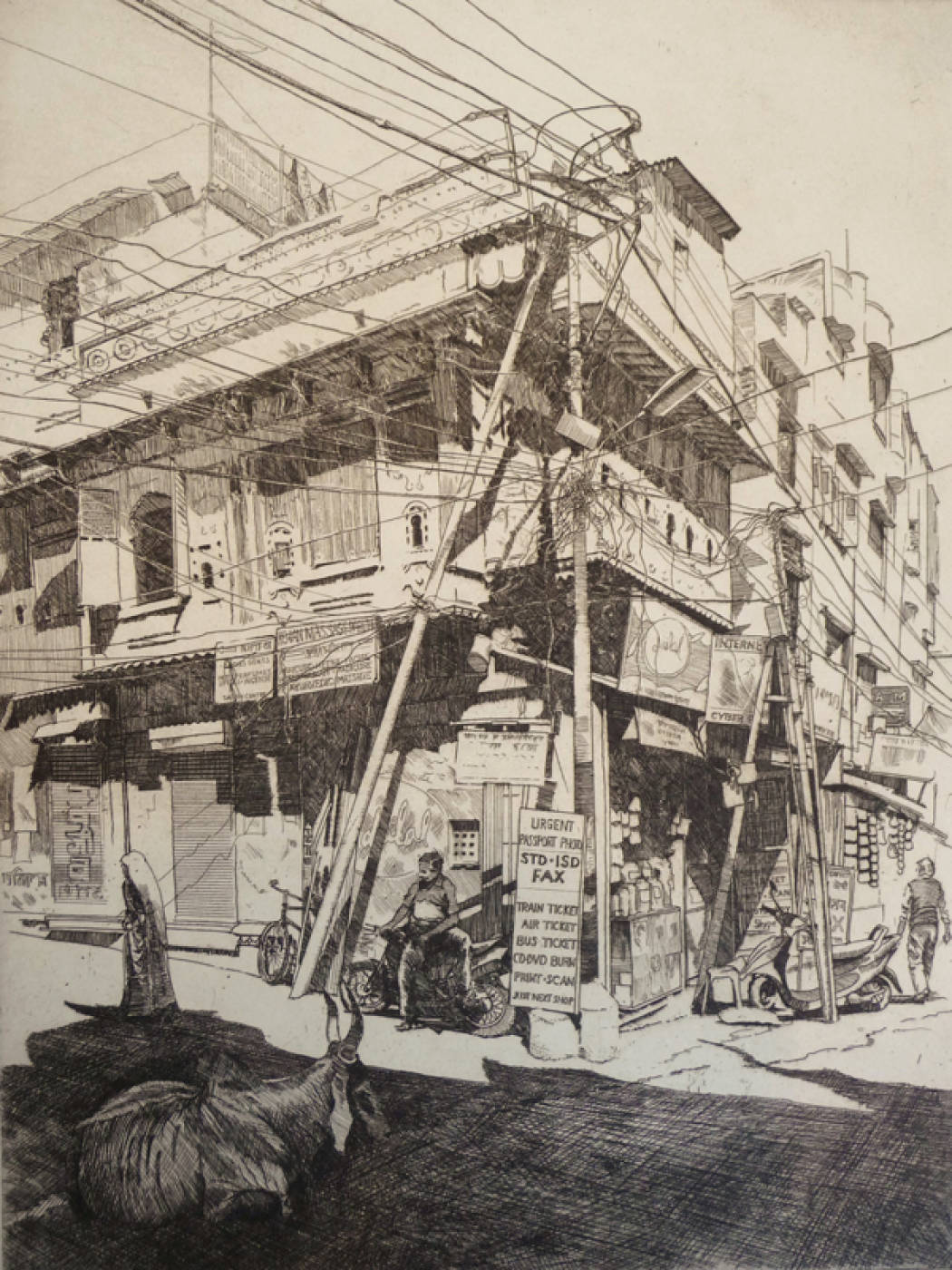 Will Taylor – Jagdish Chowk, Udaipur. Etching, Edition of 30
The actual production end of the etching process obviously requires specialist equipment, and my India etchings were created in the studio. Masters such as Whistler however have created astounding, vibrant prints by carrying heavy plates en plein air and using the needle direct from nature to create the image.
"Jagdish Chowk" is a celebration of pure etching, using only the drawn line to create tone and texture. Although a very traditional medium depicting a typical iconic Indian street scene, the delight is in finding references to the 21st Century internet, mobile phones etc. The harsh tangle of wires and motorbikes are subsumed into a lyrical view of Indian life".
www​.will​tay​lo​rart​.co​.uk
Varnishing Day
​'Varnishing Day' is a tradition of the Summer Exhibition. Officially it was the day in which artists could varnish their paintings before the official opening. Nowadays, it is a private viewing of the exhibition, in which artists, journalists and celebrities meet and discuss the paintings before the exhibition opens to the public.
Dani and Will attended this years Varnishing Day on 1st June. The day began with a steel band and a traffic-stopping procession down Piccadilly to St James's Church, where a special service for artists was held. Then all back to the Royal Academy for a party in the galleries and the first chance for ​'non-members' (exhibiting artists who aren't Royal Academicians) to see their work hung in the galleries.