"Mindfulness means paying attention in a particular way; on purpose, in the present moment, and non-judgementally" – Jon Kabat-Zinn
It can be easy to rush through life without stopping to notice much…
Paying more attention to what's happening in the present – to your own thoughts and feelings – can help improve your sense of wellbeing. Some people describe this awareness as ​"mindfulness".
Mindfulness can help us enjoy life more and understand ourselves better. Art is a great way to reconnect with the present, either as an observer visiting exhibitions and art events, or creating art individually or in supported and informal groups. The act of creating art can be very relaxing and calming and many artists offer retreats, workshops and classes alongside their professional practice to support the creative output and wellbeing of others.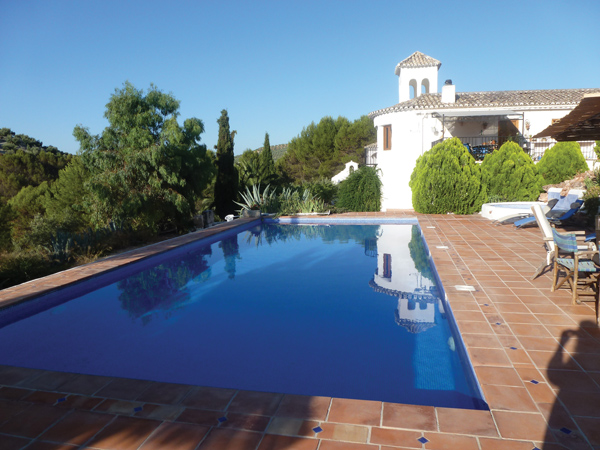 Cortijo Las Salinas, Jaen, Spain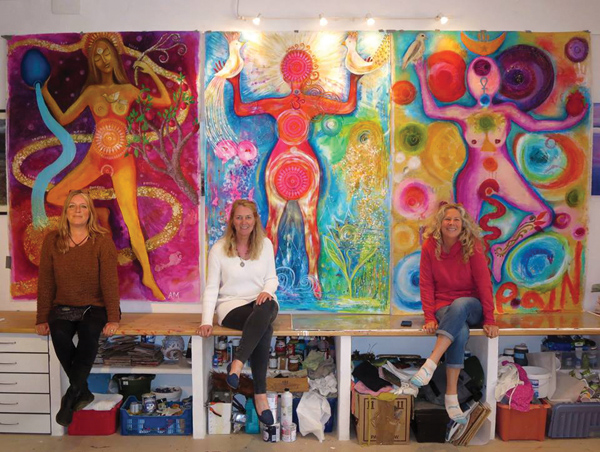 Goddess art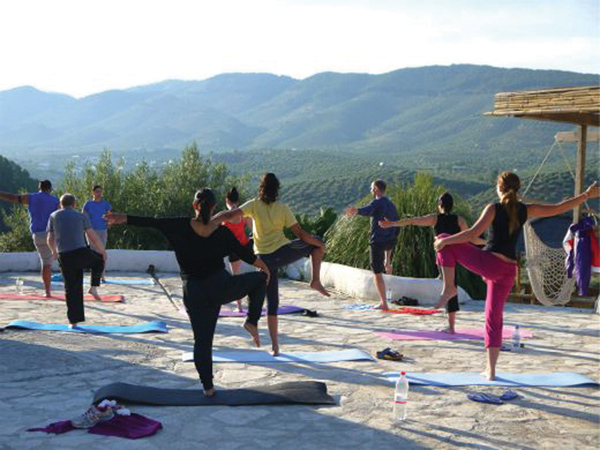 Yoga at Cortijo
Alice Mason Art and Retreats
​"The Seed" Retreat 1 – 8 October 2016
Artist Alice Mason runs holistic art, dance, creativity and yoga retreats in Spain and the UK together with Guest Artists. Full details of the forthcoming ​'The Seed' retreat can be found on her website:
www​.art​-retreat​-spain​.com
Always an explorer and dreamer, Alice has been a painter all her life and is deeply inspired by nature, mysticism, spirituality, mountains and primal landscapes. Her travels to Andalucia in southern Spain have been a great inspiration to her art, and she makes regular trips there. Alice has a B.A. Hons in Fine Art and regularly teaches Art and English as a foreign language: ​"I prefer to see myself as an art facilitator, rather than teacher, gently guiding you and drawing out your innate creative ability and passion".
The Spanish retreats take place in the beautiful and secluded Cortijo Las Salinas, Jaen, Spain. Prices quoted on the website include luxury accommodation (excludes flights and car hire), nutritious food eaten communally, art tuition and guidance, some dance (optional), creative writing, hiking, visiting historic sites and beautiful mountains. Reiki and yoga are also available at the Cortijo at an extra cost.
www​.cor​ti​jo​las​sali​nas​.com
E: alicemason64@​gmail.​com
T: 00 44 (0)1424 812550
Iashya Salih Mindful Art Retreats
Summer Mindful Drawing Classes
Following on from the success of her Soul Expression painting workshops, Iaysha Salih has created an engaging workshop to find calm and inner peace during our hectic lives:
"Mindful drawing classes not only help us to engage with our inner soul but also develop our drawing skills. The classes allow us to let go of our inner critic in order to find a more harmonious way of living, creating a natural flow in our daily lives." Iashya Salih
The workshops are suitable for anyone who has an interest in meditation and creating a sense of calm in their lives.
Suitable for all ages and abilities: No previous drawing experience is required.
Fore more information on classes please email iaysha@​iaysha.​com. Please quote Aspect County Retreats to receive 20% off your first class.
Carole Robson
Carole is a mixed media painter and qualified and experienced art teacher, working from her studio in Laddingford, Kent. Her paintings are driven by strong feelings about ecology and man's impact on the environment; her desire is to elevate nature's case and celebrate meadows and wild places.
Carole was brought up in a rural area of North Staffordshire. She moved south to study for her degree and post graduate qualifications at Central St. Martin's School of Art and subsequently free-lanced as a book illustrator for major London Publishers. She has worked on a wide variety of commissions and her illustrations are published worldwide.
Summer Watercolour courses
21 July – 2 Sept 2016
Every year Carole hosts a six-week summer watercolour course in two venues, Marden and Hildenborough. People join this course for many reason; some are quite ambitious about their art, others for company or just to take their mind off their problems. It is designed to be fun and very social as well as packed with great watercolour technique: ​"Bringing nature indoors, topics range from wild flower studies and meadows to the wider natural landscape." Carole Robson
If you are interested in reserving a place on a course please contact Carole directly via email: carolerobson.​art@​gmail.​com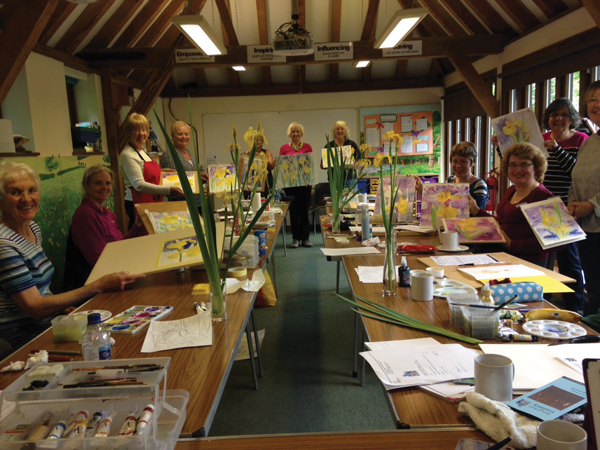 Happy with their morning's achievement! A group at Kent Wildlife Trust's, Tyland Barn in Maidstone.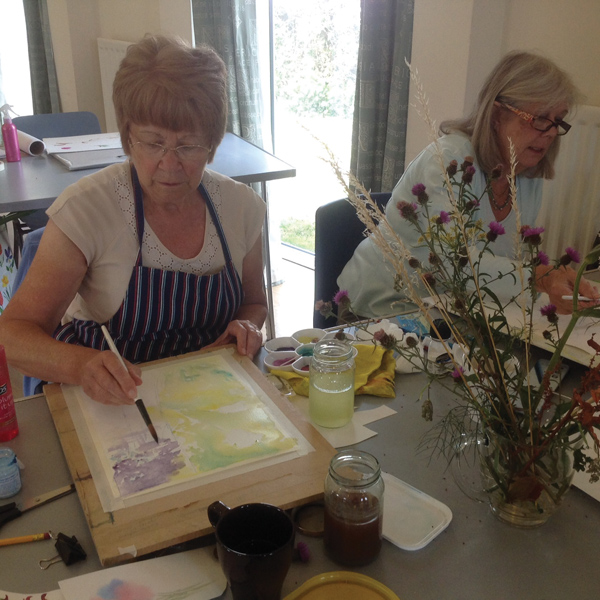 Chatting as they paint: two enthusiastic water-colourists, Mary Willoughby and Margot Lawlor.
Art Groups
Carole also offers one off and repeat, workshop sessions on location for art groups throughout Kent and Sussex. For further details and enquiries please visit Carole's website:
www​.car​oler​ob​son​.com/​c​o​u​rses/ or email her on: carolerobson.​art@​gmail.​com
Richard Heys
Summer Painting Course 16 – 19 August
Richard is an artist, teacher and lecturer. He principally creates paintings, but also works in the following media: drawing, printmaking and sculpture. Richard runs painting and drawing workshops and one-to-one art classes, and teaches the history of art to both children and adults. Every summer he runs a painting course in the beautiful surroundings of Emerson College, Forest Row, East Sussex. This year the course will run from 16 – 19 August and the theme is Landscapes of the Mind.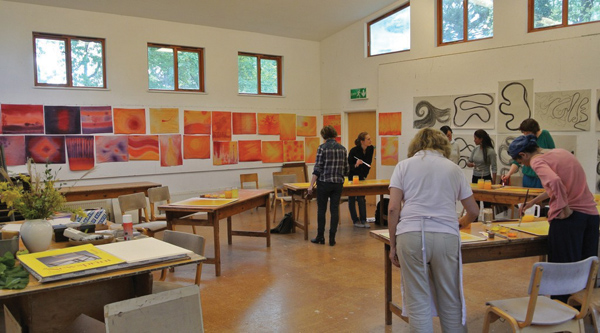 ​"Introduction to colour": Course at Emerson College, Forest Row. ​"We begin the process by following a meditative colour journey and capturing our imaginations in watercolour." Ian Heys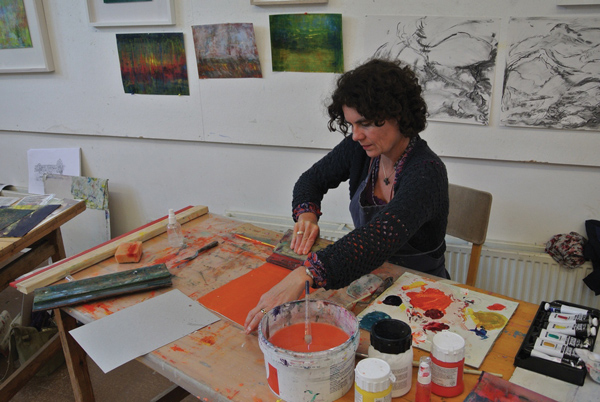 ​"Dive into Colour": Summer course at Emerson College, Forest Row, exploring layering acrylic colour with squeegee and brush.
For further details please visit the website:
www​.emer​son​.org​.uk/​e​v​e​n​t​s​-​a​t​-​e​m​e​r​s​o​n​/​i​t​e​m​/​l​a​n​d​s​c​a​p​e​s​-​o​f​-​t​h​e​-​m​i​n​d​?​c​a​t​e​g​o​r​y​_id=8
www​.richardian​heys​.co​.uk
E: richard@​richardianheys.​co.​uk
Twelve lessons in life from the Dalai Lama:
Be compassionate.
​"Have positive thoughts."
Be kind and help others. ​"Being kind and generous costs little and the benefits you gain in happiness are considerable."
Find happiness. ​"The purpose of our lives is to be happy"
Be self-disciplined as this is the best defence against negative emotions.
Discover inner peace. ​"The Dalai Lama advises everybody to spend a little time alone each day."
Do not harm others. ​"If you can, help others."
Be loyal. ​"Loyalty, trust and fidelity are the most valuable commodities in life."
Nurture your friendships. ​"Real friendships will never depend on money or political clout!"
Don't let technology rule your life.
Don't argue or fight; negotiate.
Be gentle with earth.
Learn from your failures. ​"When you loose, don't loose the lesson."