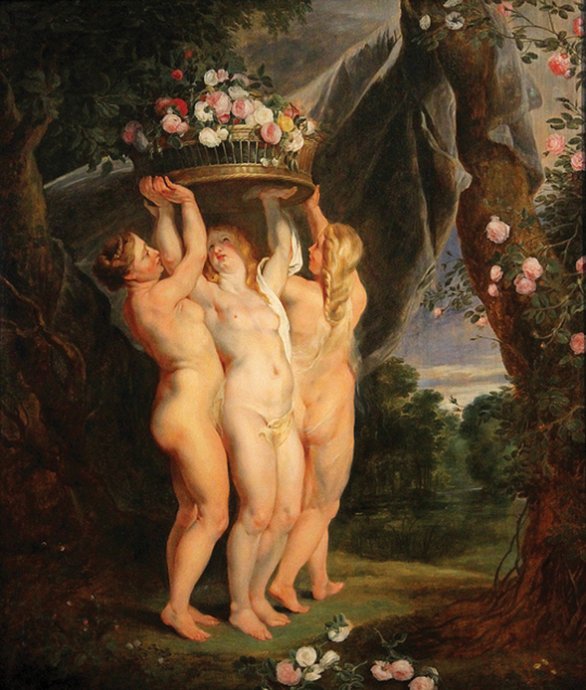 Baroque ​
'

n' roll!

This January sees the opening of the latest Royal Academy blockbuster; Rubens and his legacy: From van Dyck to Cezanne.

The exhibition opens on 24th January and aims to demonstrate that Rubens was regarded as the true master of his day, influencing the work of Europe's best-loved painters right up until the 20th century.

It includes a previously unseen Rubens painting. This remarkable discovery was made by the curator. During his research he spotted a misattributed work in the dusty corner of a dark gallery. Quite a find!

The exhibition also shows how quintessentially British landscape paintings, so in demand to grace the walls of stately homes at the time, including great works by Constable and Gainsborough, were directly influenced by Rubens.

Following on from my December article dedicated to the Baroque period, I thought this would be the perfect opportunity to take a closer look at three artists, associated with this era, in a little more depth.

Sir Peter Paul Rubens – 1577 – 1640
Rubens was a Flemish Baroque master painter and a proponent of extravagant baroque style that emphasized movement, colour, and sensuality. He is best known for his voluptuous nudes, documenting glorious ladies of a certain size with his distinctive brushstrokes.

Born on June 28, 1577 in Siegen, a German province of Westphalia, his Protestant-leaning lawyer father had relocated the family during the Counter-Reformation. Noting his son's lively intelligence, his father personally saw that he received a classical education. Rubens' mother, who may not have shared an affinity for the Reformation, moved her family back to Antwerp in 1567 after her husband's untimely death.

Rubens was a prolific artist. An attractive and well-educated man, he had a virtual lock on the portrait market in northern Europe. He was knighted, feted, grew fabulously wealthy from these commissions and died before he outlived his talent.

Aside form his portraits and self-portraits, Rubens most important and probably most well-known works include Massacre of the Innocents, The Feast of Venus (Kunsthistorisches Museum, Vienna), The Three Graces (Prado, Madrid) Adam and Eve in Paradise and the Judgement of Paris.

He is famously quoted as saying; ​"My talent is such that no undertaking, however vast in size, has ever surpassed my courage."

Anthony van Dyck – 1599 – 1641
Van Dyck was one of Europe's greatest painters. He spent over ten years as court painter to King Charles I, for which he received a knighthood. His works over this period certainly influenced the next 150 years of English portraiture painting.

van Dyck was a child prodigy. Starting his pupilage from the mere age of 10 years old under the pioneering Baroque painter Hendrik van Balen. Later he worked as the chief assistant to Rubens. Inspired by Rubens, van Dyck travelled to Italy to study the Italian masters, such as Titian.

He is almost as famous for his facial hair as his painting! The ​"Van Dyke", as it became known, consisted of any growth of both moustache and goatee with all hair on the cheeks shaven. This style was very popular in Europe in the 17th century. It died out in Britain however with the restoration, when French styles and wigs became popular.

van Dyck's important works include Portrait of a Woman and Child and Samson and Delilah.

Michelangelo Merisi de Caravaggio – 1572 – 1610
Caravaggio was an Italian painter living and working in Rome, Naples and Malta between 1592 and 1610. His paintings combine a realistic observation of the human state, both physical and emotional, with a dramatic use of lighting – chiaroscuro – the technical term used by artists and art historians to describe the use of strong contrasts of light and dark to achieve a sense of volume in modeling three-dimensional objects and figures.

Despite being described as the most famous painter in Rome during his lifetime, Caravaggio led a tumultuous life. He was notorious for brawling, even in a time when such behavior was commonplace, and the transcripts of his police records and trial proceedings fill several pages. He died in mysterious circumstances in 1610, reportedly of a fever, on his way to receive a pardon for a murder, which allegedly took place in 1606.

Caravaggio was forgotten almost immediately after his death, and it was only later in the 20th century when his importance to the development of Western art was fully recognized.

The 20th-century art historian André Berne-Joffroy is quoted as saying;
​"What begins in the work of Caravaggio is, quite simply, modern painting."
Important works by Caravaggio include Boy peeling a fruit (earliest known work), Bacchus, Fortune Teller, David and Goliath, Calling of Saint Matthew, Holy Family with St. John the Baptist and Saint Francis in Prayer.