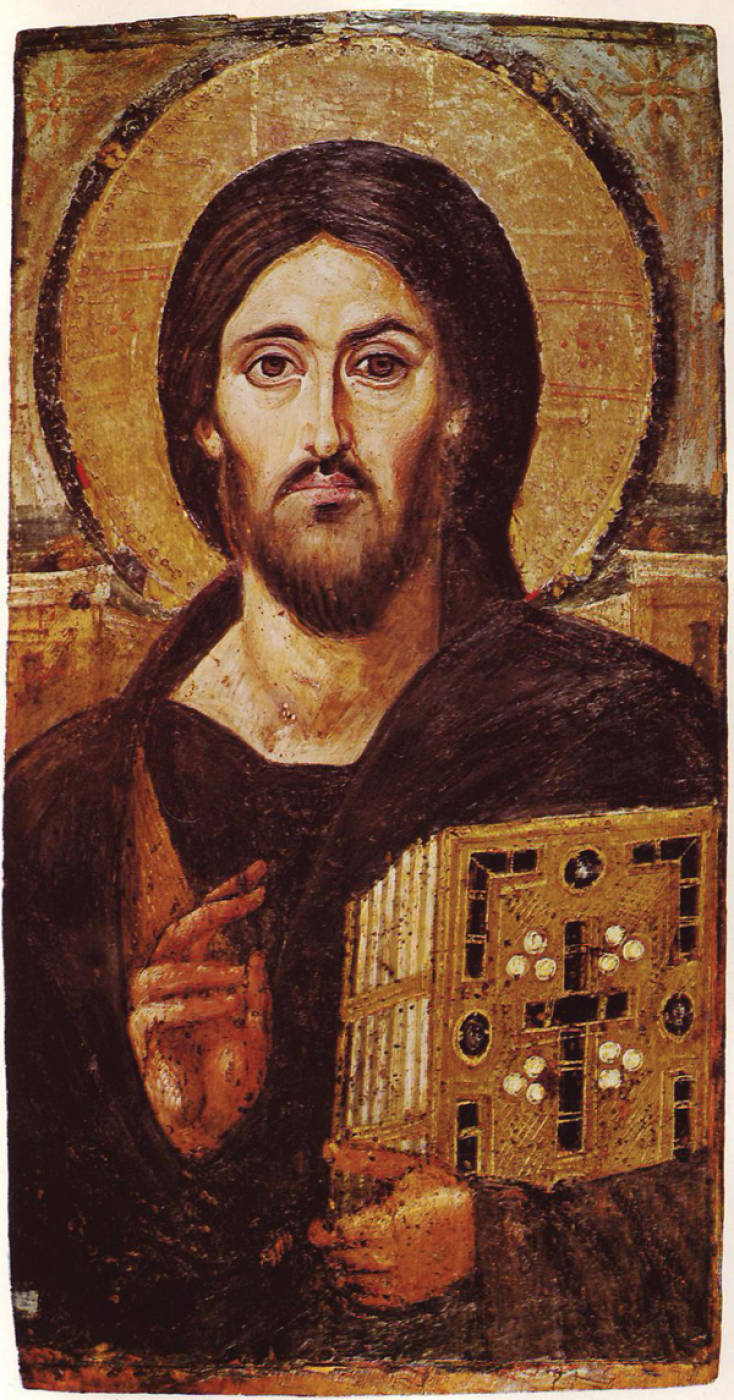 6th Century Icon depicting Christ
Byzantine art is the name for the artistic output of the Eastern Roman (Byzantine) Empire, as well as the nations and states that inherited culturally from the Empire.
Two events were of fundamental importance in the development of a unique, Byzantine art. First, the Edict of Milan, issued by the emperors Constantine I and Licinius in 313, allowed for public Christian worship, and led to the development of Christian art. Second, the dedication of Constantinople in 330 created a great new artistic centre for the eastern half of the Empire, and a specifically Christian one. The prominence of Byzantine art lasted well over 1000 years – a very deep and complex time in History.
Public works during the early Byzantine period included bronze statues, mosaics and churches, but it is the beautiful icon paintings that I will focus on for this article.
The word ​"Icon" means a devotional painting of Christ or another holy figure, typically executed on wood and used ceremonially; A ​'portrait' mainly painted or executed as a mosaic or a fresco. The choice of wood support was important, the most favoured being lime, alder, and cypress. The panel of wood was hollowed out in the centre to provide a raised border. It was then covered with a sheet of loosely woven canvas and treated with a mixture of gesso, powdered alabaster or ground chalk. This was applied in layers – dried – and then applied again until the artist was satisfied with the surface – approx. eight layers in total was normal.
Many materials were used to create Icons; ivory, enamels, gold and silver to name just a few. In the 6th century Icons were painted in a hot wax process known as encaustic. By the 8th century however, egg tempera (a painting process that uses egg yolk to bind pigment) had become the primary material.
Early Icon imagery was mainly Christ and the Virgin Mary, followed later by the Angels and the Saints. The icons were, for the most part, painted by Monks and housed in Monasteries. Colour was chosen for its symbolic meaning e.g. green and brown represented earth and vegetation; blue was a sign of heaven and contemplation; scarlet red for the blood of martyrs; deep red for the blood of Christ; white indicated purity, and the wide expanse of deeply burnished gold laid on as a background represented magnificence and signified time and space.
For several centuries people believed Icons had magical powers to intercede with God. As a result, veneration of Icons was banned by law by Leo 111; his successors also encouraged the persecution of those who venerated iconic images.
By the 12th century Icons were principally made up of two styles – one rather elegant though severe; the other vivid with expressive modulation and colouring.
In their many and varied forms, Icons can be seen as the primary influence and inspiration for many artists throughout the ages right up to the present day, especially those practising in Russia, Serbia, Yugoslavia, Greece, Romania, Istanbul, Poland and England.
One locally based artist who is heavily influenced and inspired by this most colourful period in art history is Pevensey based Mary Beaney. Having been totally blown away by an exhibition of Byzantine Art at the Royal Academy in 2009, she began a journey trying to emulate the beauty and colours of that period. Her subject matter is often motivated by family, heritage and ancestry.


Fractured Hero – Mary Beaney
What interests her as much as the subject, is the quality of the surface; of the support – be it paper, canvas or wood. She builds up the surfaces with glazes, sometimes employing the impasto technique (paint laid on to a surface very thickly with a brush or palette knife, so the strokes are clearly visible) – often scraping back and reworking the surface, which has been applied in the first instance with polyfilla, glue, tissue paper etc. The ​'gold edged frame' is an integral part of the painting.
Mary says that a major element of her work is the attempt to create atmosphere and emotion with the subtle use and blending of rich colours and she aims to balance a moment in time past with the contemporary of today.
Brighton based Dagmara Rudkin is a mixed media artist, designer and art tutor from Poland, whose work is often inspired by Catholic icons and imagery, European mythology, folk art, feminist art and expressionism. She combines semi-precious materials like gold and silver leaf with scraps of old dried-up paint, roughly sewn fabric, chicken wire, plastic gems and found objects to create sensual delicate lace-like areas of paintings. Darker roughly handled broody passages that are reminiscent of nest's, womb's, doorway's, cave's or cocoon's are also depicted.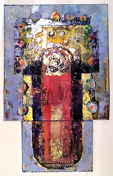 Harpy Guarding – Dagmara Rudkin
Her paintings are poetic, gaudy, witty, and richly embellished and are a contemplation and a celebration of the rites of passage told by European mythology.
Sue Barnes lives and works in the South Downs in East Sussex.
Her work takes inspiration from the natural world, from memories, dreams and folklore and to some degree Byzantine icons. Recent work has been drawn from old family photographs and the memories and connections she sees in them. Sue exhibited as part of Art and Soul at Falmer, where artworks are displayed within Falmer Church and Village Hall.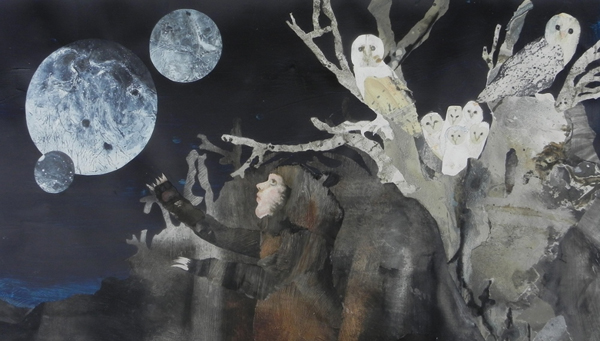 Little Bear and Owls – Sue Barnes
Featured artist forthcoming exhibition
ART ON THE RIVER COMING OF AGE EXHIBITION
at Haven Farm, High Street, Pevensey, BN24 5JU
4th, 5th, and 11th, 12th, and 18th, 19th and 25th, 26th July, 2015
OPEN: 11.00am to 5.00pm
Mary Beaney set up Art on the River at Haven Farm 21 years ago! Making this a very special year indeed.
Mary will be opening her house for the very last time this year. The walls of nearly every room will be dripping with quality artwork at affordable prices. ​"Saving the Best till Last" – showcasing the work of approximately18 talented artists who have exhibited with Mary over the preceding 21 years.
Mary is very proud of the success many past exhibiting artists have gone on to achieve. Among those exhibiting will be renowned Australian colourist David Armitage, who recently had a knockout retrospective exhibition at the Birley Centre, Eastbourne; Award winning artist Sue Barnes; Kris and John Powley who recently exhibited at the Royal Academy Summer exhibition; Talented ceramicist Julie Snowball.
Exhibiting artists list:
Ceramic Sculpture – Michele Findlay, Samuel Paradella, Julie Snowball
Wildlife Photography – Adam Beaney,
Paintings in Oils – Kate Penoyre, John Powley
Watercolour Paintings – on canvas and paper – Angie Perrin, Kate Sayers,
Mixed Media – Rae and Viv Cecil, Anthony McIntosh, Ben Ecclestone, Gill Emslie RIP, Mary Beaney, David Armitage, Sue Barnes, Kris Powley
Mary was co-founder, alongside Michele Findlay, of Chalk Gallery, Lewes, which is also celebrating its 10th anniversary this year with a showcase exhibition in October at the Towner, Eastbourne.
www​.arton​theriv​er​.co​.uk
​"www.chalkgallerylewes.co.uk:http://www.chalkgallerylewes.co.uk
​"www.townereastbourne.org.uk:http://www.chalkgallerylewes.co.uk