Art is not always about pretty things. It's about who we are, what happened to us and how our lives are affected… – Elizabeth Broun
With the on going conflict in the Middle East, seismic impact of the recent Brexit vote here in the UK and the bitter and divisive discourse surrounding the recent presidential elections, which ultimately led to billionaire business man Donald Trump being elected 45th President of the United States, we are currently living through a period of intense political and economic turmoil. We thought therefore, for this mid winter edition, we would make an attempt at grappling with the thorny subject of art and politics.
All art is political in that it engages society in some way, either influencing it or influenced by it. But some artists and artworks speak more directly to concerns relating to human rights, corruption, class and the distribution of wealth and/or power – not every artist is moved by beauty and love! Others do not start out with the preconceived notion of making a political statement but cause a stir none-the-less, due to their chosen genre, medium, location or timing.
If this all sounds confusing, that's because it is. But that reflects the culturally dynamic times we live in! So where to start…? Banksy's Dismaland, Damien Hirst's ​'Natural History' series depicting animals (various) in formaldehyde or Ai Weiwei's sublime porcelain Sunflower Seeds…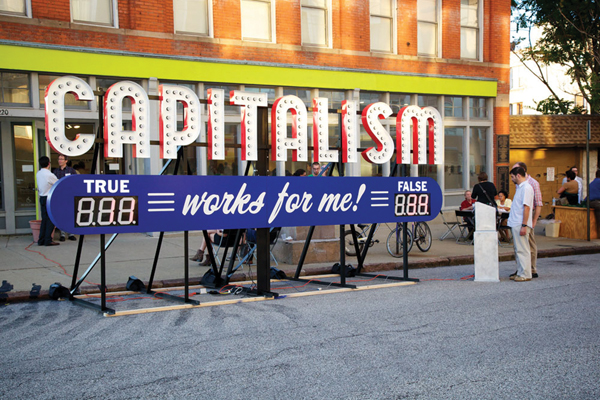 One work that particularly stands out for me at this moment in time is ​"Capitalism Works for Me!," by Steve Lambert.
Created in 2011, the title of the work, Capitalism Works for Me!, isn't cryptic at first glance. In fact it seems quite direct. The piece is constructed of a huge LED sign blaring the words of its title flanked by scoreboards that register ​"True" or ​"False" responses from audience members. The power of the artwork however does not lie in the physical piece itself but in the audience responses. It is a conversation starter: The audience are asked to describe ​"what capitalism means for them". This can prove highly provocative: it's a bit like walking up to a complete stranger and asking them ​"Can I talk to you about Jesus?" The word ​"capitalism" is a red flag. And for good reason — pretty soon either some dude is talking your ear off about ​"The System" or aggressively confronting you about taxes (Steve Lambert). First launched on Kickstarter, Lambert has toured Capitalism Works for Me! to over 20 cities in Europe and North America since 2011, including a spot in Times Square, NYC in 2013. It debuted in London in 2015 and its most recent outing has been in Texas, USA.
Click here to watch a selection of people's responses:
Click here to read more about this project: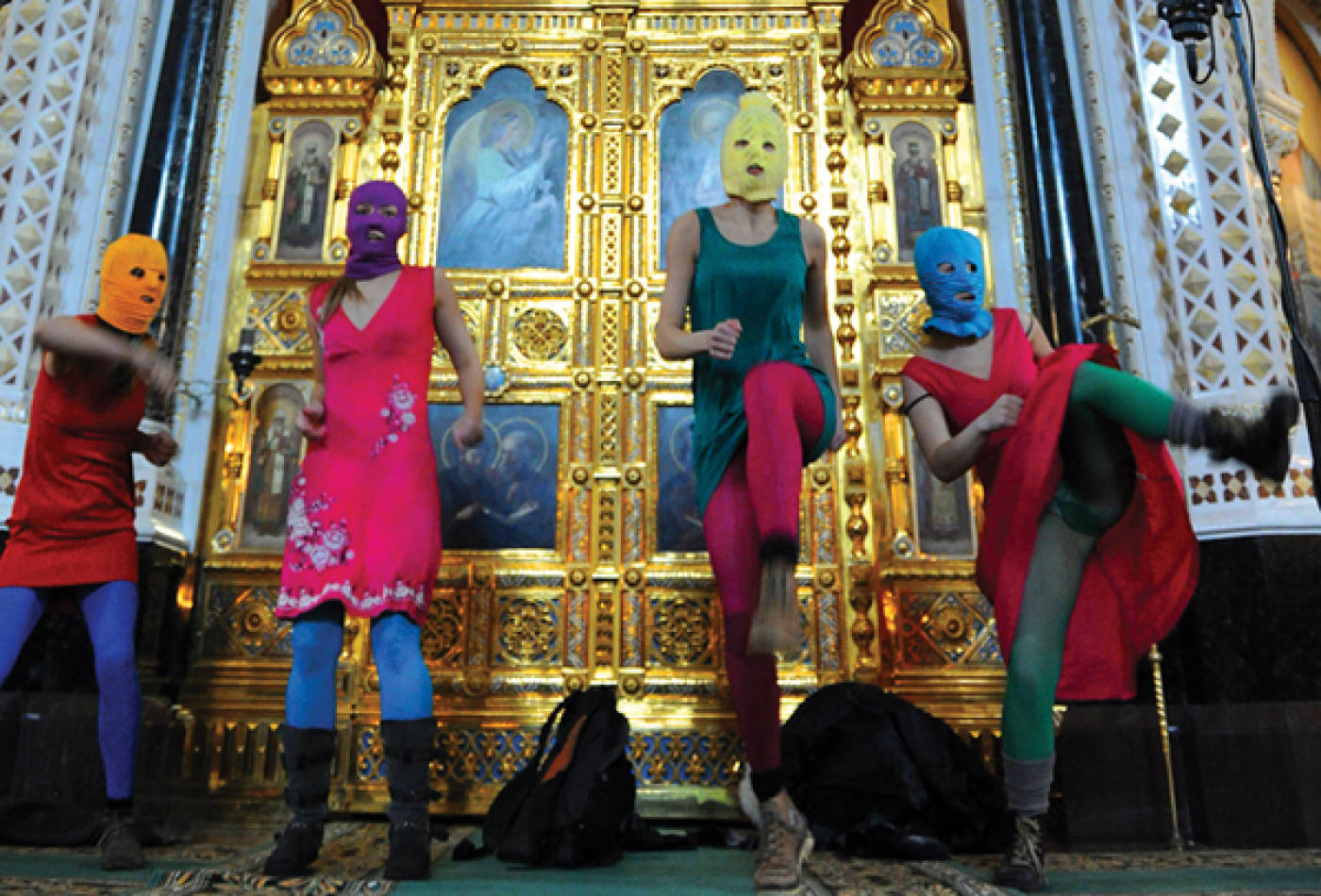 Another stand out political work of our time has to be the Royal Moscow Cathedral Performance by Pussy Riot. The Russian feminist protest group formed in 2011, made headlines around the world in 2012 after their 40 second performance in Moscow's Christ the Saviour Cathedral explicitly exposed their derision towards the relationship between Russian President Vladimir Putin's régime and the Russian Orthodox Church. The group's actions were stopped by church security officials and on March 3, 2012, two of the group members, Nadezhda Tolokonnikova and Maria Alyokhina, were arrested and charged with hooliganism. A third member, Yekaterina Samutsevich was arrested on March 16. On August 17, 2012, the three members were convicted of ​"hooliganism motivated by religious hatred" and each was sentenced to two years' imprisonment, however, on October 10, following an appeal, Samutsevich was freed on probation and her sentence suspended. The sentences of the other two women were upheld.
The trial and sentence attracted considerable criticism especially from the West and human-rights groups including Amnesty International, which designated the women as prisoners of conscience, subsequently adopted the case. Having served 21 months, Tolokonnikova and Alyokhina were released on December 23, 2013. In February 2014, a statement was made anonymously on behalf of some Pussy Riot members stating that both Alyokhina and Tolokonnikova were no longer members. However, both were among the group that performed as Pussy Riot during the Winter Olympics in Sochi and Tolokonnikova played the role of Chaika in their 2016 protest song/video ​"Prison is a weapon".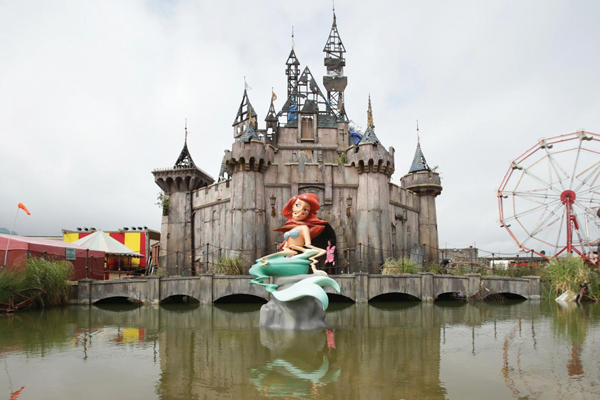 Dismaland ​
"

Bemusement Park!"
– Weston-super-Mare by Banksy

Dismaland was a temporary art project, organised by street artist Banksy in the seaside resort town of Weston-super-Mare, Somerset. Prepared in secret, the disused lido ​'Tropicana' was turned into ​"a theme park not suitable for children!" Dismaland opened during the weekend of 21 August 2015 and closed permanently on 27 September 2015, 36 days later.

Dismaland bore all the hallmarks of a Banksy, from its themes of apocalypse, anti-consumerism, and pointed social critiques on celebrity culture, immigration, and law enforcement to the secrecy surrounding its installation, opening and subsequent abrupt closure.

The exhibit had a mixed reception from critics. Jonathan Jones of the Guardian found it depressing: ​"brings together a lot of bad art by the seaside." Where as Dan Brooks in The New York Times was critical of the easy sarcasm. The public however loved it, with many prepared to queue for hours each day for one of the 500 daily walk-in tickets. It also brought in 150,000 visitors from around the world, boosting the local economy of Weston-super-Mare by some £20m.

To view the trailer for this project: click here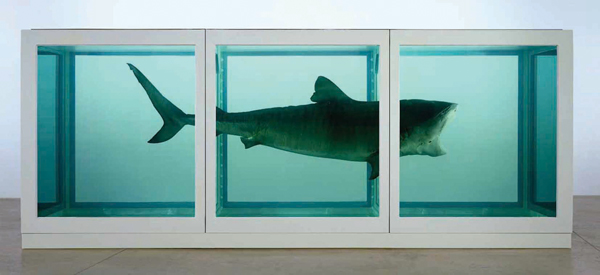 The Physical Impossibility of Death in the Mind of Someone Living,
1991

by Damien Hirst

'The Physical Impossibility of Death in the Mind of Someone Living' has become embedded in popular culture as one of the most iconic images of contemporary art. Conceived by Hirst in 1989 whilst at studying at Goldsmiths, the ​'Natural History' series work consists of a thirteen-foot tiger shark preserved in a tank of formaldehyde, weighing a total of 23 tons. The shark is contained within a steel and glass vitrine three times longer than high and divided into three cubes.

According to the artist, the title was, ​"just a statement that I had used to describe the idea of death to myself". Thought of prior to the sculpture, it was taken from Hirst's student thesis on Hyper reality and the work of Robert Longo and Umberto Eco. Hirst recalls liking the title's poetic clumsiness because of the way it expressed, ​"something that wasn't there, or was there".

Subsequent ​'Natural History' works have included; Mother and Child (Divided), depicting a cow and calf bisected and preserved in four tanks of formaldehyde and Philip (The Twelve Disciples), a bulls head in formaldehyde. Mother and Child (Divided) is a key early work, first exhibited as part of the ​'Aperto 93' Venice Biennale exhibition. It subsequently formed the focal piece for the 1995 Turner Prize won by Hirst.
Damien Hirst will return to Venice in 2017 with his latest project, which has been 10 years in the making. It will be exhibited across both Pinault collection Venice museums; Punta della Dogana and Palazzo Grassi, highlighting the longstanding relationship shared by the artist and the Pinault Collection.

To read more about Damien Hirst: www​.damien​hirst​.com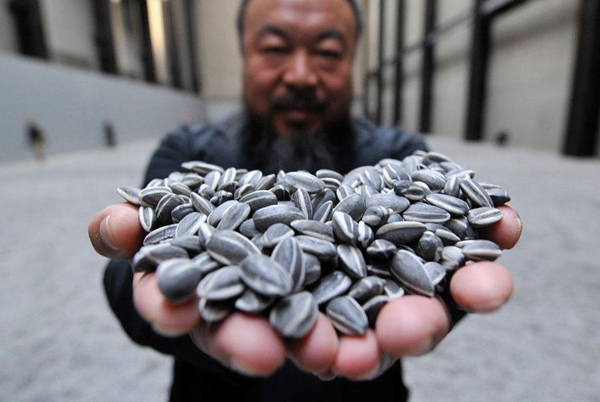 Sunflower Seeds by Ai Weiwei
Exhibited in the Turbine Hall at Tate Modern 2010 – 2011, Ai Weiwei's Sunflower Seeds installation was made up of millions of small works, each apparently identical, but actually unique. However realistic they may have seemed, the life-sized sunflower seed husks were in fact intricately hand-crafted in porcelain.
Each seed had been individually sculpted and painted by specialists working in small-scale workshops in the Chinese city of Jingdezhen. Far from being industrially produced, they were the effort of hundreds of skilled hands. Poured into the interior of the Turbine Hall's vast industrial space, the 100 million seeds formed a seemingly infinite landscape.
Sunflower Seeds invited us to look more closely at the ​'Made in China' phenomenon and the geo-politics of cultural and economic exchange today, posing challenging questions such as: What does it mean to be an individual in today's society? Are we insignificant or powerless unless we act together? What do our increasing desires, materialism and number mean for society, the environment and the future…? Questions which have proved a recurring theme through out his work; reflecting Ai Weiwei's own lived experience as a child refugee, family in exile and political detainment.
Ai Weiwei's latest work is currently showing simultaneously across four gallery spaces in New York: ​"Roots and Branches" can be viewed at Mary Boone and Lisson Gallery; ​"The Laundromat" displaying clothing left behind after the forced evacuation of the Idomeni refugee camp, on the border of Greece and Macedonia is on show at the Deitch Projects in SoHo.
To read more about Ai Weiwei's sunflower seed project and see images: Click here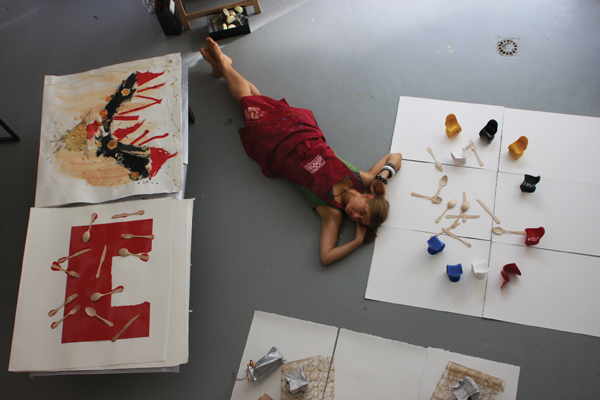 Closer to home a contemporary artist with a strong political message running throughout her art practice is Russian born svetlana k‑Lie. From photography to sculpture she juxtaposes memories of her childhood growing up in the former Soviet Union in stark contrast to contemporary western culture. Significant works include The Last Supper, Sleeping Beauty and Pigs.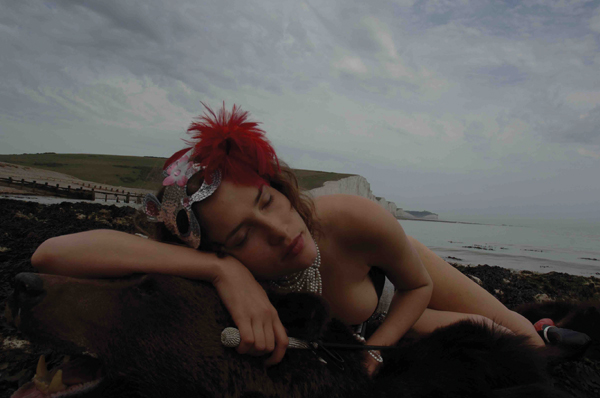 Born in Moscow, Svetlana was originally set on a path to become an Olympic gymnast, however everything changed for her at the age of 10 when a rubber landed on her head! This chance encounter led her to discover an artist's studio, which so enchanted her it changed the direction of her life forever. Svetlana now lives in Brighton, but spends much of her time travelling the globe in pursuit of her art.
Talking about her personal motivation, Svetlana says ​"I do not consider this life the only one. Naturally, there is always a beginning and an end to everything but in the global sense of the word it is an ​'eternal' process; the experience of reincarnations, of universal births and deaths."
Svetlana was shortlisted for the prestigious Threadneedle prize in 2011 and in 2012 undertook an art residency at La Cite Internationale des Arts, Paris, France.
To read more on Svetlana K‑Lie please visit her website:www​.svet​la​narts​.com
Top five exhibitions to visit in London in December
Royal Academy, Piccadilly
Abstract Impressionism until 2 January 2017
www​.roy​ala​cad​e​my​.org​.uk
Tate Modern, Turbine Hall, Bankside
Hyundi Commission: Philippe Parreno: Anywhen until 2 April 2017
www​.tate​.org​.uk
The National Portrait Gallery, St. Martins Place
Picasso Portraits until 5 February 2017
www​.npg​.org​.uk
Halcyon Gallery, New Bond Street
Bob Dylan 5 Nov – 11 Dec 2016
www​.hal​cy​on​gallery​.com
Rebecca Hossack, Conway Street
Alasdair Wallace: Ache the Good Ache 1 – 23 December 2016
www​.rebec​c​a​hos​sack​.com
www​.purearts​group​.co​.uk
Facebook
@purecontemporary