Articulate – February

2016
"You don't take a photograph, you make it." – Ansel Adams
Following on from our January edition, focused on the burgeoning trend towards the handmade/designed, for February we look at two more locally based artists who take a mixed media approach when creating their artwork.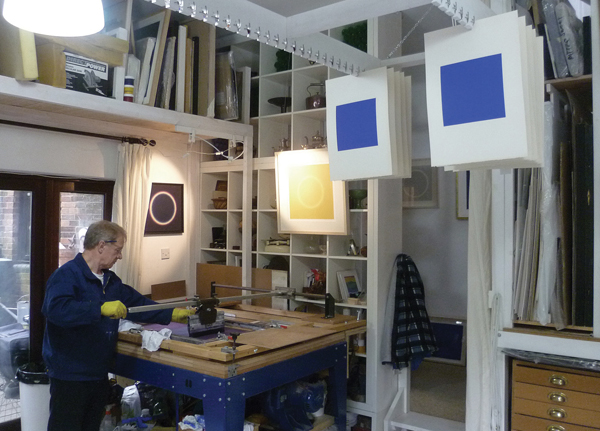 SHELLEY ROSE
Shelley is an award-winning Kent based artist who has embraced a range of media as vehicles for his artistic expression. In his studio, abstract silkscreen works sit alongside still life, landscapes and sometimes surreal, photography. Accepted into the prestigious Royal Academy's Summer Exhibition no less than seven times, one of his silkscreen prints ​"Move to White" has also just been acquired by the British Museum for their National Collection of Western prints and drawings and will be exhibited alongside works by Michelangelo, Goya and modern day artists David Hockney and Norman Ackroyd.
A former teacher at Goldsmith College and Central St. Martin's in London, Shelley sees drawing as providing the critical underpinning to any fine art practice. ​"It was this ability that set me up. It's an absolutely necessary skill." He feels art should be about practice in forming a style to translate ideas, with drawing being a first priority.
Judged the most promising student of the year at the college he attended in Braintree gave Shelley the opportunity to become a printmaker with the distinguished artist Michael Rothenstein R.A. Shelley learned to think ​"outside the box" and tells a great story of how Michael achieved a superb print by taking a bark-edged plank and restoring the grain of the wood by using a wire brush. This was then inked and a filter paper was laid over it. This in turn was protected before he persuaded his friend Sir Frederick Gibberd RA to drive his Rolls Royce car over it to produce the final print. ​"That" said Shelley ​"was definitely thinking outside the box."
Shelley has fully embraced the thinking ​"outside the box" concept with his photography based digital artwork. If you think once you press the shutter on a camera the print that ensues is the end, Shelley will make you think again. He uses the camera to create still life compositions in the style of the Old Masters, then enhances these photographs using modern technology. In this way he makes everyday objects take on an intriguing and surreal ambience. Simple fruit is portrayed to emphasise the great beauty in humble objects, questioning how we perceive objects in space and time. The play with illusionary elements like unconventional lighting, forced perspective and juxtaposed objects characterises his work.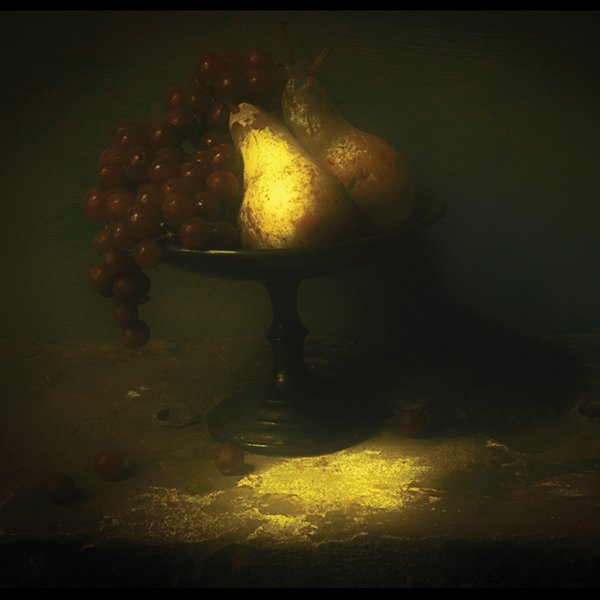 Pear Compote by Shelley Rose
These prints are created by making up a stretched canvas panel. Then gesso bologna is mixed and applied to the canvas with a spatula to achieve a structured surface. Once the still life image is printed onto the panel the artwork is finished with a satin varnish coat. This innovative technique is particularly suited to the atmospheric subject matter and results in a unique series of limited edition prints with a heightened brilliance of colour.
Diners at the Curlew Restaurant, Bodiam will be able to see this for themselves for the three months between February and April, when approximately fifteen of his works will be on display as part of his artist residency, organised by Pure Arts Group Managing Director Lesley Samms. It will also be a nostalgic place for Shelley's work because the first ever drawing in his sketchbook was a black and white pencil sketch of a Curlew.
Text based on a PURE commissioned interview by writer, reporter and producer John Bird.
www​.purearts​group​.co​.uk
www​.the​curlewrestau​rant​.co​.uk
Open Tuesday to Sunday
Telephone: 01580 861394
Email: enquiries@​thecurlewrestaurant.​co.​uk
MARY BEANEY
The latest exhibition by the formidable talent that is Mary Beaney, is entitled ​"Emotions" and runs between 14th February and 6th March at the Lily Clifford Gallery, Eastbourne. In this exhibition, Mary presents artworks based on past memories; digging deep into her past and using members of her family as the starting point to depict emotion.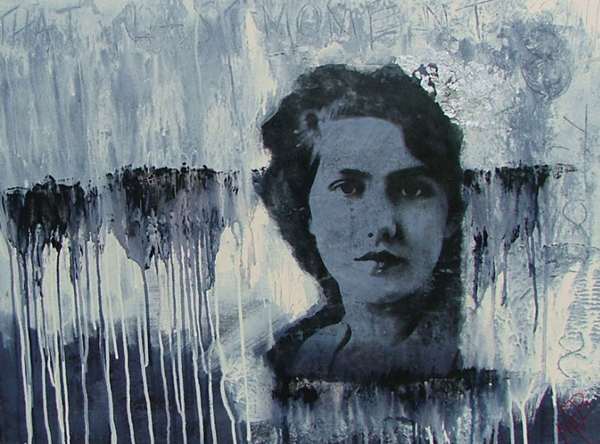 That Last Moment by Mary Beaney
Based in Pevensey, Mary's work is always full of texture, created by mixed media from acrylic paint, polyfilla, glue, tissue paper, bleach, ink, salt, sand, tea, coffee, through to gold and silver leaf, which expresses the richness and passion she feels. It has been said that Mary's works are strongly connected with her inner emotions and secretly kept memories – a personal bridge giving the viewer a way to see through her window. She bravely mixes new techniques and materials; the result is always intriguing and emotional.
Lily Clifford Gallery presents a diverse range of cutting edge work by a global portfolio of artists; something normally only associated with a London Gallery.
www​.lily​clif​fordgallery​.com
Email: info@​lilycliffordgallery.​com