Today's digital era, or fourth revolution as it is sometimes referred to, challenges organisations to not only follow the technological trajectories, but also to become creative and resilient organic systems that are open and adaptable to change. To be successful organisations have therefore developed a need to shape a creative environment in which technology and creativity are fully integrated and intertwined, enabling people to discover and express their creative potential.
All of which is excellent news for artists, as it provides a myriad of new and exciting opportunities for them to develop and exhibit work. One such space that has fully adopted this ethos is the Hive in Cranbrook, Kent.
Previously the Singing Soul Gallery, the Hive was set up with the community in mind. Their aim is to have a positive impact on the people, local business and the environment. Open 7 days a week, they offer hot desking, networking and socialising in Cranbrook. Additional to this, in partnership with Grierson Galleries, they also provide a platform for talented artists to show case their artwork.
The latest artists to benefit from this fantastic opportunity are Brenda Hartill, Kaija Bulbrook and Adele Love, who during February and March will be exhibiting in an ​"Escape from Reality", a highly unusual, cutting-edge exhibition that pushes the imagination and the visual figurative.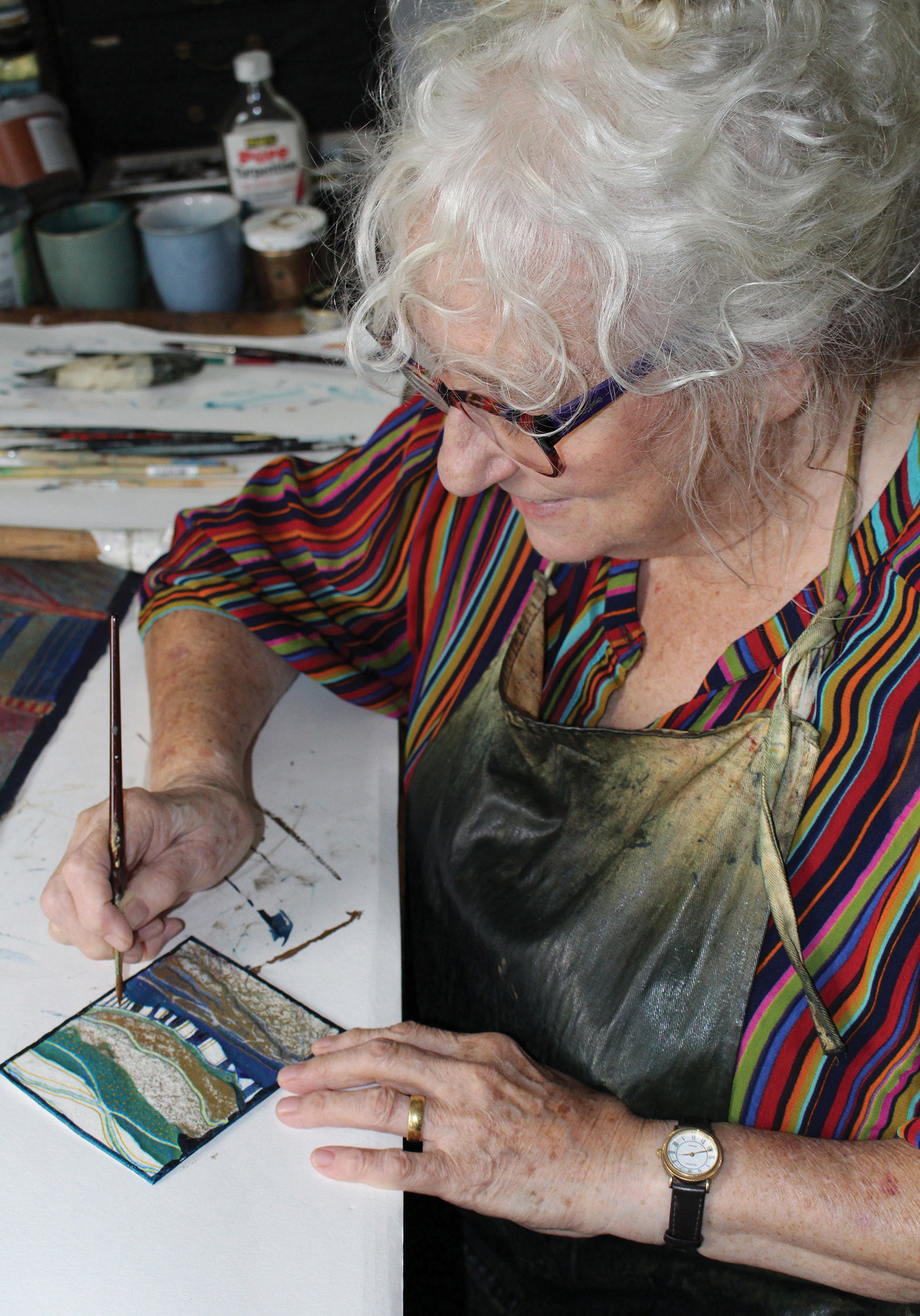 Brenda Hartill
The exhibition will centre on the genre of abstraction. Picasso described his own attitude towards abstract art as an artistic journey. Abstract is art that does not attempt to represent an accurate depiction of a visual reality but instead use shapes, colour, form and gestural marks to achieve its effect. It is an ​'escape from reality'.
Since the early 1900s, abstract art in all its guises has formed a central core to modern art. It is considered one of the purest forms of expression, as it allows its creator to freely communicate visually without the constraint of forms found in objective reality. The approaches found within abstract painting encompass many movements including German Expressionism, Fauvism, Cubism, and Abstract Expressionism.
Aside from Picasso, famous abstract artists include Wassily Kandisky, considered by many as the first true abstract artist. Piet Mondrian, Jackson Pollock and Willem de Kooning.
In this exhibition three women artists demonstrate their unique and vivid approach to the genre.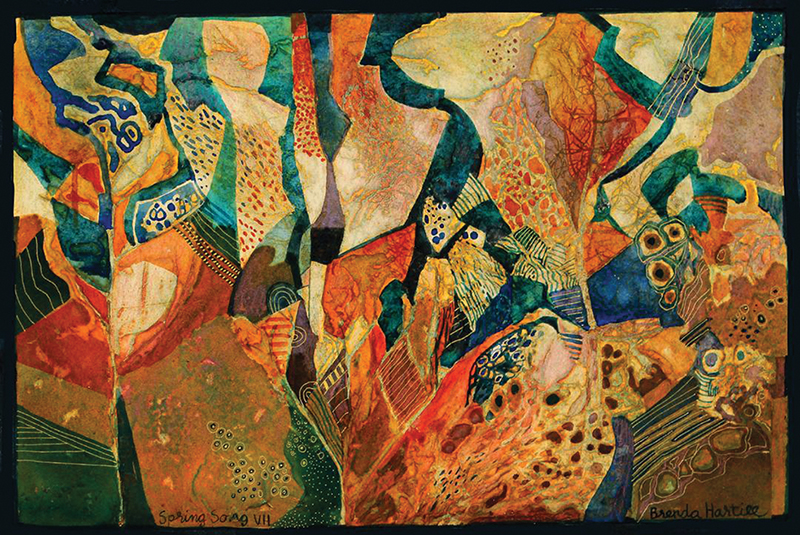 Brenda Hartill: Spring Song VII.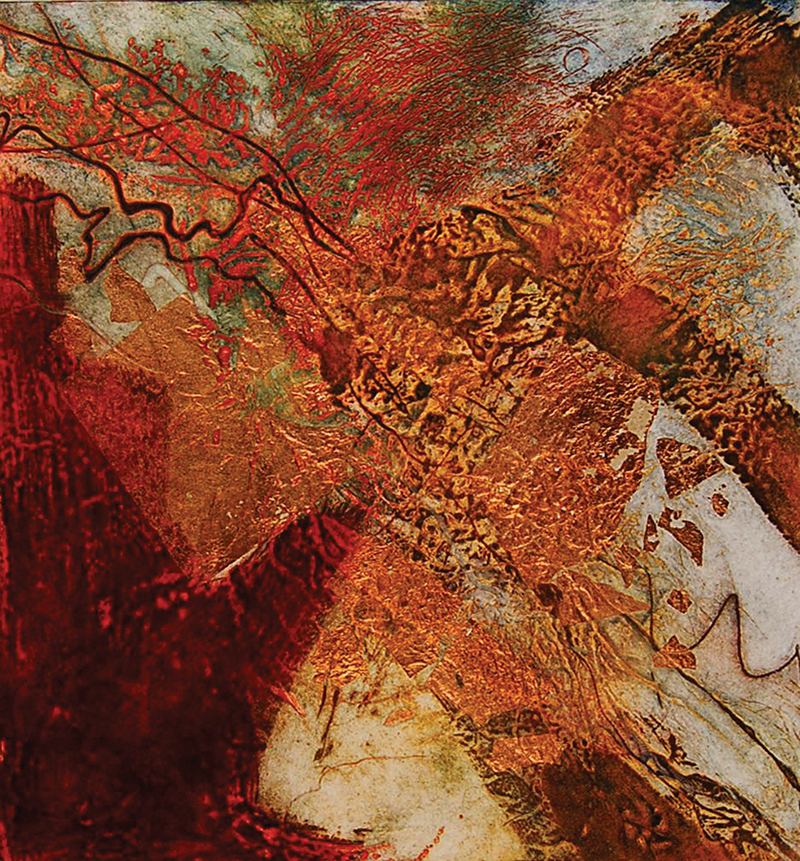 Brenda Hartill: Inferno I.
Brenda Hartill's artwork is full of her rich imagery, exploring the texture, pattern and light of the landscape. It ranges from finely drawn figurative works to bold, heavily embossed abstract images. For the past 10 years she has been most interested in drawing abstract imagery from the landscape, rugged mountain erosion, structure of the land and the dynamics of plant growth.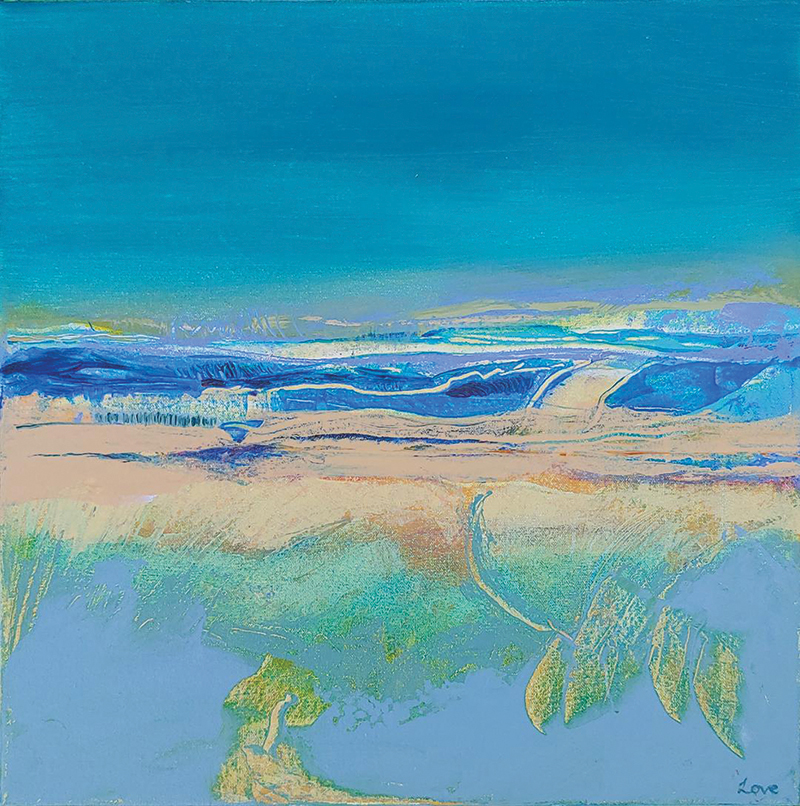 Adele Love: Trace.
Adèle Love has exhibited across the UK since graduating in Fine Art in 1999. Her fine art training demanded that she give meaning and dialogue to her work but now she focuses on the deeply personal subconscious process of painting allowing the viewer to engage in the way that has meaning for them. Like many abstract painters she paints spontaneously laying colour down, working the surface until forms emerge that inform her of the direction the painting will take.
Kaija Bulbrook is a Kent based artist who has paintings in collections worldwide, including Australia, North America and Europe. Kaija's primary interest is in the play of colours, shapes and textures and their relationship to each other. The painting is an end in itself and the subject matter is of secondary importance.
Grierson Galleries at the Hive, 19 Stone Street,
Cranbrook, Kent TN17 3HF
www​.gri​er​songal​leries​.com
www​.purearts​group​.co​.uk