Articulate – January

2016
h2. All is well, outwardly, nothing to see, all is still…
Julia Desch, The Rhythm of the Year , A Sussex Odyssey: January
The resurgent trend for hand-made/designed in today's world of mass produced shows no signs of abating, so for this winter edition we have indulged our aesthetic senses with a look behind the scenes at what a few of our local artists have been up to over recent years; what has inspired them on their personal creative journeys.
Julia Desch
Poet, Designer & Maker
Julia was born into an artistic family on both sides: her grandfather, Norman Little, was a Prizewinner at the Royal Academy and known for portraits, illustrations and acting before being killed in the First World War; her grandmother was a fine miniaturist who also studied at the RA. Her mother studied applied arts and costume design at Durham University and designed windows for the John Lewis Partnership. Her father, a naval officer, also drew and painted in watercolour.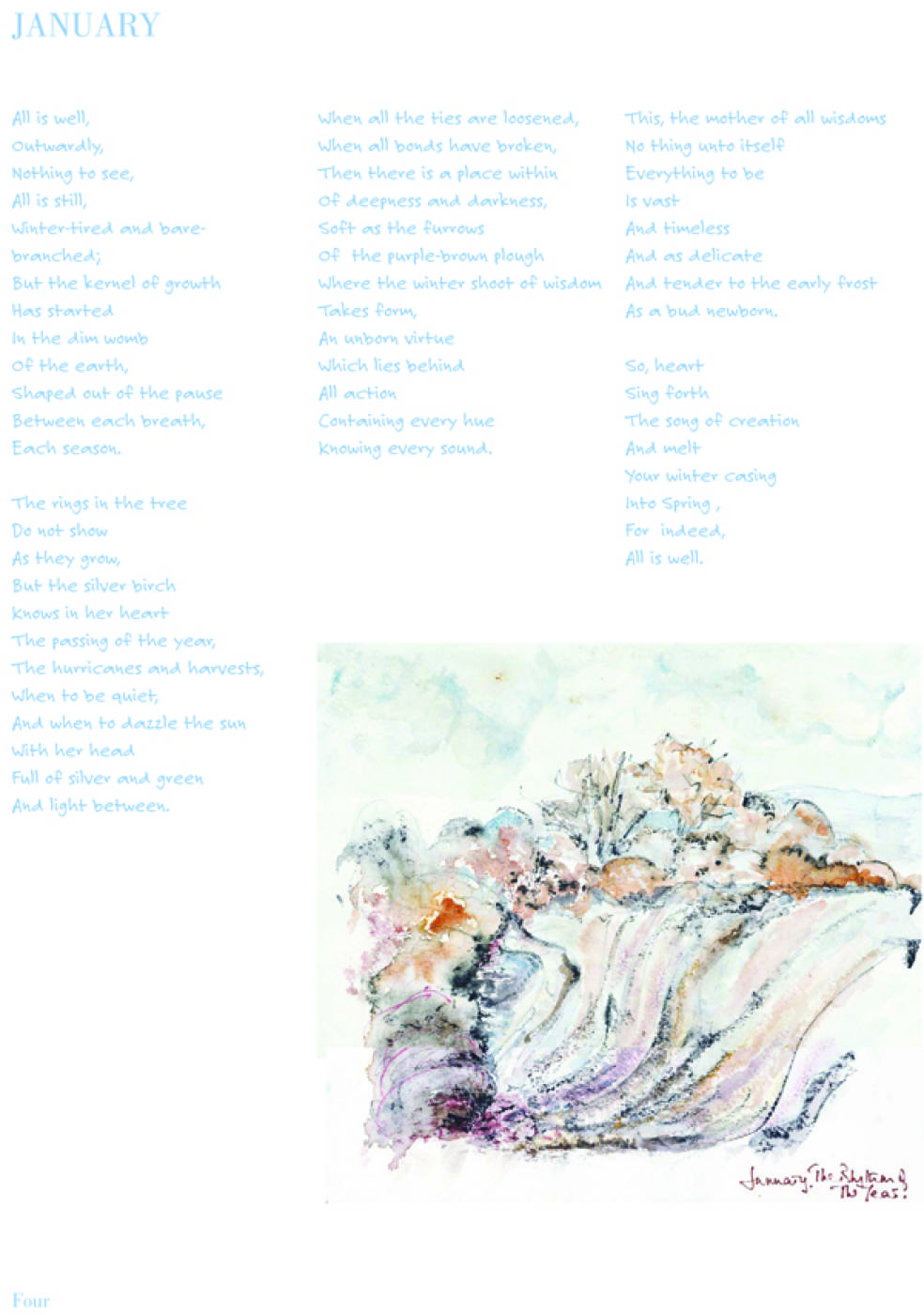 She grew up on Dartmoor, her elemental home, where she rode and drew animals, especially horses. Her childhood was spent with charcoal, putty rubbers and conte crayons. Attics full of lay figures, anatomical books and sketchbooks of the First World War, fostered her informal interest in art. Music, especially singing, took over however when she went to Cambridge to study languages. In her twenties and thirties Julia sang in choirs, worked, travelled and got married. Her children were born in London and the family moved to East Sussex in 1984.
All through her adult life Julia has written poetry, usually on backs of envelopes or round the edge of shopping lists. Art College was undertaken by proxy through her two daughters, who undertook ceramics and art at GCSE with her younger daughter going on to take Fine Art at A level.
Julia re discovered watercolour painting some years ago after her husband died and her three art forms of choice; music, poetry and painting, came happily together in association with Counterpoint Arts, based in Herstmonceaux. Her first poetry collection ​"The Advent Journey", was set to music by Aanna Colls in Spring 2000 and performed by Counterpoint Arts. Her next collection, ​"The Anatolian Journey" was inspired by a journey across Turkey in the footsteps of the poet Rumi. A further poetry collection entitled ​"The Rhythm of the Year – A Sussex Odyssey" was written in 2004 and this first went out on Wealden Talking News. Both the Anatolian Journey and The Rhythm of the Year were self-published in 2015 using Pureprint in Uckfield. Julia is a member of Downland Poets and was awarded their Eleanor Bourne-Jones Cup in 2015 for ​'Dragonfire'.
From her base in Bodle Street, Julia also works with local craftspeople to design and create beautiful and original handmade products. Deeply committed to passing on artisan skills, she set up the lottery funded ​"Sheep to Shawl Project", which ran officially from 2009 – 2010 and still continues with classes, open days and demonstrations, all based on Rare Breed Fibres and the heritage skills that revolve round them. See www​.sheep​toshawl​.co​.uk
Julia's artwork and poetry books are available for viewing and purchase at Wing Gallery, Wadhurst and through www​.purearts​group​.co​.uk www​.wool​craftwith​wens​ley​dale​.com
Hildegard Pax
Glass Artist
Hildegard has always enjoyed creating with her hands and her interest in drawing, constructing and making was inspired by her artisan parents, a professional seamstress and a wrought iron metalworker. A placement in a joinery workshop prior to studying for her Interior Architecture degree introduced her to the world of wood and the pleasure of shaping raw materials into functional items.
Following her studies in Germany, she moved to London and started working for interior design and architectural companies. These projects involved designing and commissioning artists and artisans to make bespoke items for the commercial interior projects. But it wasn't until her early thirties that she became fascinated by light and colour and trained as a colour therapist.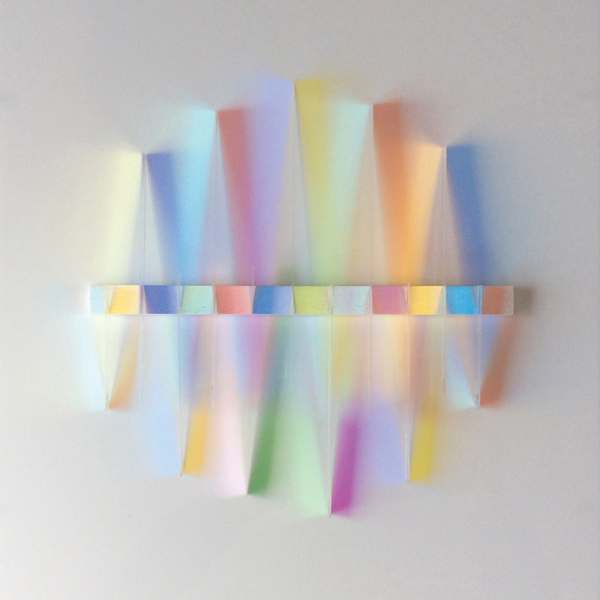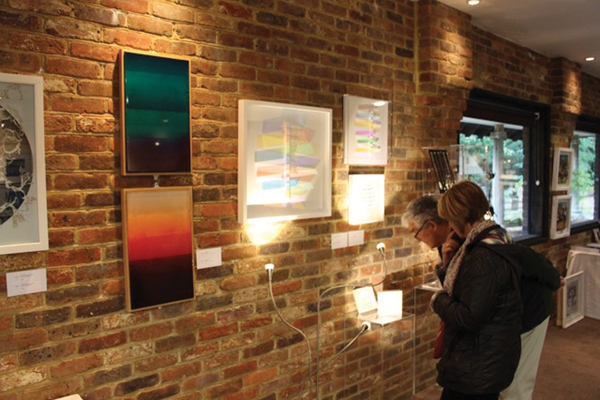 A visit to the splendid Chartres Cathedral left Hildegard mesmerised by the beauty and intensity of colour found in the marvellous stained glass windows, as well as the palpable sense of delight in the geometry and pattern variations employed to create the stunning variety of windows in this famous church.
Observations of light modulated by stained glass, creating the sense of a special timeless place where stillness prevails, furthered her interest in glass as a perfect medium for working with colour and light. This led her to study on a post-graduate architectural glass course at the renowned Central Saint Martins College of Art & Design in London, where she graduated with Distinction.
Since then she has completed several architectural glass commissions, both in the UK and in Germany. In recent years she has focused on creating smaller wall-hung glass artworks exploring pattern ideas inspired by textiles, minimalist art and architecture.
Glass is central to her work with it's qualities of reflection, refraction, opacity and translucency. In the assemblages of glass she strives to ​'make the invisible visible' and create unexpected temporal beauty. Her work has been described as ​'painting with light', using colour, line and shape in multi layered compositions to create intriguing and mesmerizing fields of projected colour.
Her artwork has been exhibited in selected open submission exhibitions and art fairs in London and the South East, including the Royal Academy Summer exhibition, the Discerning Eye and Society of Women Artists exhibitions at the Mall Galleries, London and the Affordable Art Fair in Battersea, London.
Hildegard's artwork is available for viewing and purchase at Redleaf Gallery, Tunbridge Wells and through www​.purearts​group​.co​.uk
www​.hilde​gard​pax​.com
Kate Schuricht
Ceramicist
The passage of time and the ability of objects to connect us with our past are constant sources of inspiration for Kate's work in clay. Kate's collection of boxes, jugs, vessels and bound containers are conceived as small scale installations. Pots are carefully positioned to highlight the relationship between the interior and exterior. Using the unique effects of raku firing, Kate creates pieces with distinctive crackles and smoked textures with a seemingly timeless quality.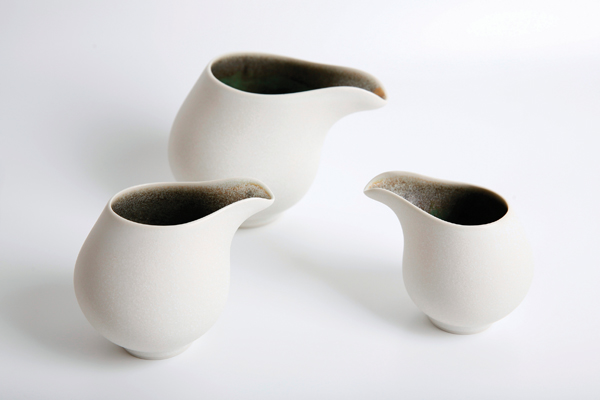 Kate studied Ceramics and Visual Art at the University of Brighton. Following her graduation, she was selected for a ceramic residency in Japan where she worked alongside established international artists.
Kate has exhibited internationally since 1996, with a major show at Blackwell in 2008. Her work has been commissioned for private and public collections, including British Airways, the British Embassy, The Walker Art Gallery and Cowley Manor. Kate is a Professional Member of the Craft Potters Association.
www​.kateschuricht​.com
Please email info@​pureartsgroup.​co.​uk for further information on any of the artists featured in this article.