January is a time for reflection, contemplation and rebalancing of life and its priorities, often accompanied by those infamous New Year Resolutions we all love to make…but often break before the end of the first month (if we actually enact them at all!).
Absorbing more culture is a regular feature on my resolution list (that and eating less sugar/more gym visits!). If you are on my wavelength, below are 3 events I highly recommend you put in your diary for 2020.
The Museum of the Moon
Rochester Cathedral , 13 February – 4 March 2020
my​-moon​.org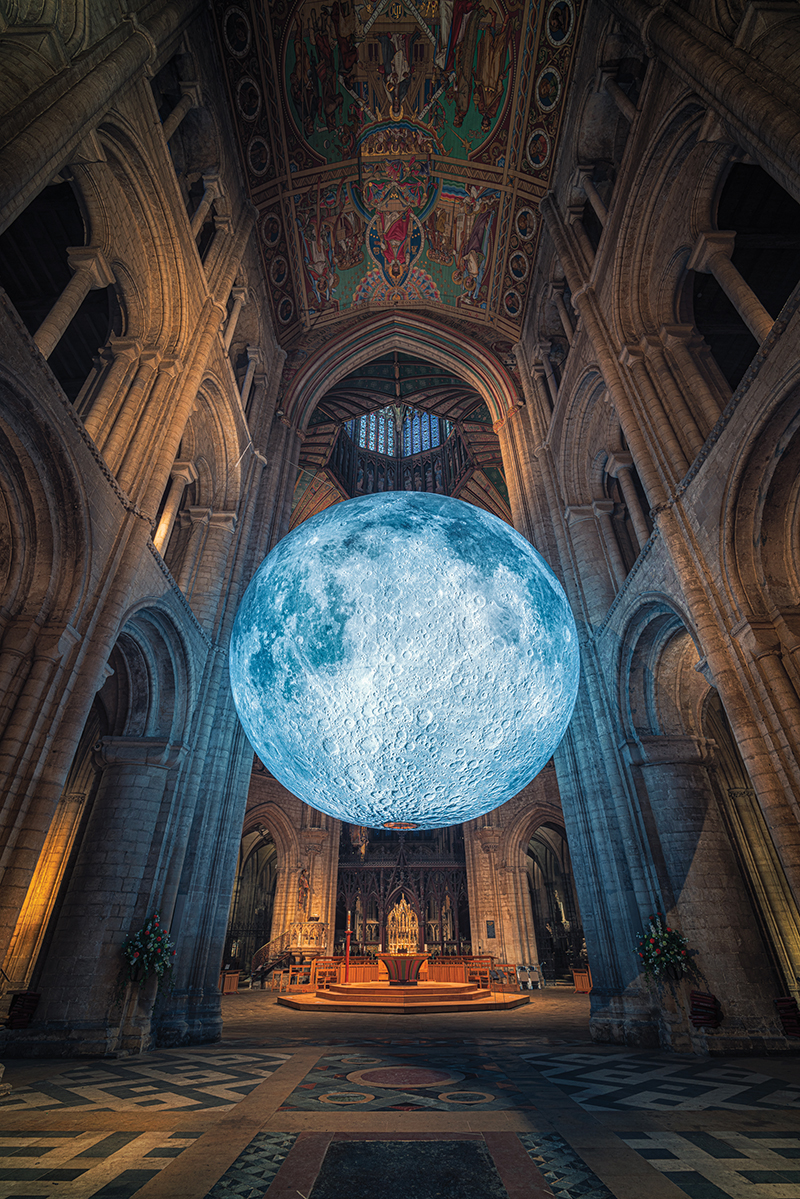 Museum of the Moon by Luke Jerram. Ely Cathedral,
UK

,

2019

. Photo ©James Billings

A giant replica of the Moon, which has wowed audiences across the world, is coming to Rochester Cathedral in February 2020. The Museum of the Moon will be installed for three weeks in February and March 2020.

Museum of the Moon is a touring artwork by UK artist Luke Jerram. It measures seven metres in diameter and features 120dpi detailed NASA imagery of the lunar surface. Each centimetre represents 5km of the surface. Alongside the installation is a fusion of lunar imagery, moonlight and surround sound composition created by BAFTA and Ivor Novello award winning composer Dan Jones.

Museum of the Moon has been presented in a number of locations across the world including several UK cathedrals and museums. As it travels from place to place, it gathers new musical compositions and an ongoing collection of personal responses, stories and mythologies, as well as highlighting the latest moon science.

A full programme of lunar inspired events will take place at the Cathedral alongside the artwork, including concerts, lectures and evening receptions.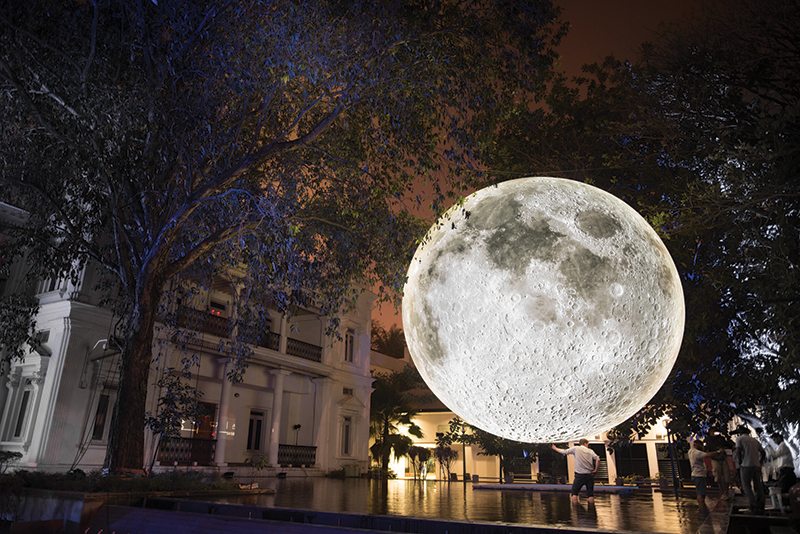 Museum of the Moon by Luke Jerram. Bangalore, India,
2018

©British Council – Satya Nayak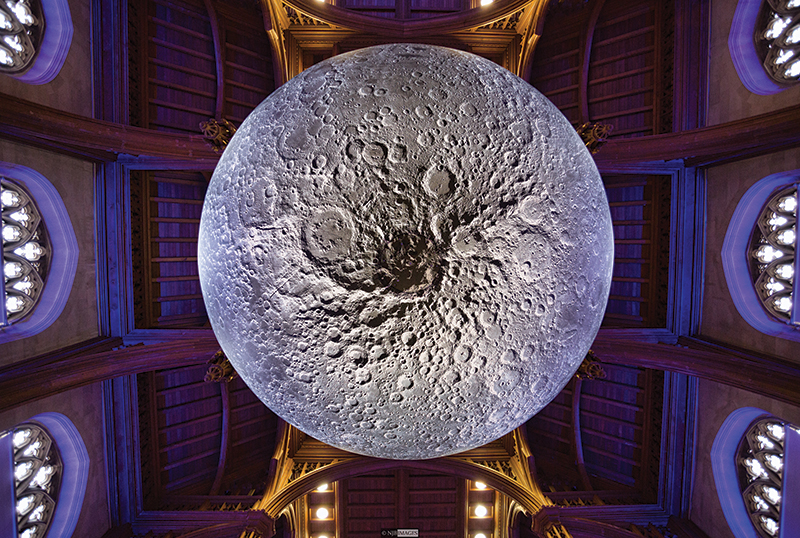 ©Neil James
Tim Walker: Wonderful Things
The V&A, Until 8 March 2020
Vam​.ac​.uk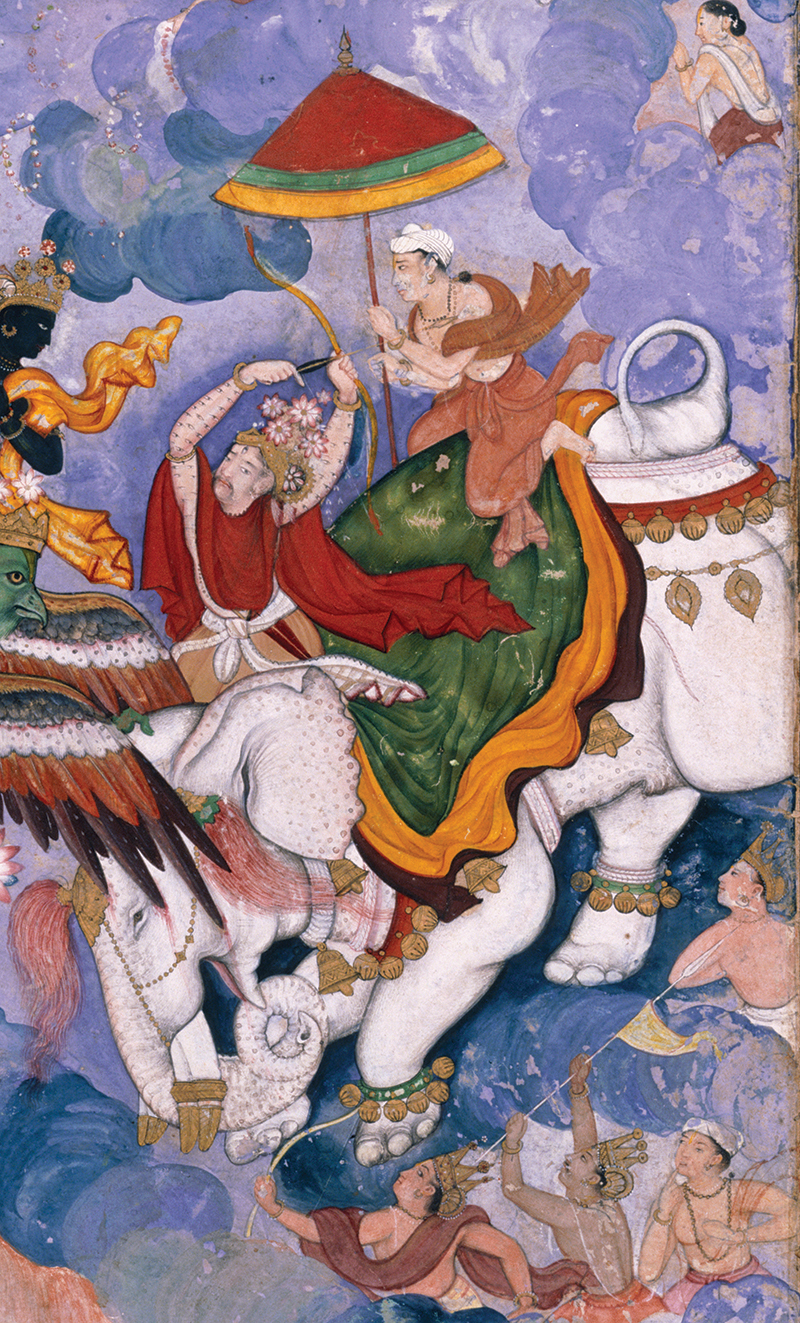 Krishna and Indra. About
1590

, Lahore
Watercolour painting and gold on paper The V

&

A collection ©Victoria and Albert Museum, London

Following the incredible success of the Dior exhibition, in September 2019 the V&A opened Tim Walker: Wonderful Things.

The exhibition allows the viewer to experience the extraordinary creative process of one of the world's most inventive photographers through his pictures, films, photographic sets, and special installations – including ten new series of photographs influenced by the V&A's collections

"Every shoot is a total love letter to an object from the V&A, sometimes several objects," comments Walker, whose heart swells when connecting with an object, like it would with a new best friend. From an exquisite embroidered casket created by an anonymous young woman in the 17th century to Aubrey Beardsley's erotic illustrations, a 65-metre-long photograph of the Bayeux Tapestry and an illuminated manuscript made in the 1470s for the Duchess of Brittany, the works Walker chose span the breadth of the V&A's 145 public galleries and beyond. ​"My imagination went off in all sorts of directions and then I was really in love," Walker continues. ​"It was a total firework display. It was a supernova of creative explosions that you want to get down."

Tim Walker shot his first Vogue fashion story at the age of 25, and has been contributing his magical and eccentric images to the magazine ever since. His fascination with photography began in Condé Nast's London library – where he worked on the Cecil Beaton archive prior to university. A stint as Richard Avedon's assistant in New York followed, before he returned to London to forge his own career.
Tutankhamun: Treasures of the Golden Pharaoh
Saatchi Gallery, Until 3 May 2020, Saatchi​gallery​.com
tutankhamun​-lon​don​.com
The legend of Tutankhamun captured imaginations globally when his tomb was unearthed by British explorer Howard Carter and financier Lord Carnarvon in 1922.
Produced by the Egyptian Ministry of Antiquities and IMG, and presented in London by Viking Cruises, TUTANKHAMUN: Treasures of the Golden Pharaoh unveils more than 150 original objects from the tomb, 60 of which have travelled out of Egypt for the first and final time before they return for permanent display within the Grand Egyptian Museum which is currently under construction.
Prior to the London showing, the exhibition became France's most visited of all time with attendance of over 1.4 million!