The

40

Million Dollar Question!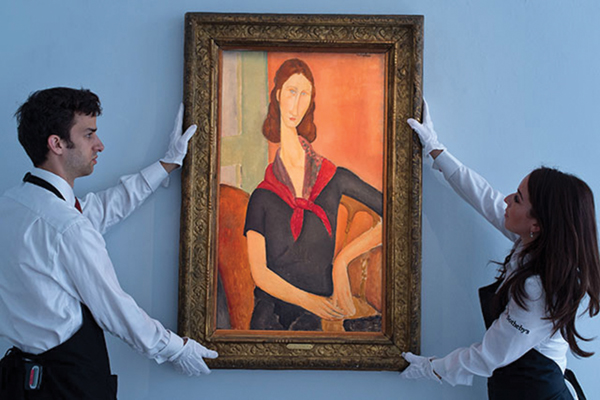 Modigliani portrait of Jeanne Hébuterne (Au Foulard) 1955
By the time you read this article we should know the answer to the question – is this portrait (above) worth $40 million and also possibly who bought it, although buyers in this price bracket usually bid by phone in an effort to remain anonymous.
For this billionaire issue we are going to take a closer look at some of the most expensive artworks ever sold at auction and the speculation surrounding the successful bidders.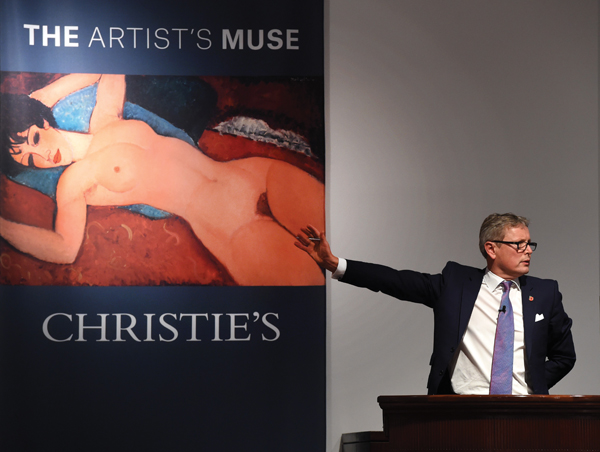 Nu Couché (Reclining Nude), 1917 – 18
Staying with Modigliani, in November 2015 Christie's New York sold Nu Couché (Reclining Nude), 1917 – 18 to Chinese billionaire Liu Yiqian and his wife Zhao Wei. At $170 million it was the second-most expensive artwork ever sold at auction.
Liu Yiqian is the Chairman of Sunline Group and he and his wife are among China's most successful art investors. In 2014, they smashed the record for the most expensive Chinese artwork sold at auction not once but twice, spending $36.3 million in April on a porcelain chicken cup (which he then proceeded to drink from) and $45 million on a Tibetan tapestry in November.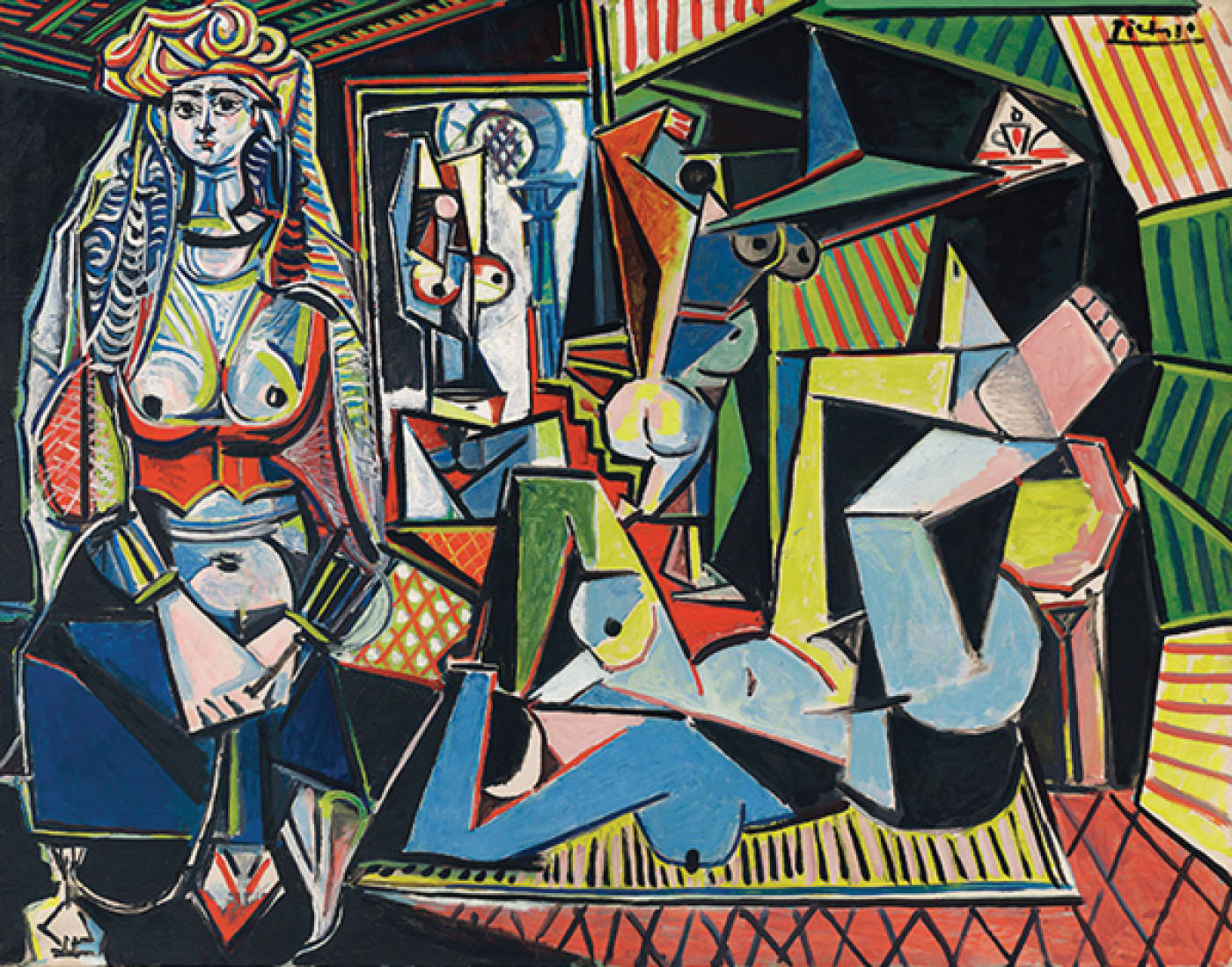 Pablo Picasso, Les Femmes d'Alger (Version ​'O'), 1955
Les Femmes d'Alger (Women of Algiers) is a series of 15 paintings and numerous drawings by the Spanish cubist artist Pablo Picasso. Eugène Delacroix's 1834 painting The Women of Algiers in their Apartment provided the inspiration for the series, which he began in 1954 following the death of his lifelong friend and rival Henri Matisse.
Prominent contemporary art collectors Victor and Sally Ganz bought the entire Les Femmes d'Alger series, in 1956 for $212,500. They later sold ten paintings from the series to the Saidenberg Gallery, retaining versions ​"C", ​"H", ​"K", ​"M" and ​"O". The retained works were sold after the death of Victor Gantz in 1987.
Les Femmes d'Alger (Version ​'O'), 1955 was the last work produced in the series. In May 2015 Christies New York sold the piece for $179.4 million, breaking the record for the most expensive painting ever sold at auction. Although bidding was anonymous, it has subsequently been widely reported that billionaire former Qatari Prime Minister, Hamad bin Jassim bin Jaber Al Thani was the successful bidder.
The Qatari's are deeply involved in the field of art and have been big art collectors for some years. In 2011, The Art Newspaper described Qatar as the world's biggest art buyer and ArtReview named Sheikha Al-Mayassa bint Hamad bin Khalifa Al-Thani, sister of Qatar's ruling Emir Tamim bin Hamad Al-Thani and daughter of the country's Father Emir Hamad bin Khalifa Al Thani, one of the most influential people in art in their 2015 Power 100 list. Sheikha Al-Mayassa is also said to have been the buyer of the most expensive painting in the world, Paul Gauguin's When Will You Marry? Which sold in 2015 for $300 million!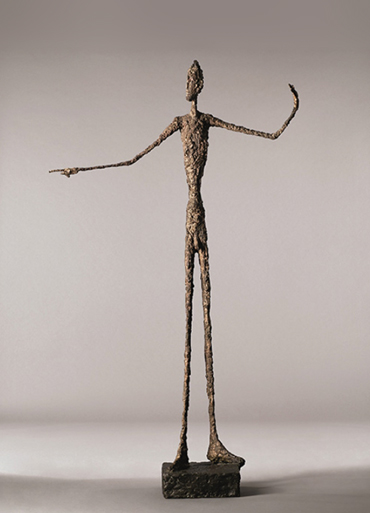 Alberto Giacometti, L'homme au doigt, 1947
One of six casts – four of which belong to museums – Giacometti's L'homme au doigt sold for $141.3 million in May 2015 at Christie's New York. The work set a new all-time auction record for the most expensive sculpture ever sold at auction. It was the second sculpture by the artist to sell at auction for more than $100 million in the space of six months, with Chariot selling for $101 million in November 2014.
Hedge fund billionaire Steven A. Cohen is rumoured to have been the successful buyer. Cohen's collection of modern and contemporary art is considered to be among the best in the world. He also owns Van Gogh's Peasant Woman Against a Background of Wheat (1890) and Gauguin's Bathers (1902) among many other notable pieces.
www​.sothe​bys​.com
www​.christies​.com
www​.purearts​group​.co​.uk
Buying and Selling at auction
You do not need to be a billionaire or even a millionaire to buy at auction. Many leading auction houses cater for all budgets and tastes, offering a wide array of different collecting categories from painting and furniture to wine and collectibles, with prices starting from just a few hundred pounds.
If you are new to buying at auction however it is wise to take your time and do your homework. Do not rush in, consider, evaluate and research your chosen area thoroughly first.
• Check out auction websites to see what is coming up for sale and what has been sold recently; browse past sales information online when ever possible.
• Don't be afraid to visit auctions. The majority of auction houses are open to the public, even the big London houses such as Sotheby's, Christie's and Bonhams.
• Obtain an auction catalogue in advance where possible. They contain lots of useful information.
• Don't be afraid to ask questions! When you are considering a piece of work, ask/request information about the artist's history for example, if their work is included in any major collections or if the artist has won any significant art prizes. When looking to buy sculpture, look at the medium, is it a bronze, clay or a metal piece for instance. Is it Limited Edition or a one off original.
• Utilise the information and expertise available through the auction house and catalogues
Other key questions to ask which will impact on sale price:
• Condition; is the piece damaged or has it been repaired.
• Provenance; who has previously owned the piece and can this be authenticated.
• Newness to market; how recently was it last sold – rareness is valuable.
• Quality; is this the best of the artists work or a poorer example?
Beware of hidden charges! Always ask about charges in advance when buying at auction.
Most auction houses will charge a buyer's premium, which will be added to the final hammer price. Many will also charge VAT on the buyer's premium. If you are buying from an auction house overseas you may also have to pay import tax and shipping. Charges will also apply if you are selling items at auction.
And remember buy what you love – because prices can go down as well as up.
Auctioneers in the South East
Gorringes
The business commenced in the early 1920s when Rowland Gorringe opened offices in Lewes, the county town of East Sussex, as an estate agent and auctioneer.
www​.gor​ringes​.co​.uk
Burstow & Hewett
Burstow & Hewett are a family firm of qualified auctioneers and valuers established in 1790. The busy salerooms are based in two locations in Battle and handle a combined total of over 25,000 lots per year in 36 sales.
www​.burstowand​hewett​.co​.uk
Bonhams
Bonhams is a privately owned British auction house. Founded in 1793, it is one of the world's oldest and largest auctioneers of fine art and antiques.
www​.bon​hams​.com