Based in Sissinghurst, Kent Louisa was brought up in the countryside and from a young age was inspired by her natural surroundings. Her beautiful intricate drawings of flora and fauna, most recently bees and wasps, come from studying their form in intimate detail, enabling her to capture the very minutiae of her subject.
Louisa came late to art via a career in business and subsequently Jewellery making. Her real breakthrough moment came in 2013 when she won the PURE drawing prize and her work was featured as part of STRARTA at the Saatchi Gallery.
She is a partner at Artichoke Gallery in Ticehurst and in 2015 fulfilled a long held dream of exhibiting at the Mall Galleries in London with the Society of Women Artists (SWA). Now elected to two London Art Societies (United Society of Artists and The Free Painters and Sculptors) and an associate member of the SGFA (Society of Graphic Fine Art), she regularly exhibits in London, most recently at The Affordable Art Fair Hampstead Heath.
Q: Can you tell us about your creative influences and the path that has led you to your current art practice.
A: ​"Growing up in Sissinghurst with fields and woods at the bottom of my garden, there was always an interest in nature. At school I concentrated on science and sport, with biology projects centred around lichen growing in the Churchyard and breeding flies. I couldn't imagine being able to sit still long enough to draw and didn't particularly enjoy art but I was surrounded by creative people and spent time at textile exhibitions and tried out almost every craft available!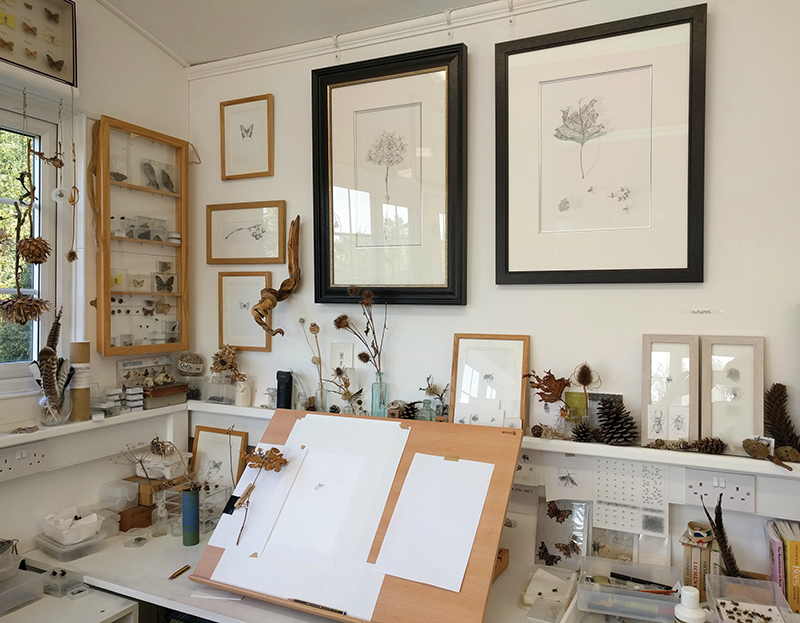 Seven years ago I picked up a pencil and started a journey to learn how to draw. During one class the tutor presented me with a lichen covered twig and I became lost in the drawing, suddenlyrealising that everyone was packing up to go home. I'd found my niche. With the help of PURE Arts Group, their drawing prize and the mentoring and coaching scheme run by Lesley Samms, I realised that being an artist is a business and needs focus, plans and goals. I have to draw, that's part of my makeup now, my creative outlet and I continue to explore the media and my love of nature, however, I also ensure I set aside time for planning, marketing, professional development and training.
I regularly visit exhibitions, not just to see but also to learn about the work and explore new processes. On a recent visit to the Women in Art Exhibition at RWA Bristol it was comforting to see that Sonia Lawson ​"attempted to solve the issue of using ​'recognisable imagery' … yet having the freedom of abstraction and evading the strictness of narrative". A dilemma I am currently exploring in my work with wasps where I am developing my own language of marks, interpreting what I see.
Q: How does running Artichoke Gallery influence and impact your
art practice?
A: Running Artichoke Gallery has introduced me to so many people and given me a greater insight into how the Art World runs. Small businesses are time hungry but it seemed a natural step from selling my own work to running Art Shows and then owning my own Gallery. Many artists need to supplement their income and teaching has never been something I aspire to. Sharing the day to day running of Artichoke with Vicki Atkinson and Liz Moys enables us all to continue our art practices without sapping our creative process. As an all women team we understand the additional demands of family life and have found that introducing new exhibitions every three months keeps a sensible work/life balance. It's a wonderful opportunity to meet other artists and a pleasure to sell their work.
The Gallery has also made me stricter with my time and taught me to say no. I have fixed studio days in my diary and rarely compromise them but I often get distracted on my way to work as I wander through the garden, watching the insects and listening to the birds, wanting to capture it all on paper. I admire artists who have found a focus, honing a particular skill or subject matter and who become a specialist in their field.
Q: What advice would you give to other aspiring women artists?
A: Being an artist can be a solitary job and creating the artwork is often a small part of the role. It can lead to a lot of self reflection, so I believe it's really important to make time to meet other artists, take part in workshops and ask for advice. Social media can be part of this but groups such as Pure Arts Group, Sevenoaks Visual Arts Forum, FPS and SGFA have been essential networks for me. We are continually being told how to be a ​"proper artist" but I try to remember that all of my past experiences feed into my work, making me unique. I believe that there is no such thing as a ​"proper artist" but making art is a ​"proper job".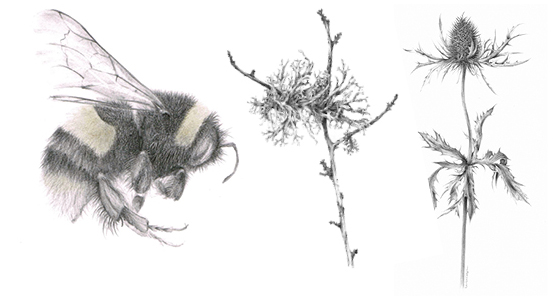 Louisa's beautiful art work is available to view and buy from Artichoke Gallery, Ticehurst; Gallery 57, Arundel and Kevis House Gallery, Petworth. Her studio in Hawkhurst will also be open to visitors
on the weekend of 23⁄24 June 2018.
See website for further details:
www​.louisac​rispinart​.co​.uk
Louisa will be donating £5 to the Short-haired Bumblebee project for each Bee picture sale during May and June 2018.