The PURE Autumn Art Fair is a curated art fair showcasing the brightest upcoming and more established talent selected from an international open entry. Now in its 9th year, it will take place between 6 ‑14 October at the PowderMills Hotel, which is located on the outskirts of the historic town of Battle in East Sussex.
The fair will feature the work of approximately fifty artists working across all fine art media including painting, drawing, printmaking, digital art, photography, sculpture, ceramics and glass.
Reflecting the fact that 2018 marks 100 years since the Representation of the People Act, which gave some women in Britain the right to vote for the first time, this year's exhibitors have been selected by an all female panel of judges including Brenda Hartill RE and Dani Humberstone VPSWA.
Simone Riley
Big Sky by Simone Riley
Regardless of the chosen medium or subject matter, Simone's work invariably involves a combination of textures, layers and subtle colours. Always inspired by textures, she has built up an extensive photographic collection over the years, which includes images of old walls, peeling paint, rust, scratched metal, weathered wood and other worn surfaces.
Simone's digital photomontages are created by taking an original photograph and then building up overlays using photographed textures from her own collection. Sometimes the compositions involve merging several elements together from different sources. The finished product is therefore an amalgamation of multiple components and layers, superimposed over the original image, with varying levels of translucency.
Although these are digital w*orks, all the images used are her own, to ensure that the artwork is totally original. Some are sold as limited edition giclee prints, but most are ​'one-off' pieces.
Annie Catford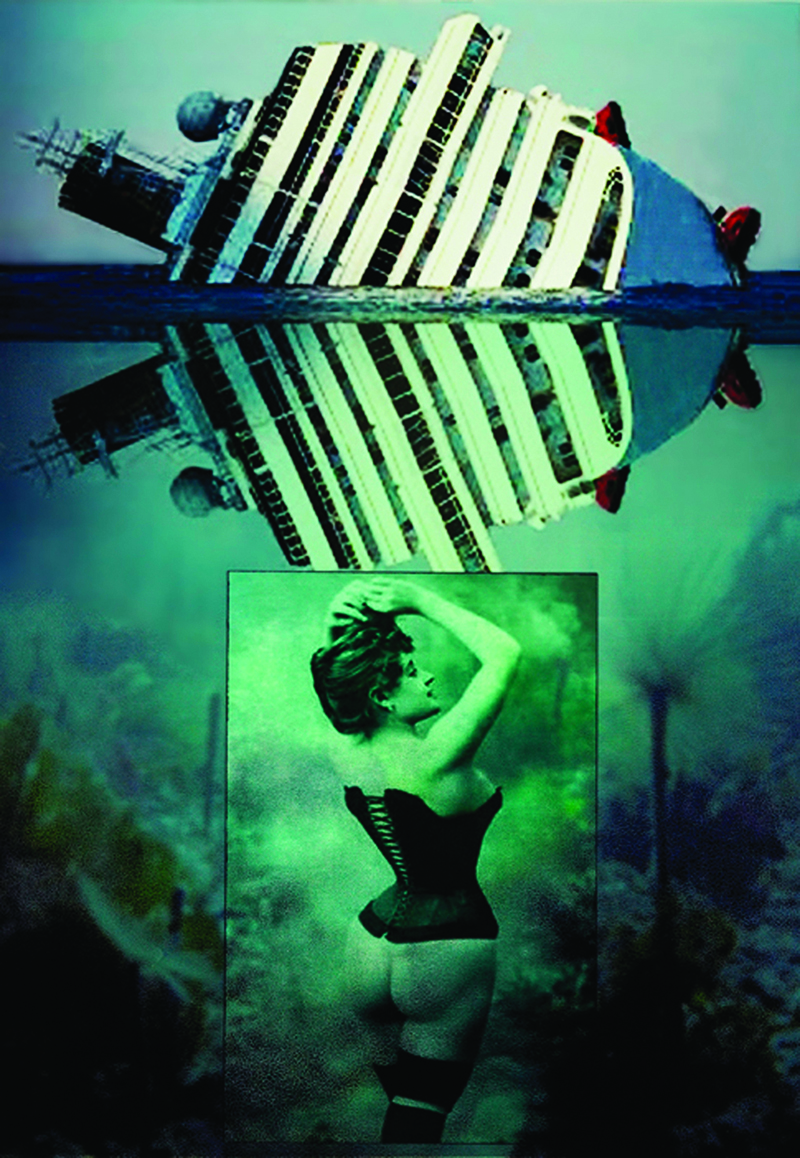 Pulling the boat down by Annie Catford
Annie works with collage and film. Her current series ​'Before the Mermaids Grew Their Tails'
explores a malevolence emerging amongst these
potential mermaids. Historically and currently, men
have shown a disregard for* both women and the
planet in various ways, and the women are seeking retribution for these acts…
Annie was 2017 winner of the PURE mixed Media Prize.
Alison Olorunsola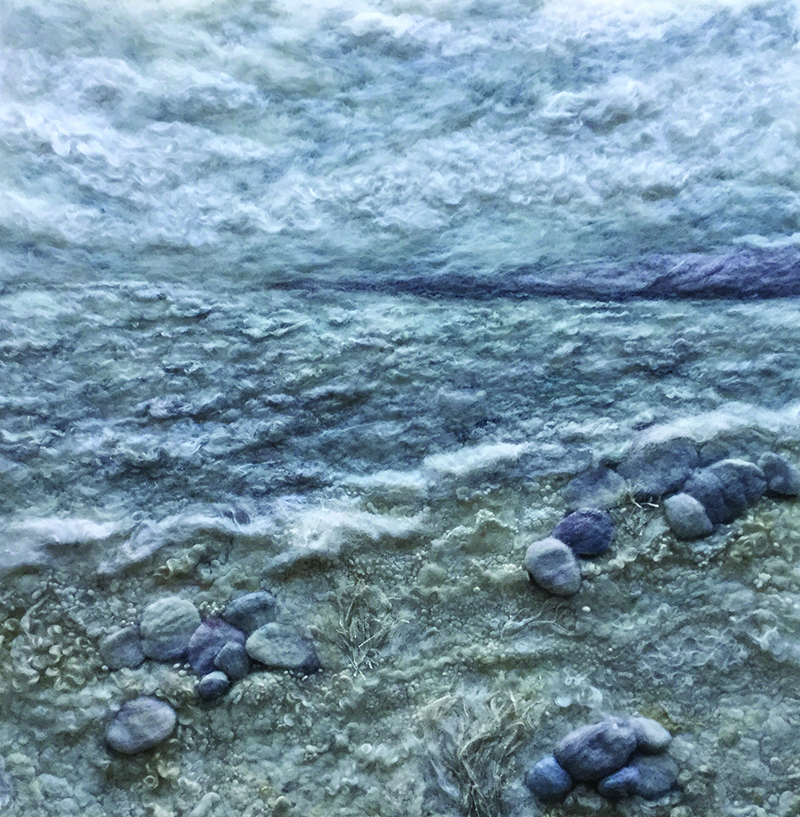 Beach 2 by Alison Olorunsola
Alison is fascinated by the sea and beach; by the changes due to weather, time of day, tides and the effects of weathering and erosion. She has spent a lot of time exploring the collapsing cliffs of Kent and East Sussex and the exposure of ancient rock strata to inform and inspire her artwork.
"I see myself as a painter but have chosen to work with textiles. At the moment I am working in felt – both wet felting and needle felting – and textile collage often using found objects and acrylic. Recently I have been working in white – or nearly white in my felt pictures – allowing textures to describe the scene. For a couple of years I have been experimenting with laminating my photographs of exposed rock strata onto cloth and then working on them with watercolour or pastel. This work is much more abstract and is the area I now want to develop."
Liesha Yaz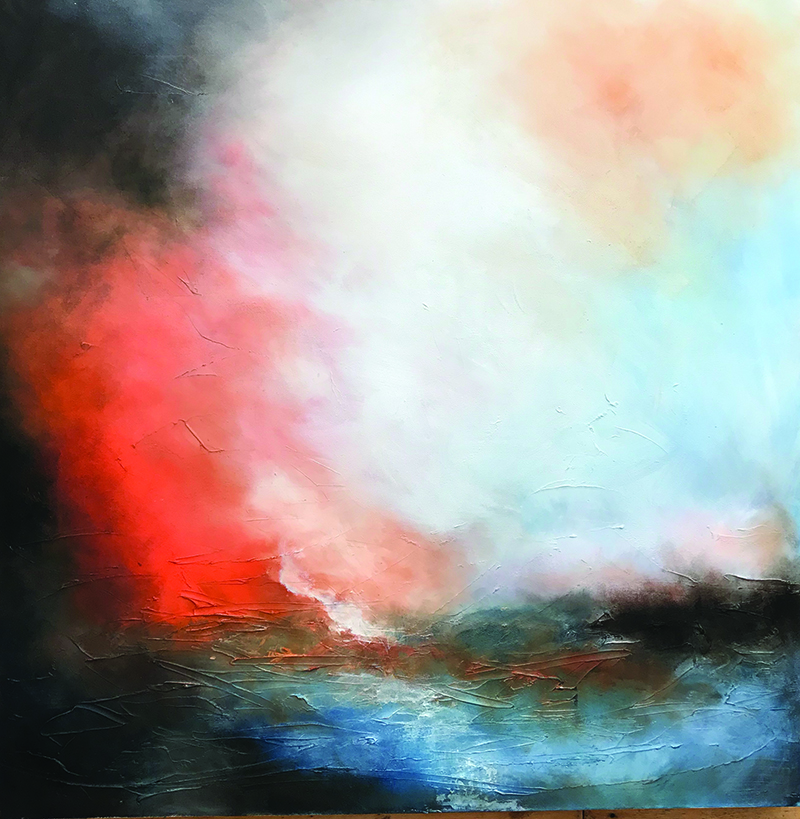 bq.
Wanderings by Liesha Yaz
Rather than creating a site-specific landscape, Liesha is driven by the desire to show the spirit and energy of a place.
Each painting is an emotional response to a place, a feeling or experience. She uses references from nature, the suggestion of a landscape, a hint of sky reflected in water, or a storm brewing in the distance.
"I love the idea that the paintings are completed by the viewer's imagination and response, a collaboration between us."
Jemma Wylie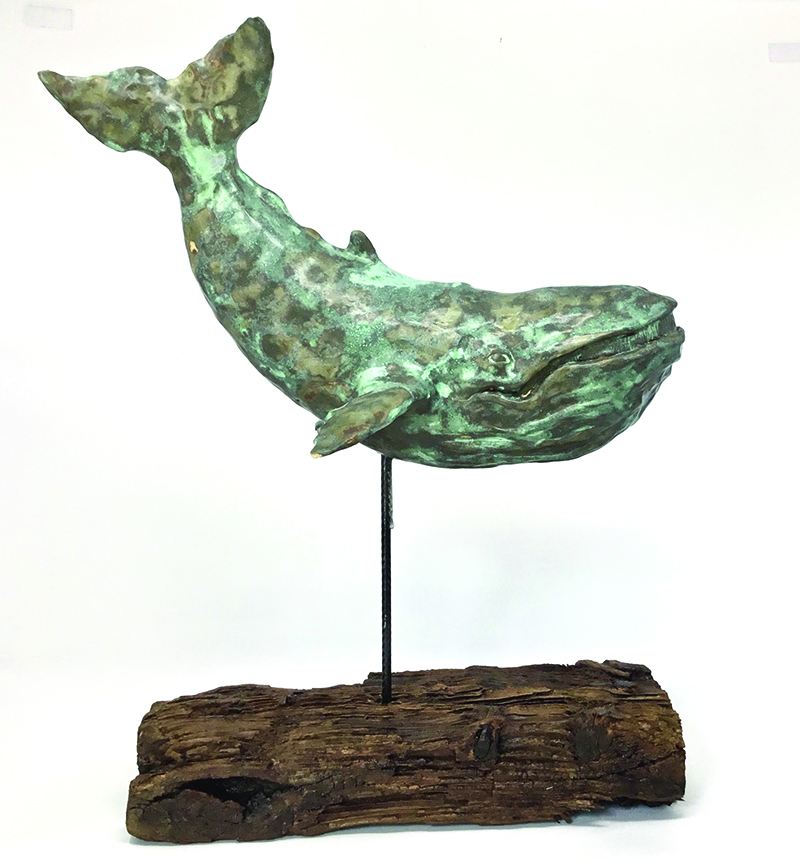 Jemma makes quirky and characterful ceramic birds and animals. Often adding other materials, such as reclaimed timber, vintage tools and mixed media in order to give added texture and variety and to create a sense of movement and character.
Nathalie Banaigs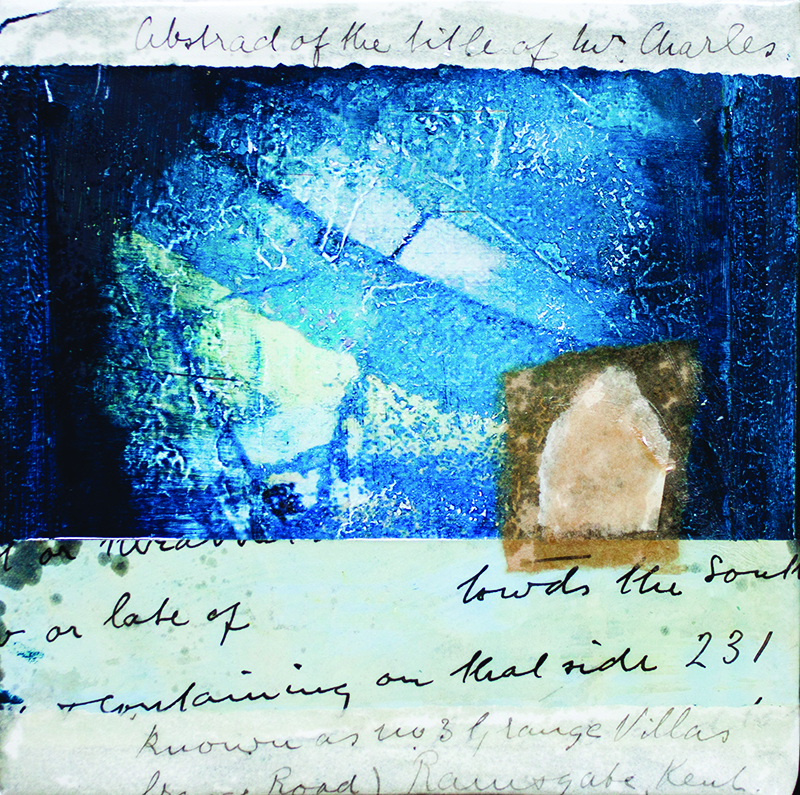 First Quarter by Nathalie Banaigs
Exploring photography, collages and painting, Nathalie's work combines these techniques in abstract-works. She mixes her photography with collage and acrylic paint to create layers of shapes, textures and colours. Each form leading to another, pieces of work eventually come together. This may be triggered by something specific or it may be initiated by random attempts, until it visually means something to her.
"Being an artist is about seeing the world around us. Our environment is full of graphic detail that I capture on my camera almost every day. I get inspiration from these details to enhance my work with photo transfer, collage and painting."
French-born, Nathalie currently runs Kent Creative as well as her art practice. She has been making art for 30 years and has over 25 years' experience in project management in the media, arts and culture industry.