Claudia Wiegand, glass artist and Lucy Ames, painter.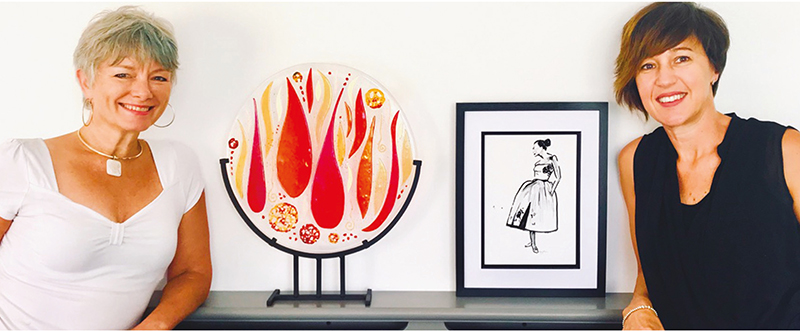 Claudia –
Lucy, I first met you at the farm where we both rent studios but neither of us are from Tunbridge Wells. What brought you here?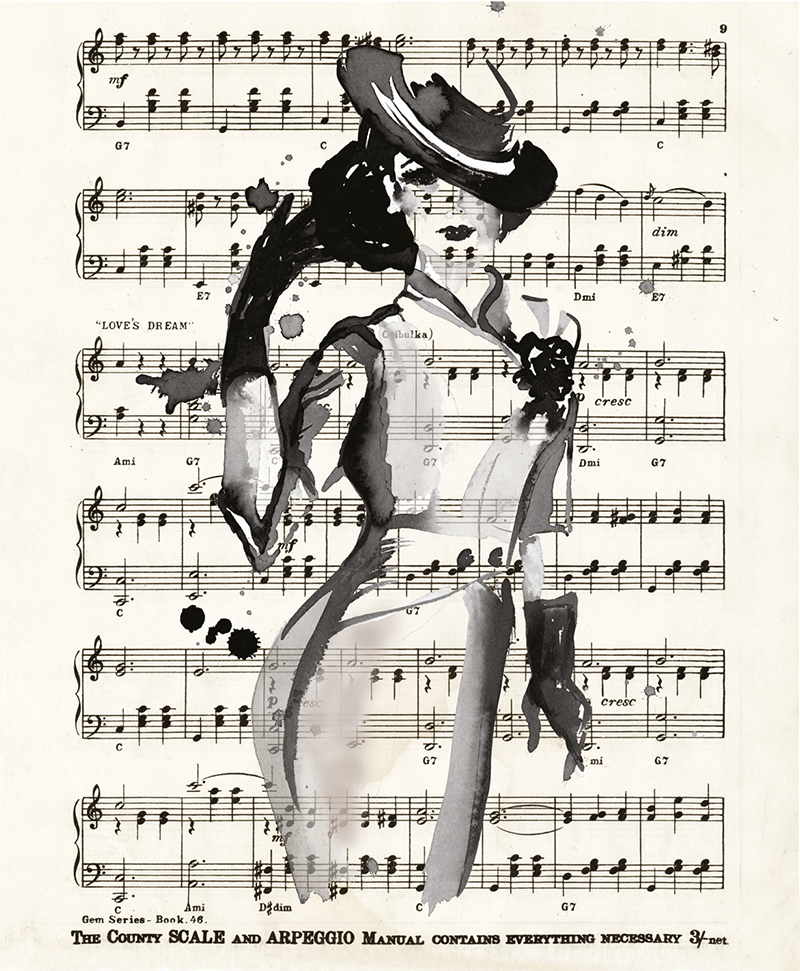 Lucy –
I moved to Tunbridge Wells with my family in 2014. I joined the local Creatives networking group and heard about this studio to rent. I have now been at ​'The Art Farm' for two years. Working at these studios provides the perfect mix of time spent with like-minded people, space to create, and a healthy dose of countryside too.
How about you?'
Claudia –
I moved here from Worcestershire last year. My glass business was thriving, but with my husband working in London, life-work balance was suffering. We decided to move ​'down south' and fell in love with Tunbridge Wells. Then I found the perfect studio too.
Lucy, I hear that you have a new identity; ​'BobsieBoo'. Who is BobsieBoo?
Lucy –
It's not a disguise and I'm not on the run! I created the BobsieBoo brand to sell my vintage-inspired paintings. The paintings are of stylish people in gorgeous fashions, on old maps or music. I sell them in gift shops or at vintage fairs and through my online shop. Having a brand with a clear identity has definitely helped sell them.
I call you ​'the Glass Magician', tell me what goes on in your studio…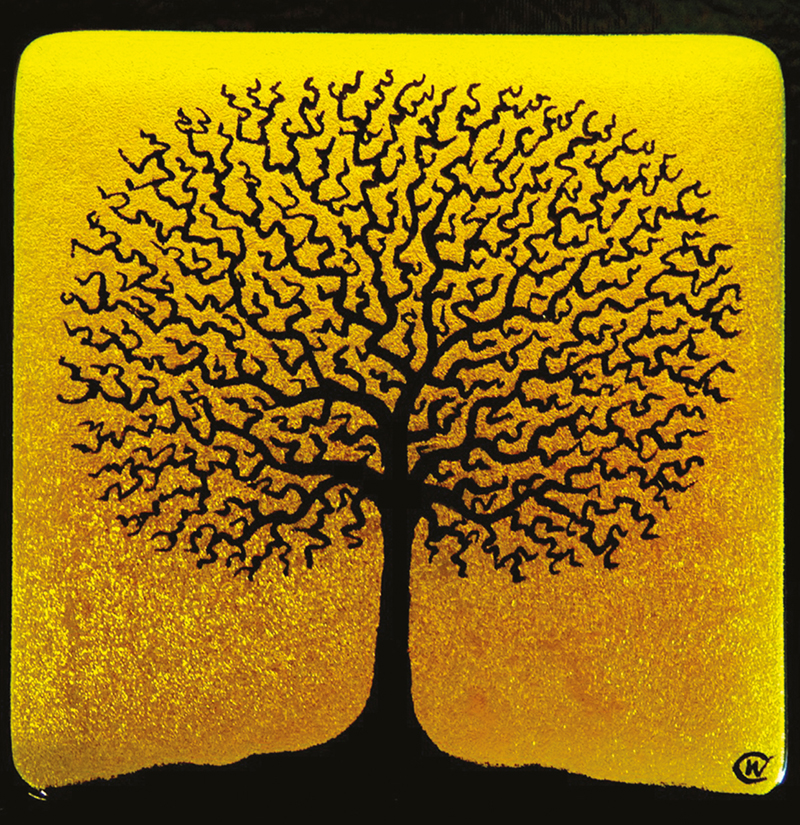 Claudia –
I create fused glass, which involves cutting sheet glass, building layers and adding design elements with metal inclusions, paint and other materials. The work is fired in my kiln up to 800 degrees Celsius where all the glass pieces melt and fuse together. Just like baking! I love this material and its properties. Trees, nature, shapes and patterns are my main source of inspiration.
What inspires you?
Lucy –
Old-school glamour, film stars, iconic fashions from different eras, the colour of old paper. Just last week Hoopers agreed to take a range of my prints inspired by vintage fashions for their Home & Gifts department. My prints and greetings cards will be available in-store from September. I can't wait to see my work on their walls!
Where can we see your glass on display?
Claudia –
Finding new outlets for my glass has been a priority. I'm so lucky to have my work at G&C Gallery in Tunbridge Wells and be a permanent member of Chalk Gallery in Lewes. I also have a couple of exhibitions this autumn and big plans for next year.
BobsieBoo Vintage paintings & prints are available at www​.bob​sieboo​.co​.uk, Velvet Hare (Storrington), Gorgeous George (Tonbridge) and Hoopers Tunbridge Wells from September.
Claudia is exhibiting her glass at:
G&C Gallery in Tunbridge Wells
www​.gcgallery​.co​.uk
Chalk Gallery in Lewes
www​.chalk​gallerylewes​.co​.uk
September Art Exhibition, 7 – 16 September 2018 – www​.sep​tem​ber​art​.org
Cranbrook Art Show, 8 – 10 November 2018
www​.cran​brookartshow​.org​.uk
www​.clau​di​aw​ie​gand​.co​.uk