Banksy breaks cover!
On

12

th May at High Road Auctions with other cutting edge urban artists
Advancing on the urban art month at High Road Auctions, Chiswick, they will be releasing number of Banksy works, fully authenticated, into the Fine Arts sale on May 12th. The world famous street artist whose identity is still a mystery is known for creating graffiti street art of political and social commentary with an underlying dark humour. His works are visible across locations throughout the U.K., notably Bristol and London and worldwide. The revealing of a new Banksy piece often receives worldwide press coverage, one of the most recent being ​'Spy Booth', a painting of spies snooping around a telephone box just a few miles from GCHQ in Cheltenham. A further controversial stunt by the artist included implanting a human dummy in a Guanatanamo Bay orange jumpsuit inside a desert roller-coaster ride at Florida's Disney World. Again, he wasn't caught. Banksy's works in the sale include a signed screen print ​'Donut Strawberry', ​'Turf War' (Winston Churchill with a bright green Mohican haircut) and ​'Grannies' (Grannies knitting jumpers quoting ​'Thug Life').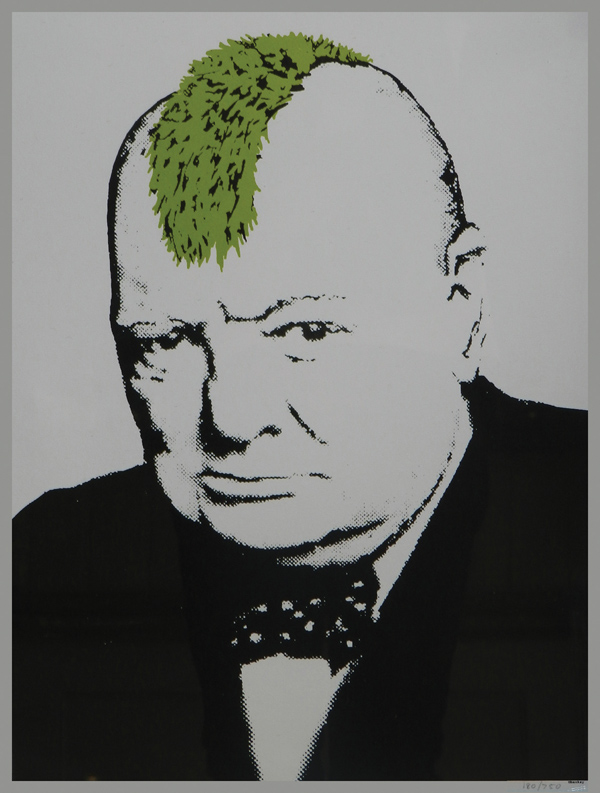 If the Banksy's weren't enough to spice things up, they will also have contemporary urban pieces from ​'Mr Brainwash', a French street artist whose fame came via creating the fascinating official Banksy documentary ​'Exit Through the Gift Shop'. He was one of the few individuals who was able to get in contact with Banksy and permitted to film him creating works from Los Angeles to The West Bank Wall, Palestine. Shortly after the Exit Through The Gift Shop film, Mr Brainwash went about creating his own works, having an opening exhibition in Los Angeles with overwhelming success, his name is now firmly cemented in the urban art scene, typically including alternative celebrity figures, Queen Elizabeth II in aviators, The Beetles dress as burglars etc. Works at High Road Auction's sale from Mr Brainwash will include an alternative Kate Moss portrait and a traditional Victorian style family photograph except with Star Wars storm troopers!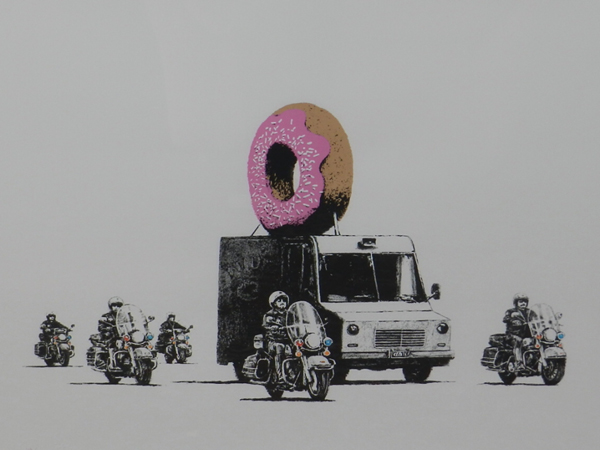 Further, there is a piece by ​'Stik', a London based artist who has become a phenomenon in the contemporary art world of late after his recent completion of his ​'Big Mother' piece on a tower block in Acton, the tallest piece of street art in the U.K. visible from much of West London. The Barbican and The British Council have been quick to recognise Stik's value, having commissioned permanent murals by him worldwide and major gallery's regularly exhibiting his works. There will be a resin plaque by Stik in the auction featuring a very typical mysterious stick man figure.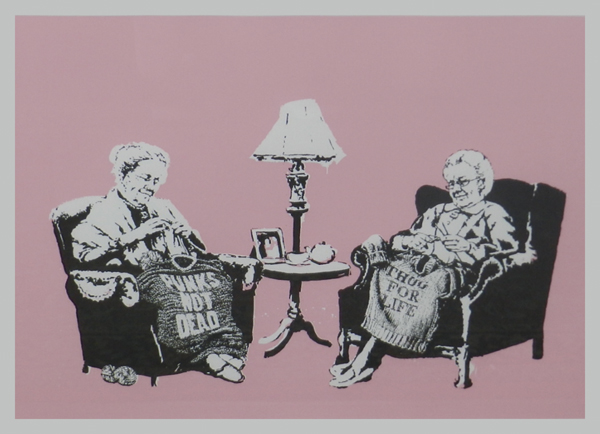 Finally, there will be the introduction of a few emerging urban artists in the sale such as RYCA, Tim Fowler and K‑Guy, whose thought provoking art is has rightfully taken the limelight of late. High Road Auction's will have a particularly striking K‑Guy piece of a life size model of a young boy with a soldiers helmet on, holding a grenade. The concept is chilling, yet an incredibly striking piece of art that sends a chill down the spine, sure to turn heads of shoppers on the Chiswick High Road!
High Road Auctions is one of the fastest growing auction houses in London, with its flagship branch on the Chiswick High Road with a West End and International client base as well as a newly opened branch in Twickenham. Their fine arts sale on May 12th promises to be one of their biggest to date with a wide range of contemporary art as well as 19th century paintings, Asian arts, interiors and collectables. The sale commences on a Tuesday evening at 6pm with a private viewing and drinks at 6pm on the Monday before, all are welcome.
30 – 34 Chiswick High Road, London W4 1TE. Tel: 0208 4005225
www​.high​road​auc​tions​.co​.uk