Marcus Harvey: Inselaffe,

16

July – 

16

October
Mention the term ​'Inselaffe' to a polite German and you will almost certainly make them blush. Translated into English the term means ​'Island Monkeys' and was originally a derogatory but light-hearted term to describe the British.
After all, when seen through the prism of our own reality TV shows or travelling football fans, it is not hard to understand why our continental cousins might see Britain as a place where evolution has stalled.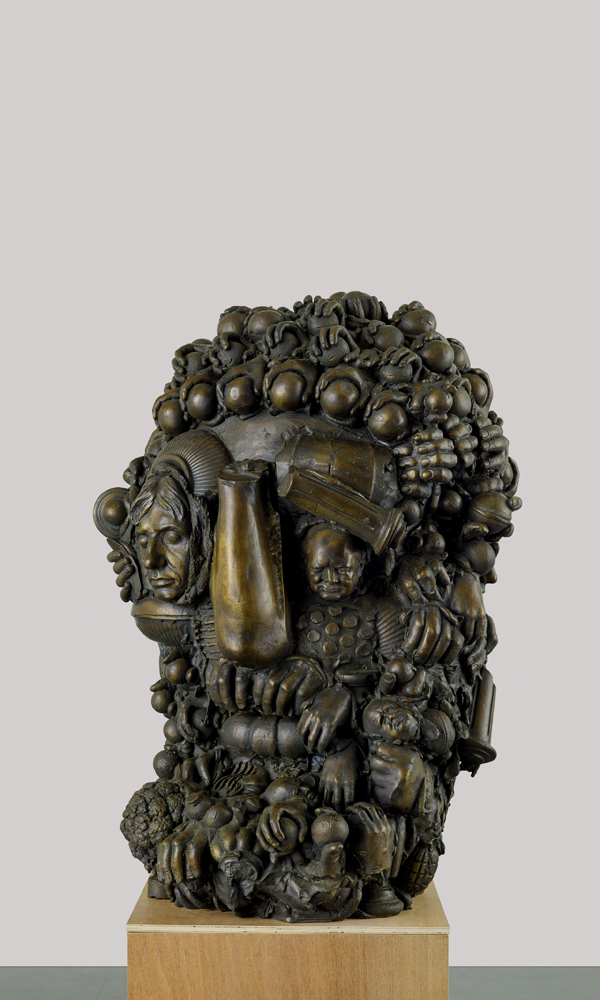 Historic Head 2015 © Marcus Harvey, Photo Prudence Cuming Associates, Courtesy Private Collection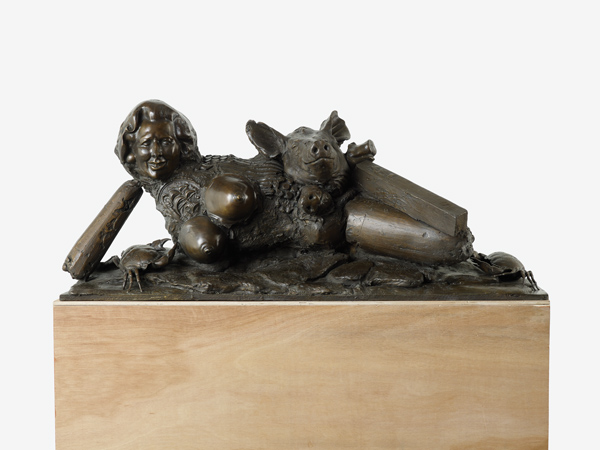 Maggie Island, 2015 © Marcus Harvey, Photo Prudence Cuming Associates, Courtesy Private Collection
Equally aware of our own sensitivities to such gentle mockery, Marcus Harvey's new exhibition at Hastings' Jerwood Gallery – entitled Inselaffe – is a series of tough but humorous paintings and sculptures that take motifs and emblems of Britishness, such as militaria and joke shop knick-knacks and forge them into collaged portraits of historical figures from Nelson to Margaret Thatcher, Napoleon to Tony Blair. The resulting sculptures are unapologetic and powerful, political yet ambiguous and reflect Harvey's concern with subjects like national identity and masculinity.
The paintings in the exhibition are a collage of photography, paint and sculpture. Harvey takes a photograph as the backdrop, layers paint over the front and, in a series of brand new works made especially for this exhibition, attaches casts of found objects to the front of the painting.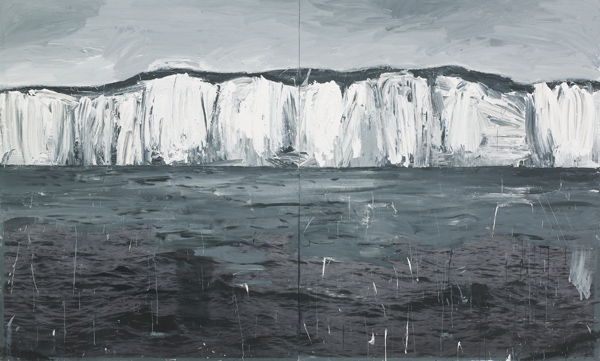 Albus, 2009 © Marcus Harvey, courtesy Private Collection
In his work Albus, Harvey's White Cliffs of Dover look strong, poignant and full of history, proud in adversity. Bad weather seems imminent, a storm is brewing and the water on which the painting sits is changing. Shifts of global power and economic woes threaten this mighty fortress. It is not clear where the future lies, but still the island stands strong: an apt sentiment in these times.
Harvey was born in Leeds, works in London and has family in Hastings. As one of the Young British Artists of the 1990s, alongside Damien Hirst and Tracy Emin, his most famous work is perhaps Myra, which was exhibited as part of the ground- breaking exhibition Sensation in 1997. Unprecedented national and international media attention ensued as the painting had been created with repeated child's handprints in the image of the infamous child murderer Myra Hindley.
These days Marcus is looking for imagery that is emblematic of a brutish but proud sense of Britishness and the journey of this nation to where it sits today. 2016 marks the 950th anniversary of the Battle of Hastings and William the Conqueror's invasion of England – events which changed the course of this island's history. Inselaffe is Jerwood Gallery's contribution to Hastings' Root 1066 Festival of Contemporary Arts, which marks the anniversary with innovative and fresh perspectives on the history and legacy of 1066. Running through the summer, but with its main focus in September and October, the festival will offer spectacular outdoor events, fantastic performances, exhibitions and projects across 1066 Country focused in Hastings, Bexhill and Battle.
Running alongside Inselaffe is Bitten by Picasso (

6

July –

9

October)
By the time of his death in 1973, Pablo Picasso's fame had transcended his career as a painter. He simply was Picasso. His work was instantly recognisable and his autograph on a napkin sufficient payment to settle a restaurant or bar bill. The world was bitten by Picasso.
In Farley Farm House, a handsome red brick farm in rural East Sussex, being bitten by Picasso had a very real meaning.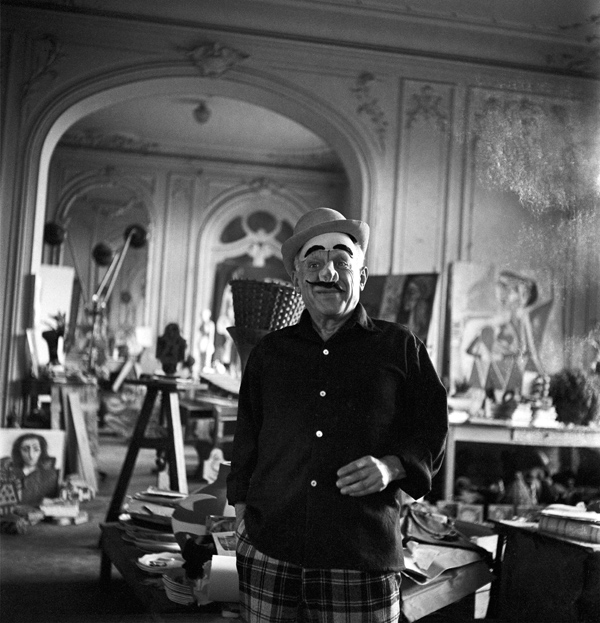 Picasso, Villa La Californie Lee Miller, Cannes, France, 1957 © The artist's estate
As the son of Surrealist painter Roland Penrose and celebrated photographer and model, Lee Miller, Antony Penrose grew up surrounded by famous artists. But it was during a rough and tumble bull fighting game with Picasso that matters took a dramatic turn. The young Antony bit the artist, but was surprised when the Spanish maestro returned the gesture. ​"C'est le premier Anglais que j'ai jamais mordu!" ("It is the first Englishman I have ever bitten"), exclaimed Picasso as Antony's mother, Lee, raced to see what the commotion was about.
Rather than fracture their relationship, the incident sparked a deep bond between the pair, which Antony charmingly captured in his children's book, The Boy Who Bit Picasso, and it is Penrose's memories of arguably the 20th century's greatest painter that has inspired a wonderful, intimate one-room show at Hastings' Jerwood Gallery.
Bitten by Picasso presents rarely seen pictures and objects created by Picasso, alongside photographs taken by Lee Miller.
For more information:
visit www​.jer​woodgallery​.org
or follow @jerwoodgallery on Twitter, Instagram or Facebook.