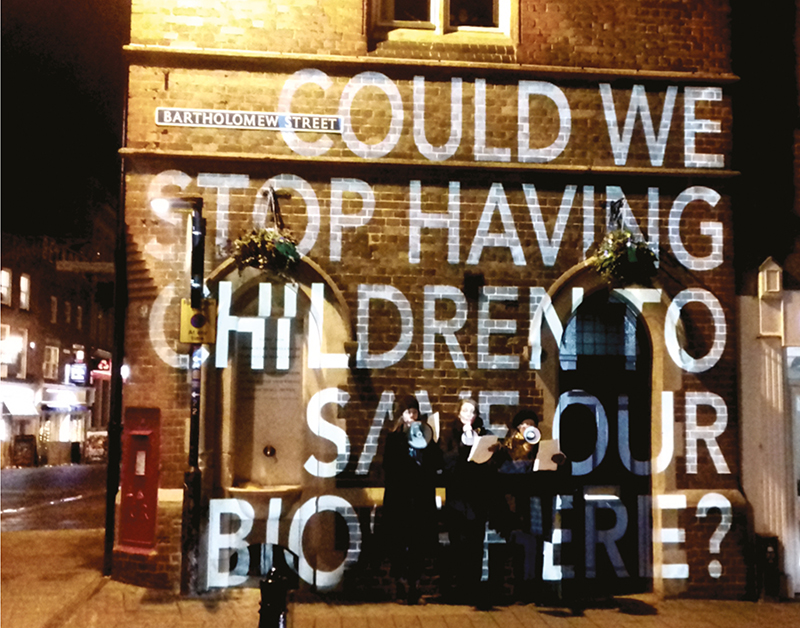 Live Long and Die out, courtesy of Melanie Wilson
Internationally acclaimed artist Becky Beasley, from St Leonards, is one of the new curators for this year's festival, as well as showing her own work in the form of a brand new commission centred around the colloquially known Trinity Triangle. Beasley will hold a brand new exhibition of her photography at Solaris gallery on Norman Road in St Leonards from the 8th– 29th September coinciding with her curated exhibition a few doors down at Project 78 with a new show by Ann Parfitt.
Beasley is also overseeing an evening at Borough Wines curated by Ben Urban and Billy Stanley as well as being In conversation with Melanie Wilson on the 22nd September. This is just one part of a huge programme of Arts Council funded visual arts exhibitions, performances and events over the course of the whole month of September.
Greig Burgoyne returns with two impactful and press-worthy curatorial gems; Emily Peasgood will create a brand new sound art commission especially for the cliff railway in Hastings town centre and Doug Fishbone will bring his usual style, heavily influenced by the world of stand-up comedy to the Kino Teatr. Fishbone will also perform live at the Stade Hall on the 12th September.
The first ever Coastal Currents Art Fair will run from 2nd to the 13th with 45 selected artists work on sale at the Stade Hall. Grab yourself a bargain from artists including Ben Fenton, Tom Bartlett, Geraldine Swain, Jamie McCartney, Grande Dame, Rachel Glittenberg, Oscar Yasamee, Sophie Barber, Peter Quinnell, Benjamin Phillips among others.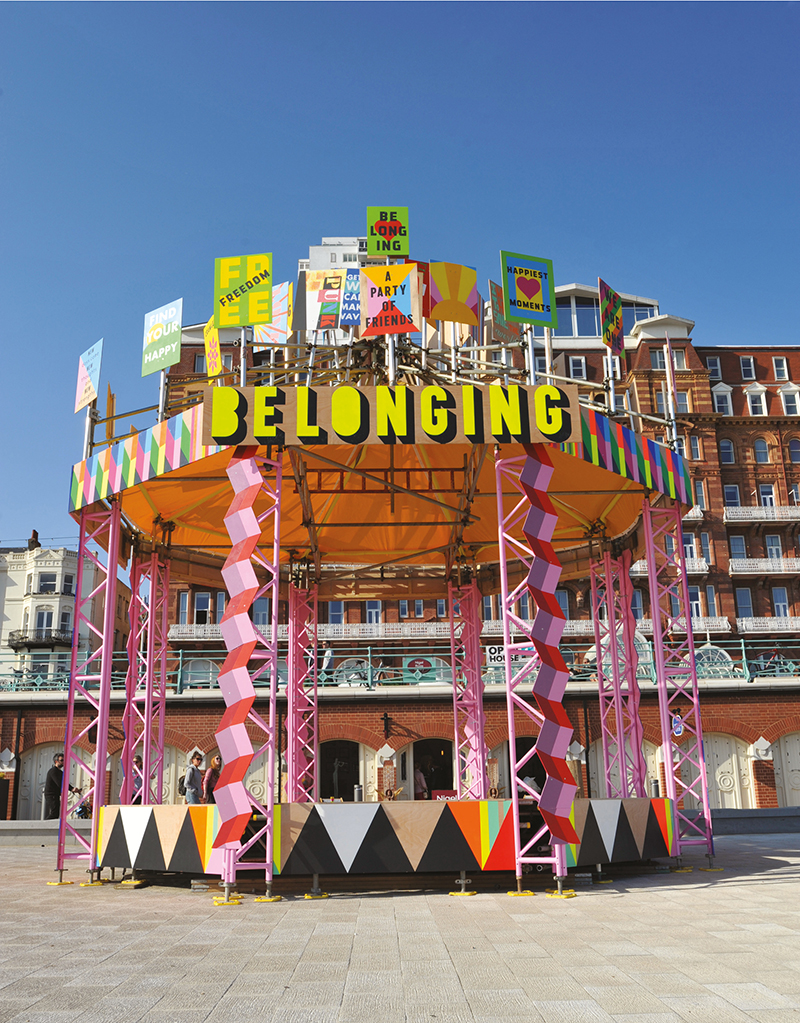 Morag Myerscough, courtesy of Ditchling Museum of Art and Craft and Brighton Festival
The opening weekend will see artist Morag Myerscough bring her touring stage to Hastings where it will remain until the 9th September, housing all manner of interesting performances including Eggtooth's youth music project on the 1st September and Ore Synthesizer Club on the 8th September, both a partnership with Stade Saturdays to bring free accessible arts programming to the outdoors.
Caleb Madden also returns for 2018, but with a project housed in the Masonic Hall in St Leonards over 3 days. A project entitled Xenofuturism: Welcome to the Antivoid by the newly formed Antivoid Alliance. This large scale sculptural intervention includes a live screening and cutting edge dance piece by Yumino Seki.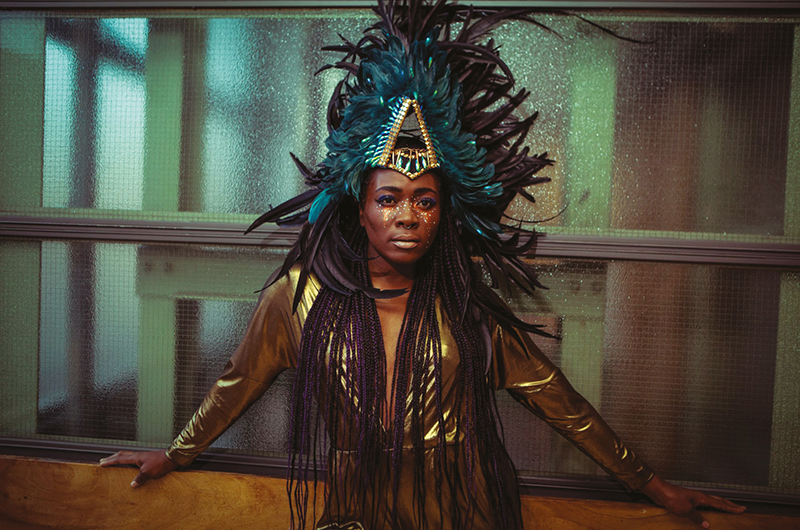 Rachael Young, courtesy of Marcus Hessenberg
The outdoors is still a huge factor in Coastal Currents, facilitating larger access for the public to free art and changing the way the town is perceived. This year we have several pieces in the balance with urban art forms firmly on the agenda. Keep an eye out on their social media channels for news updates and teasers. Deborah Bowness, who primarily works in wallpaper and lives in St Leonards, joins the festival programme this year with her own piece of outdoor art.
Plus ZEROH are on board with another innovative new commission which works with Augmented Reality to create a month long, interactive, mobile phone based series of fantastical interactions, which will bring the town to life. Gatherings, pop ups and creatures appearing from physical markers, this project will be enrobed in a beautiful story written by Gareth E Ress as a prequel to the well-loved Moth Project.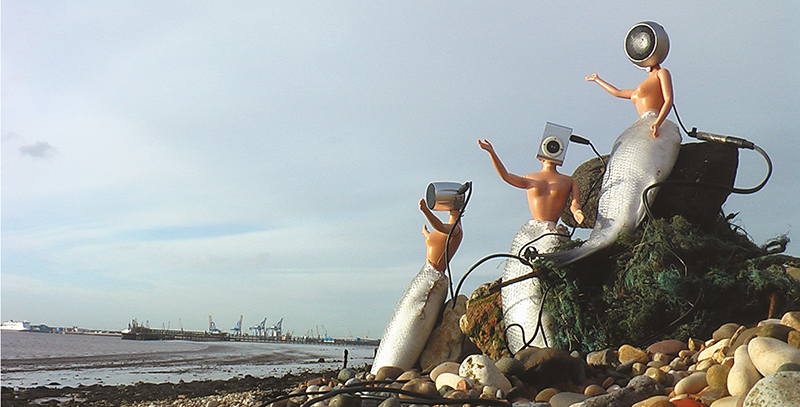 Washed Up Car-Go by Chris Dobrowolski
The film programme changes focus with two new partnerships on the cards, Screen South will bring their Playback touring exhibition to the Shipwreck Museum and Chiara Ambrosia does an Hastings-special of her much loved Light and Shadow Salon, usually based at the Horse Hospital in Bloomsbury.
Home Live Art bring a bumper curated programme which kicks off with Chris Dobrowolski's new commission, originally a part of Season for Change, a UK-wide programme of cultural responses celebrating the environment and inspiring urgent action on climate change. It was originally commissioned for Hull UK City of Culture 2017.
Also for 2018 Home Live Art head up an incredible LGBTQ+ strand which includes New Queers on the Block, a night in partnership with The Marlborough Theatre, Salty, a queer performance party, Fantabulosa which features Drag Queens and storytelling, and as if that wasn't enough, they return to their roots with a salon event in a secret location featuring Florence Peake and Catherine Hoffman.
Always the lifeblood of this community arts festival, the Open Studios take place on the first two weekends, 1⁄2 and 8⁄9 September, lighting up the town with trails and a plethora of affordable art. Added to this, the submitted programme of Exhibitions and Events from galleries, organisations and individuals across 1066 will set the county on fire for the whole of this 5 week month.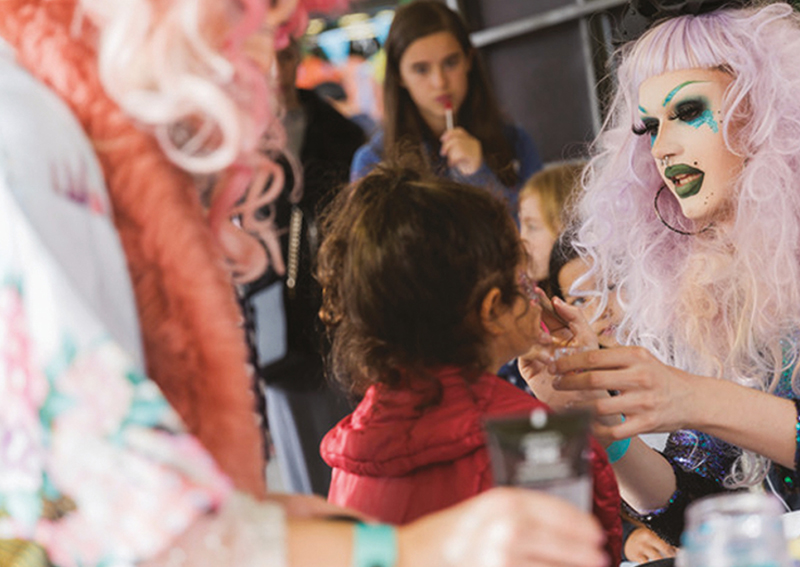 Fantabulosa courtesy of Nick Hynan
Local much-loved artist Beccy McCray will work with her Crafternoon Tea Club to create a procession leading you to the opening party on the 31st August. A hotbed of interesting talent gathered mostly from other seaside towns, expect the unexpected and we'll see you there!
More updates and project information can be found at coastal​cur​rents​.org​.uk or on Instagram @coastalcurrentsfestival