Exclusive interview with Sir Quentin Blake
An undoubted national treasure, Sir Quentin Blake is passionate about Hastings, and that is why he has chosen Jerwood Gallery as the venue for his biggest and most ambitious show to date. Probably best known as an illustrator working with the likes of Roald Dahl and Michael Rosen, his exhibition The Only Way to Travel, opening on 14 June until 15 October, will show a completely different – and to many totally unknown – facet of his work.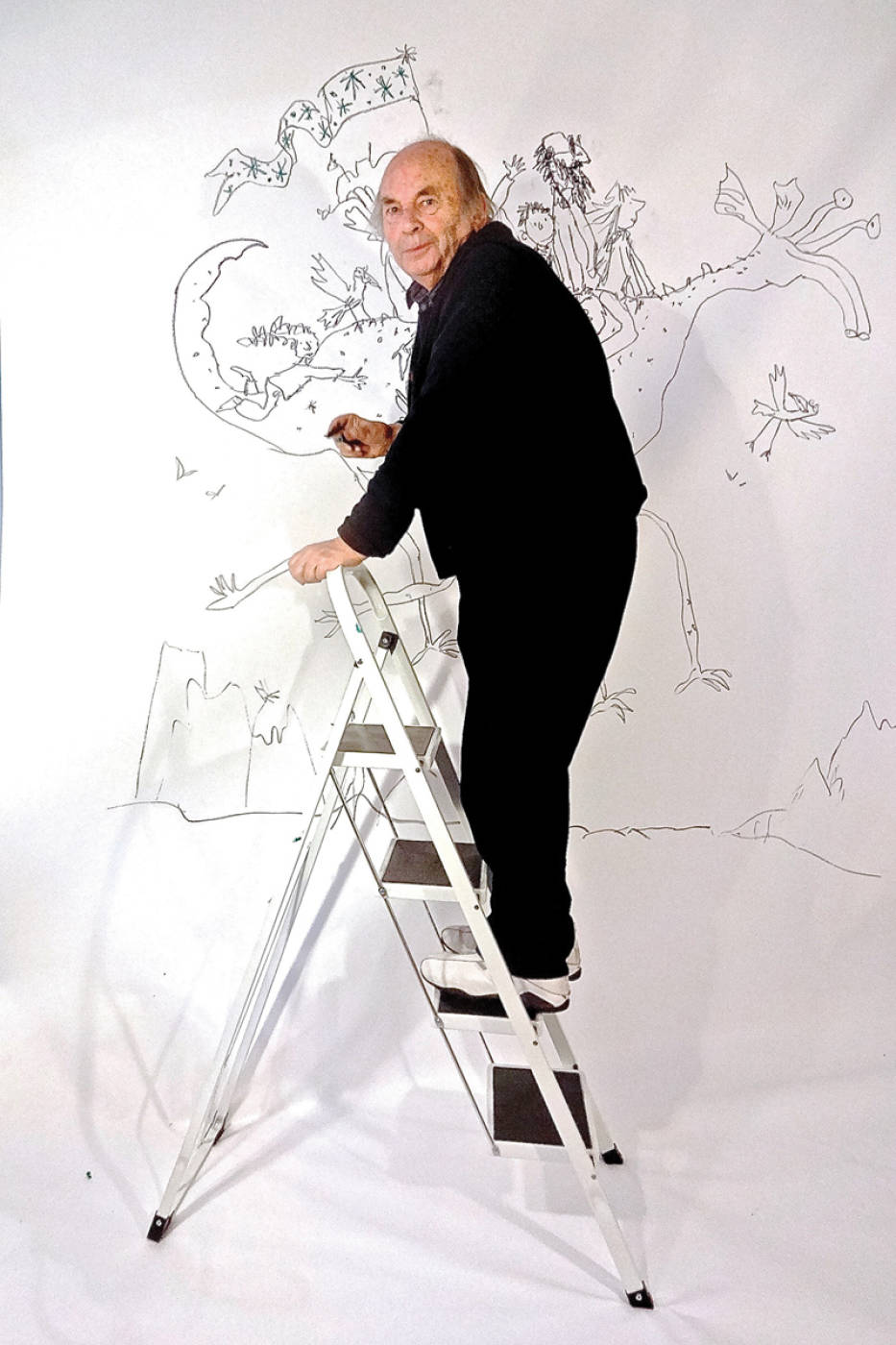 Sir Quentin Blake is an artist and illustrator who needs little introduction. Such is his relationship with the British public that his work is as familiar as Marks & Spencer, Rolls Royce or Fox's Glacier Mints. We think we know his work. Well, this new show at the Jerwood Gallery is set to change all that.
Invited by gallery Director Liz Gilmore to explore themes that concern him, Sir Quentin's new exhibition at the Hastings gallery reveals his thoughts on mental health, the squeezing of creativity and the refugee crisis.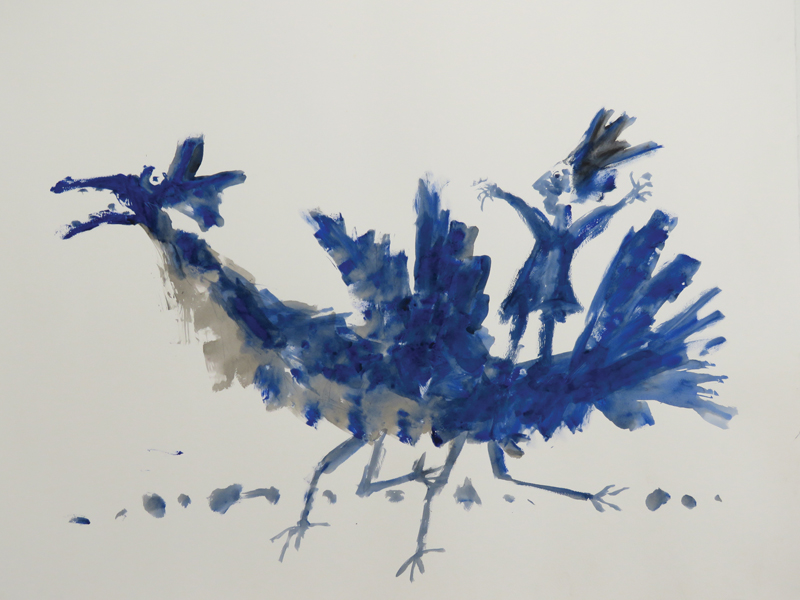 "He is an astonishing artists and draughtsman, with a unique style" says Gilmore. ​"Jerwood Gallery is renowned for championing the artistic spirit and allowing artists to have creative freedom. Following this tradition, seen most recently in our Keith Tyson and our crowd funded Paula Rego exhibitions; we were keen to ask Sir Quentin to create an equally ambitious show – of ​'serious art'."
Consequently, The Only Way to Travel takes visitors on a journey through modern life and the creative mind. Featuring extraordinary beasts, machines or bizarre, narrative scenes, themes include people dislocated from their homes, loneliness, and depression, as well as energy and enthusiasm.
Jerwood Gallery wanted to give Sir Quentin the opportunity to explore these issues. The resultant pictures are sometimes serious but, in typical fashion, far from gloomy. He takes the viewer on a drawing journey, with images ranging from the size of a post card to a huge, 20' by 9' mural, which will be created in situ in the gallery using a cherry picker!
The Only Way to Travel is the 84 year old artist's biggest ever UK show and will bring 100 pieces to Jerwood Gallery's ground floor. It will feature clusters of new works inspired by the breadth of this exhibition's brief.
"The hugely exciting aspect of this show is that Sir Quentin has produced this body of work that has not been constrained by the dictates of a specific commission," Gilmore observes.
Aspect County spoke to Sir Quentin ahead of the show opening, to gain more of an insight into the man and the motivation behind this new body of work.
Please could you tell us about your younger life and how this influenced you as an artist.
" I was born in Sidcup and went to the local boys grammar school. My family were very nice people but did not share my interests, so everything I got, I got from school. I think education is very important. I had a very good art teacher and my Latin teacher, unusually for the time a women as it was the war years, introduced me to her husband Alfred Jackson, who was both a painter and a cartoonist, which gave me the idea that was something you could do."
What is your earliest memory of drawing?
​"I still have a drawing from when I was about 4 but I don't actually remember doing it. I started drawing at school and drew for the school magazine and then, as a consequence of the meeting with Alf Jackson, I started sending drawings to PUNCH. These were quite bad drawings but when I was 16 I got one or two of them published and went on doing that for sometime.
I sort of got drawings published and then learnt to draw afterwards – in some sense it was like an apprenticeship."
So after leaving school did you study art?
​"No, I went to Cambridge, Downing College and read English.
I didn't do much about art while I was there. I did some things for the student magazine. I wasn't sure if reading English was the right thing to do at the time, but, I realised later that a close appreciation of words is one of the things an illustrator needs.
My options when leaving Cambridge were to become a teacher, which I would have been very happy doing, but, I knew I really wanted to draw and I had to see if I could do it.
I got some money from PUNCH and lived at home for a while and found I could survive and then I got into book illustration and that really was the start of everything since.
I have no formal art qualification but after I got my degree I went to Chelsea art school because I knew there was an art teacher there called Brian Robb who was a painter and illustrator. He became a mentor, which was very important and he was a friend ever after until he died. He was very good because he would say ​'don't join my illustration class as you know too much already!' but I used to show him my drawings and then later on he moved from Chelsea to the Royal College of Art. After a while he got me to go and teach part time there. So I went to help him and eventually when he retired I took over the department."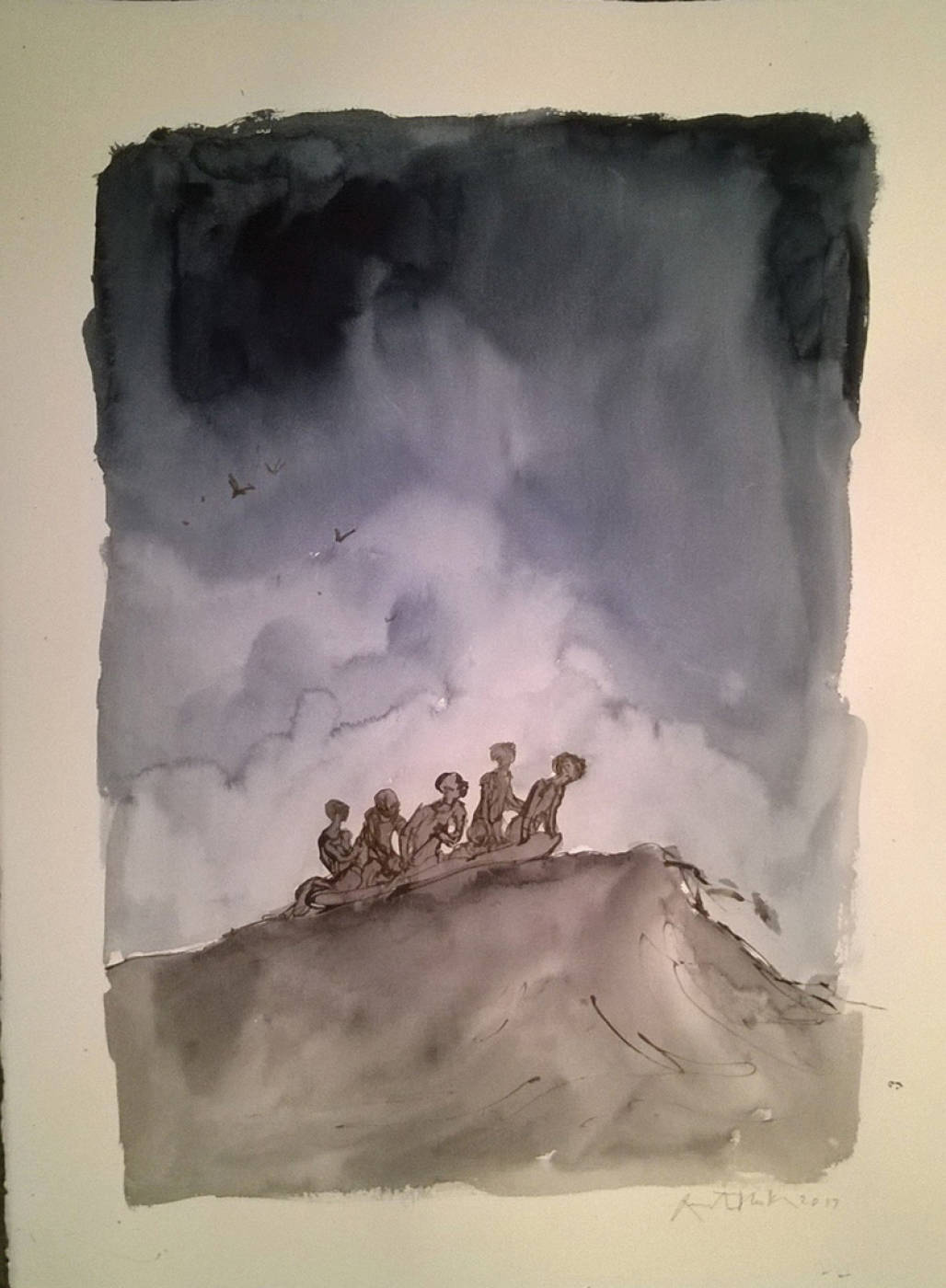 What gives your life meaning and purpose – What gets you out of bed in the morning?
​"Drawing drives me. I don't work in sketchbooks – I use them for ideas but I don't draw from life. I used to draw from life when I was a young man. I haven't done that for years. I make it up.
I gave up the teaching many years ago now but I have over the last several years worked a lot on the campaign for drawing, giving lectures and I have been actively working on the BIG DRAW from the beginning. Sue Grayson Ford got me into it. I've also done all sorts of other things linked to and promoting drawing."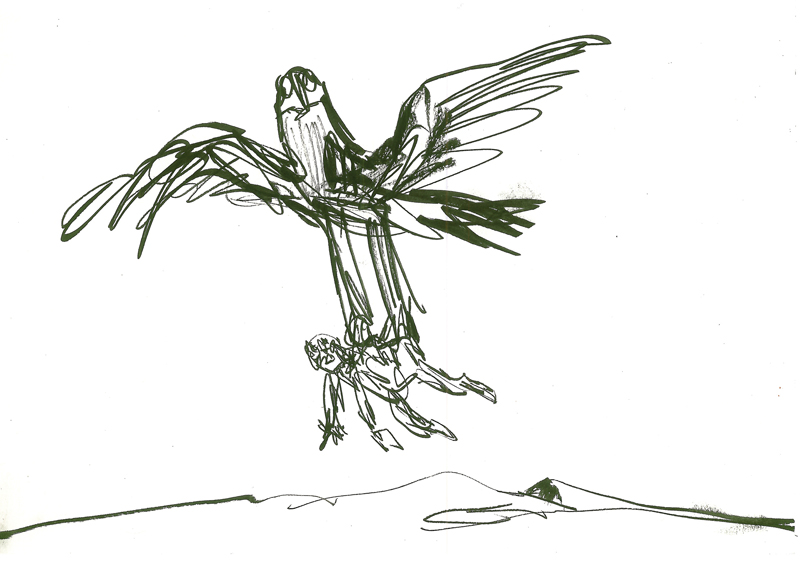 Your work displays an innate sense of humour and fun– does this reflect your general personality and approach to life?
​"I don't know – I hope so. I can't help but see the funny side. I started off doing jokes because it was something you could do. You do a drawing that makes someone smile, makes someone laugh – there may be a written joke associated with it – but what is more interesting is to make drawings that amuse people because of the drawing. Then if you go on from that you discover that humour is not just humour on its own, its much more complex than that and you elicit from people a whole range of emotions. Most of the books are cheerful and humorous but I've done lots of others, for example Michael Rosen's SAD BOOK (ISBN-13: 978 – 1406317848).
One of the things I've learnt as I've gone along is the way drawings speak to people. I've done a lot of work in mental health, producing work for the walls and the reactions have always been extraordinary."
You are well known for your work with Roald Dahl. How did the two of you meet?
​"We met because the publisher put us together. It was Tom Maschler. He published me already and Roald went to him. The notion probably came from Gina Pollinger. In the beginning it was exploratory – the first book was The Enormous Crocodile (ISBN-13: 978 – 0141323756). We didn't know it was going to be a collaboration at that stage. I then did another book and we actually got to know each other much better, really over The BFG (ISBN-13: 978 – 0141365428). I got into the way of going down to Great Missenden and it gradually built up and we became great friends."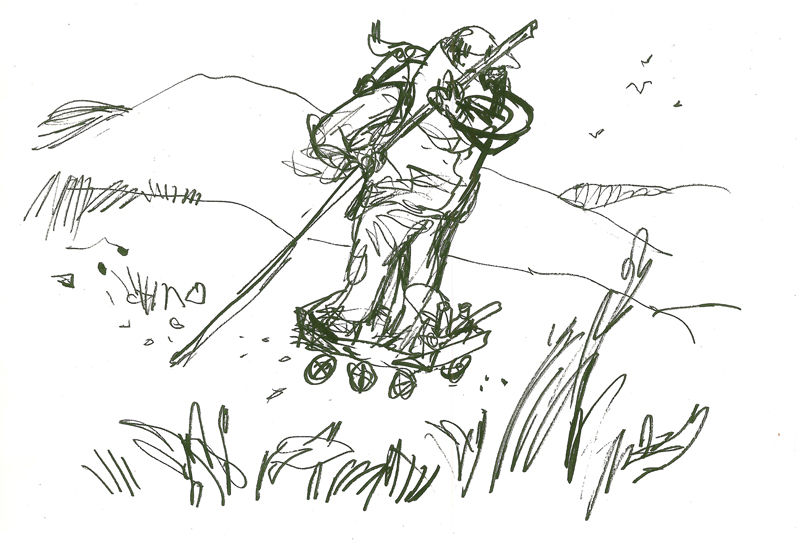 You are passionate about Hastings…
​"Yes. I went years ago. I didn't mean to and I bought a house there. I used to share a house with a friend, John Yeoman, in Hythe and eventually we left because we found it too small. We found a bigger house in Hastings – It's medieval practically. I've come to love it. There are fishing boats at the end of the road. I've gone to Hastings over the years and I've illustrated books there and it's got more interesting over time; with the arrival of the Hastings Story Telling Festival and now the Jerwood Gallery. The Jerwood is at the bottom of my street and it's wonderful.
I visit frequently. The sea is a constant; a strong presence in my work."
Why now for this exhibition in Hastings?
Really it's because Liz Gilmore told me to do it. But this is also a very good moment. In the past 15 years I've done an enormous amount of work for public spaces and those are drawings I do in the studio which are then enlarged. The largest drawing I've done to date like that was for St. Pancras Station in London, which was enlarged to the size of a five storey building.
I've done a couple of shows at the Jerwood previously, but, now Liz Gilmore has asked me to do very large drawings. This was fascinating to me as I've seen my drawings made very large but I've never actually created them very large in the first place. So this was an interesting opportunity. So I'm now doing drawing's which are 10 × 15 ft and I'm creating others in watercolour, which is new to me at this size – 20 × 30."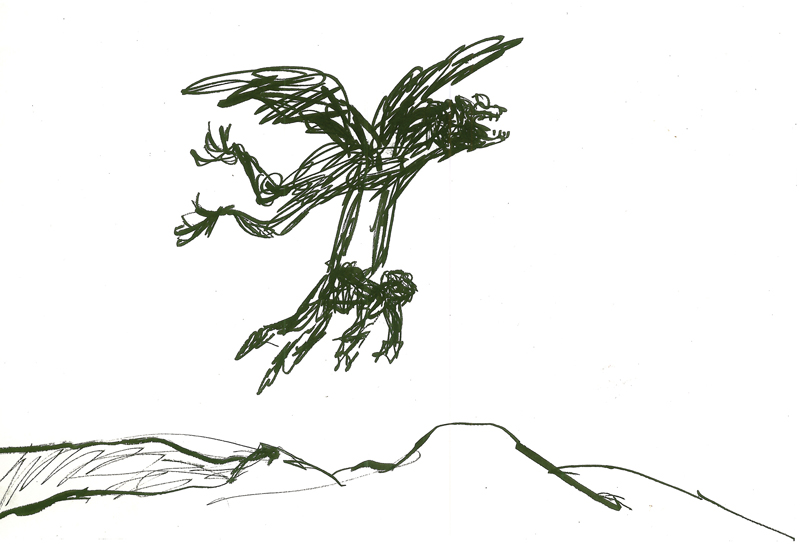 What attracts you toward drawing in large scale format?
​"It was very exciting for me when Liz Gilmore invited me to produce very large drawings – as large as possible – to hang in the Foreshore Gallery. I thought ​'What a wonderful opportunity – why shouldn't drawings be as large as oil paintings?'
These big drawings are very spontaneous, as I don't have any way of preparing them beforehand (except perhaps in my head). They are improvised on the paper and there is really little chance of revising or correcting them, either. But it's that element of risk that is part of the appeal; in that respect it's in some ways like a performance. You see everything that happens.
"Another stimulus is that, at this scale, you have to rethink the drawing materials. What you thought was a big pencil suddenly looks quite small.
Many of the drawings are done with large brushes, and several with commercial decorator's paint rollers or an ink dispenser. I've used things that are inexpensive and fun to use."
What inspired the title of this exhibition?
​"I chose the title because it gives me the opportunity of doing a number of different kinds of pictures on related themes. Many are comic fantasy, some are more decorative and others have a suggestion of metaphorical significance, which allows me to explore human situations and feelings. I thought also that the idea of ways of travelling was something that almost anyone of any age might relate to, and help to lead them into the pictures."
Is there one piece in the exhibition that particularly stands out for you?
​"There are going to be a hundred – It's hard to pick one out as a favourite. I'm more concerned to get rid of the ones that aren't good enough."
What goals and ambitions do you have for the future?
​"To keep going! I've made two books about my work – ​'Words and Pictures' and ​'Beyond the Page' and I am at work on a third, which will appear in 2018.
I have just re-illustrated The Minpins (ISBN-13: 978 – 0141501789), which is the only children's book by Roald Dahl which I have never illustrated. It has lots of small drawings, and we are calling it Billy and the Minpins, to distinguish it from the Patrick Benson version.
But I'm most excited right now about the Jerwood exhibition – It's been the most wonderful experience and opportunity."
The Only Way to Travel opens on 14 June at the Jerwood Gallery, Rock-A-Nore Rd, Hastings TN34 3DW
For more information follow @jerwoodgallery on Twitter and visit www​.jer​woodgallery​.org
Images © Quentin Blake
Interview © Lesley Samms 2017