Exhibition review
"A committed Modernist"
Jerwood Gallery, Hastings
In Focus: John Piper
An Eye for the Modern: 2 March – 8 May 2016
The move to abstraction by one of British art's most versatile creators is celebrated and explored in an extraordinary new exhibition now open at Jerwood Gallery, Hastings.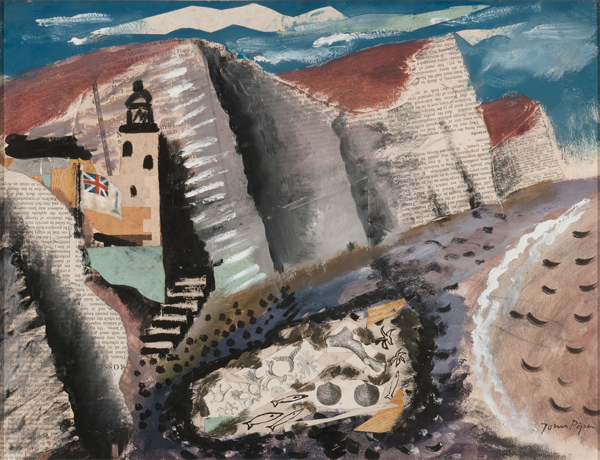 As part of the Gallery's on going commitment to supporting and nurturing excellence in the arts and inspired by their recent acquisition of Beach and Starfish, Seven Sister's Cliff, Eastbourne, John Piper – An Eye for the Modern brings together over 30 works, spanning 30 years (1930s-1960s) including paintings, prints, tapestries and theatre set designs. Many of the works on display are on loan from private collectors, including significant loans from both the Imperial War Museum and Towner Art Gallery.
Famous for his romantic landscapes, stately homes and castles and documentation of the bomb-damaged churches and buildings of post-war Britain, John Piper is considered to be one of the most significant British artists of the 20th Century. Born in Epsom in 1903, Piper's inclination to become an artist was inhibited by his father's desire for him to join the family law firm. Following the death of his father in 1927, Piper enrolled in the Richmond School of Art and a year later the Royal College of Art, leaving without graduating in 1929.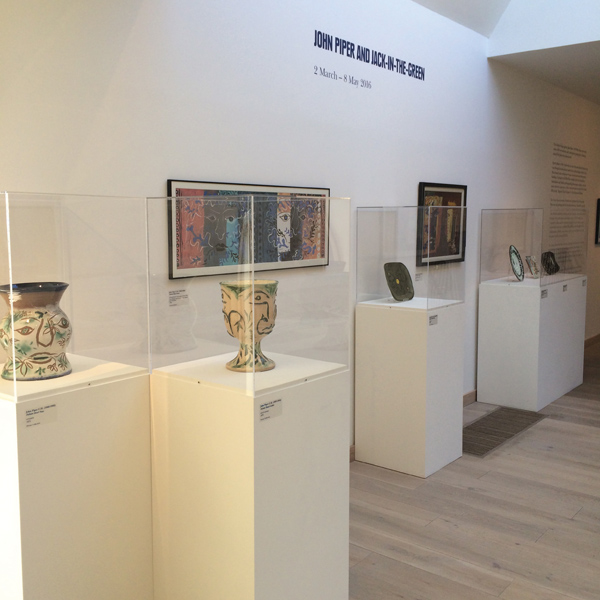 Piper's career spanned some sixty years and encompassed a huge range of artistic media including printmaking, painting, drawing, illustration, photography, stained glass, textiles and stage set and costume design. His fascination with the vernacular and ecclesiastical architecture and the modern abstract movement forms a strong narrative throughout his work and is clearly and sympathetically conveyed within the curation of this In focus exhibition at the Jerwood Gallery.
Hung chronologically in upstairs rooms 4,5, and 6, the exhibition is divided into two distinct segments, conjoined by the sister exhibition running concurrently: John Piper and Jack-in-the-Green, which displays 15 of his Foliate Head works, in a variety of medium, including textiles and ceramics, alongside contemporary photographs of Hastings' annual Jack-in-the-Green festival (held annually on the first May Bank Holiday). Piper's foliate or ​'leafy' head works are one of the most distinctive themes that run through his work and are based on the traditional figure of the ​'green man' found in the architecture of medieval and 19th-century buildings.
The In focus exhibition begins in room 4, with a rare early work, Vase of flowers, 1929, painted while Piper was still at the Royal College. The remaining works in this room date from the 1930's and, considered in conjunction with the works in room 5, provide a clear narrative to Piper's journey into abstraction and commitment to modernism; the works in room 5 principally dating from the 1940's. The works in room 6 date from the 1950's and 1960's and depict a lightening of mood through colour and form, as Piper gradually threw off the gloom of the War years and embraced new media and challenges, including collaborative commissions with specialist craftspeople. Piper became England's foremost stained-glass designer as a consequence, working on major commissions such as the new Coventry Cathedral. 3 of the 195 designs for this project are displayed in this room and for me therefore make room 6 very special indeed… a place to pause and reflect.
Jerwood Gallery Director, Liz Gilmore says: ​"There is both a local and national interest in the artist who was inspired by the landscape and architecture of Sussex and Kent. His very broad skill set allowed him to be prolific in a number of genres, which the exhibition seeks to reflect. The timing of the exhibition is pertinent, as it comes when two new books appraising Piper's life and work are set to be published and interest in his career is reawakening."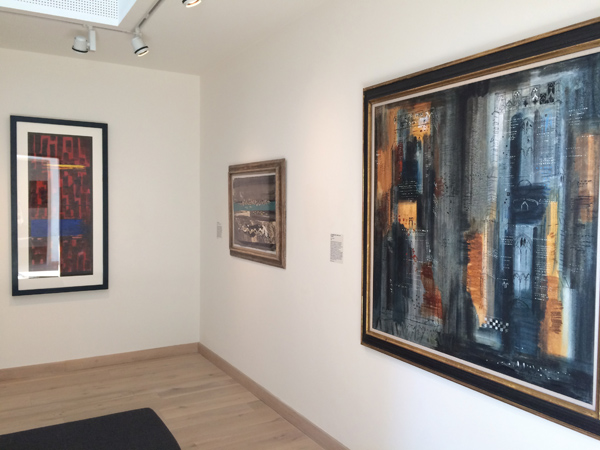 Lara Wardle, Curator of In Focus: John Piper – An Eye for the Modern and the Jerwood Collection, believes the show will offer a comprehensive insight into this ​"committed Modernist" ​"It feels very appropriate to present these exhibitions of John Piper's work at Jerwood Gallery which overlooks the Stade, a shingle beach in Hastings Old Town. Piper is one of the most significant figures of Modern British art, and his life and art spanned the 20th century. ​'An Eye for the Modern' focuses on his works from the 1930s to the 1960s and demonstrates his commitment to modernism."
These exhibitions have been generously supported by Hastings Borough Council, Jerwood Foundation and Offer Waterman.
If you're inspired and want to see more of Piper's work, Pallant House Gallery in Chichester presents John Piper: The Fabric of Modernism, which considers for the first time his role as an accomplished designer of modern textiles and tapestries. This exhibition runs 12 March – 12 June 2016 www​.pal​lant​.org​.uk.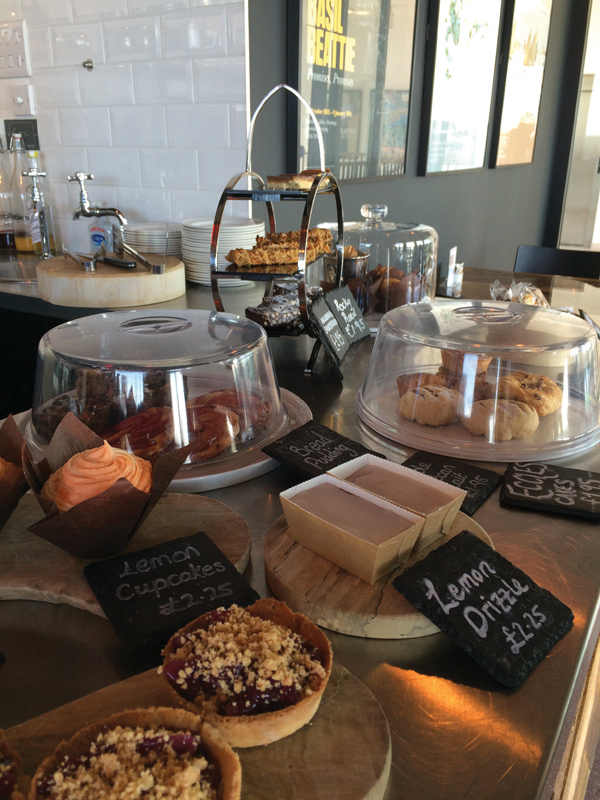 Truly inspirational exhibition – one not to be missed Web's café on the first floor is also highly recommended – the cake selection is superb!
For more information visit
www​.jer​woodgallery​.org
and follow @jerwoodgallery on Twitter.