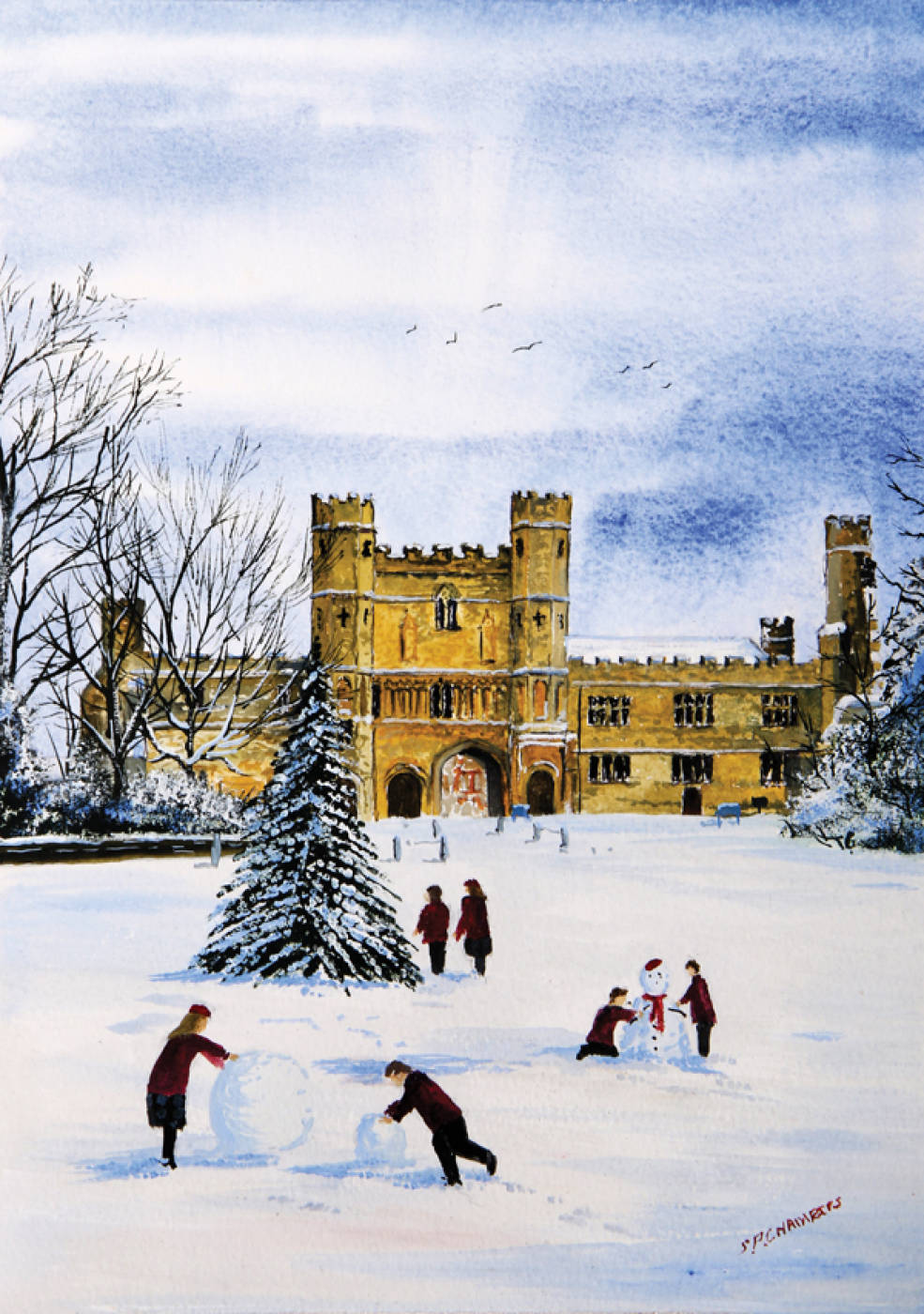 Schools out for Christmas
The Story behind the Aspect festive front cover
Steve Chambers is an artist whose work is all the more astounding when you consider that he paints with a brush held in his mouth. Steve has painted our festive front cover at a particularly important time: he's a member of the Mouth and Foot Painting Artists (MFPA), an organisation of artists who paint with their mouths or feet. The MFPA makes its money by selling Christmas cards and a wide variety of seasonal products created from images painted by its artists. The proceeds provide MFPA artists with a vital financial lifeline.
Steve was born with arthrogryposis, a rare condition leaving him with no muscles in his arms and severe stiffening of the leg joints. He spent much of his early life at Great Ormond Street Hospital for Sick Children. Amazingly, Steve exceeded doctors' predictions due tohis mother's perseverance and determination, spending hours massaging his legs and encouraging him to exercise.
Steve attended an ordinary school where his natural inclination was to hold a pencil in his mouth, which led him to develop his artistic skills – encouraged again by his mother, who didn't let him give up on his talent. He says: ​"From the beginning I used my mouth to hold a pencil. I didn't find it difficult because I had never known anything different. What did frustrate me as a child was that often I could not get the effects I wanted when I tried to draw. I would throw down the pencil in a rage but my mother would make me carry on."
After school Steve secured a place at art college where he learned the basics of painting. His creative efforts led to him becoming accepted as a Student Member of the MFPA in 1980 and he achieved his ultimate goal by becoming a Full Member Artist of the MFPA in 2005, which opened up his work to a global audience.
Steve's artistic talent has gone from strength to strength and a large collection of his painted images have been selected by the MFPA for reproduction as Christmas cards, calendars and other gift items that have sold throughout the world over the years.
Steve's special front cover for Aspect County depicts Battle Abbey School, East Sussex at Christmas time – and this beautiful image may even end up as an MFPA Christmas card next year. Being a father of four, this school scene evokes plenty of sentimental memories for Steve. His children are grown up now – they're aged 17 to 25 – but together with his wife Jo, they all live in Norfolk and are looking forward to celebrating Christmas – no doubt with some MFPA Christmas cards standing on their mantelpiece!
Steve reflects: ​"To me, using a paintbrush with my mouth is like using your hand to pick up a spoon. Painting can be a challenge, it sometimes takes me about a month to paint something I am completely happy with and that is up to the standard I expect of myself. When the urge is upon me I cannot stop painting. I work through the night and I'm surprised when the day breaks."
To buy MFPA Christmas cards and other seasonal products visit www​.mfpa​.co​.uk