So much more than a gallery and creative framing
Hastings-based business provide a surprising range of creative services and products
Have you heard of Imagen Gallery and Creative Framers? It's the only picture framing business in Hastings itself. The gallery is located in Claremont, which is part of the Trinity Triangle on the historical America Ground. It is a bespoke framers specialising in hand-decorated and finished frames, including hand-laid gold leaf, painting, staining, liming and one-off frames made to Imagen's own designs. ​'We find that people come from far afield, including London, to take advantage of our more specialised approach to framing,' says partner and multiple award-winning framer Peter Armstrong. ​'If the customer has a preference, we will of course carry out their request, but we also give advice if asked for it. The ethos of what we do is that the image must come first, so the picture is not swamped by the frame, but complemented and hopefully enhanced.'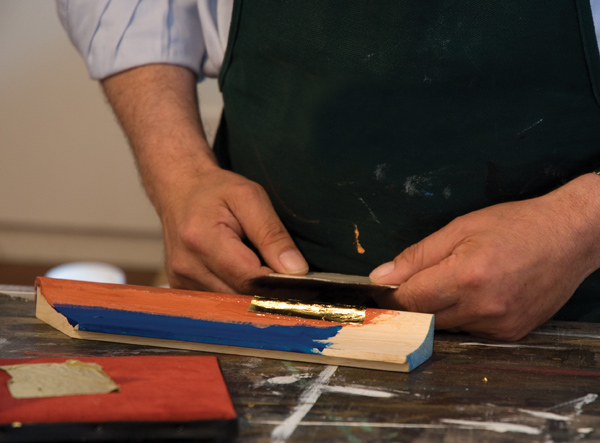 Laying on the gold leaf
Imagen cut decorative and complex mounts on their computerised mountcutter. They can also craft traditional hand line washes for the more classical prints and engravings. Their customers range from private individuals, artists, architects and interior designers to art dealers and galleries.
The company has been in business in Hastings since 2006 and in that time, has fulfilled a number of interesting contracts for the National Trust, ecclesiastical commissions and television, including framing a number of pictures for the recent BBC period comedy Mapp and Lucia.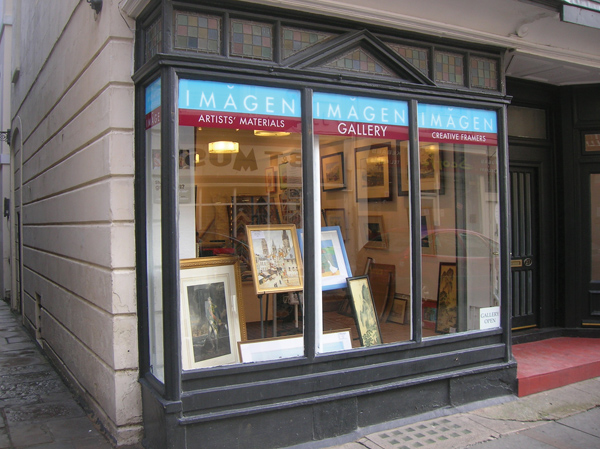 The gallery
The gallery stocks a range of framed and unframed prints and engravings and provides a sourcing service for particular images. They specialise in traditional engravings and can advise on provenance and types of etchings, with facilities to restore and clean them. In addition, they carry a small range of artists' materials and art books.
Imagen also carries the largest selection of classical CDs in the area as the range at other outlets in Hastings is poor.
The small team at Imagen is made up of Peter and Jackie Armstrong, the partners who started the business in 2006, Nigel Plum and Andrew Butwright. Jackie holds the business together by dealing with customers and administration, whereas Peter, Nigel and Andrew do the framing and restoration of pictures. In his parallel life, Nigel is an artist and printmaker and exhibits some of his work at the gallery. He has also taught Fine Art in London. Andrew has owned a picture framing business in London and both of them come up to the exacting standards expected by Imagen.
This year, they are again taking part in Coastal Currents Arts Festival. The exhibition is entitled ​'1066 Country and All That' and is a collection of antique and contemporary engravings and intaglio prints of scenes from Pevensey to Rye and up to Tenterden. Coastal Currents 2016 runs from 3 September – 2 October, so why not come along and see what's on offer! The gallery is open from Monday to Saturday between 9.30am and 5.30pm, but closed on Wednesdays.
Imagen Gallery and Creative Framers of Hastings, 20 Claremont, Trinity Triangle, Hastings TN34 1HA.