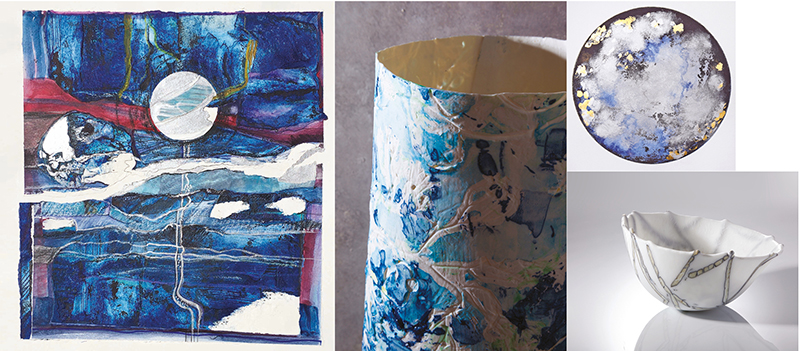 You can always rely on variety at ArtSpring Gallery in Tonbridge, as well as quality. This artist-run gallery never stands still, whether it's a changing programme of guest artists, welcoming new members, linking with local businesses, participating in community events or starting an online shop. The months of November and December are no exception!
There are four guest artists in the gallery this November: Christina France, an abstract printmaker from Sevenoaks; Liz Emtage, who brings her ceramic lights and plant-inspired ceramics to the gallery; Rebecca Laister, showcasing her specialist reactive glass vessels and platters, plus a welcome return of former member Karin Keidel-Henderson, with new work by this popular Tonbridge-based goldsmith.
The newest member to join the art collective in December is ceramicist Jane Bridger. Jane has previously been a guest artist with her work inspired by the ceramics of ancient Persia, China and the world around us, mostly thrown on the wheel and classical in form.
Artspring are lucky in Tonbridge to have a branch of the wonderful furniture and interior design company, Neptune at 1 Tannery Rd, TN9 1RF and ArtSpring is linking with the store on Saturday 2nd November as part of their Tariette French food Pop-up Market which is bringing a taste of a traditional Provence Christmas to Kent. This is a great opportunity to see artwork from the Gallery, including jewellery, glass vessels and platters in glorious home settings and enjoy an early look at Christmas ideas. Stop by between 10am and 5pm. You could then make your way to ArtSpring and enjoy a glass of fizz and cake at their First Saturday event from 2 – 4pm when you can meet the artists and find out more about their work.
The Tonbridge Christmas Festival takes place on Sunday 24th November and ArtSpring will be open from 2 – 6.30pm with a selection of gifts at varying prices; do come along, enjoy all the Festival has to offer and maybe find that individual gift for someone special in your life.
Another bonus for Christmas shopping is ArtSpring's newly opened online shop, where a more extensive collection of members work can be seen. Accessed via www​.art​spring​gallery​.co​.uk, you can order any of the items and collect in-store or they can be posted direct to the address of your choice.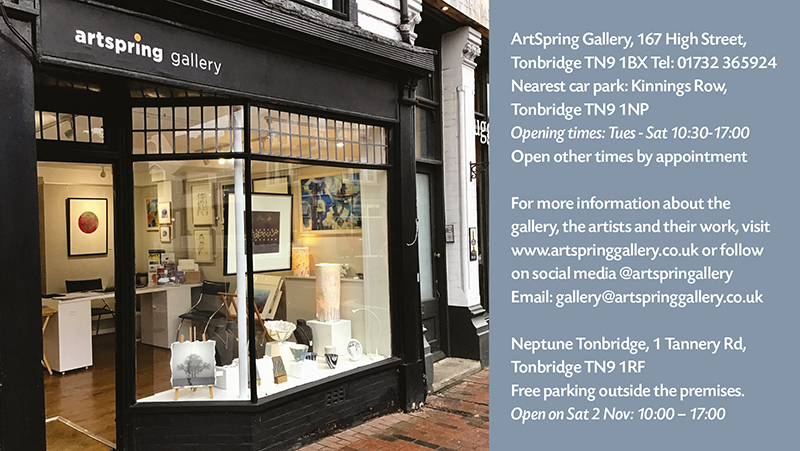 Why not make Artspring your first stop on your Christmas shopping list for lovely art work at reasonable prices. Check out the gift guide in this magazine for some initial ideas. The Gallery will be open every day in December until Christmas Eve and closed until 7th January 2020 – or shop online!