TENTERDEN ARTISTS are holding their fourth annual exhibition in Tenterden Town Hall with an interesting mix of 17 very different artists. They are also giving five talented A Level students from Homewood School the opportunity to exhibit with professional artists.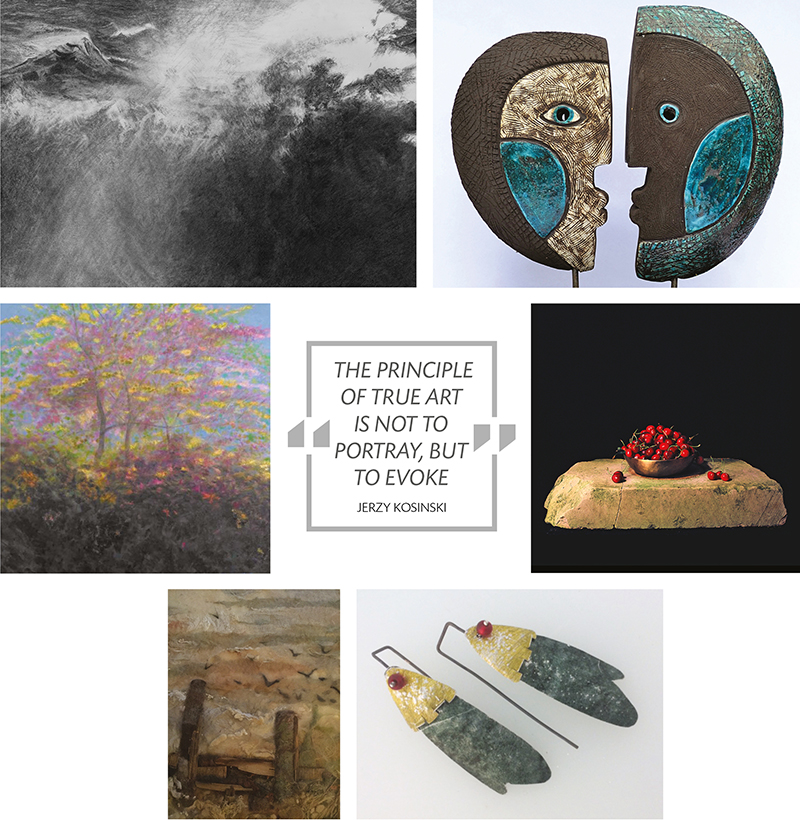 The exhibition is being organised by Sue Fields (ceramic sculpture), Alison Olorunsola (textile landscapes) and Vincent Matthews (etchings and drawings from his sketchbook of the Rye and Dungeness area).
Four artists are exhibiting with the group for the first time. Working with a broad range of charcoal marks, Dominic Zwemmer explores realism and the abstract in the form of dramatic seascapes and landscapes. Fi Brown creates prints, collages and mixed media pieces on paper and linen. Look out for her unique printed lampshades! Kate Fields makes jewellery to raise awareness for the urgent cause of animal trafficking and poaching. Annie Catford's fascinating photomontages combine historic and local images with contemporary ideas.
Exhibiting in Tenterden for the first time are Cheryl Bell, a wildlife artist and printmaker whose work focuses on endangered birds, Steve Thompson (landscapes using successive washes to create illusionistic texture and depth)and Shelley Rose (still life compositions which use modern technology to create classical imagery).
The organisers welcome back some of their favourite artists: Tenterden's Gill Bridgestock (pewter, interpreting the rough and smooth of the seas and rock pools), Paul Fowler (local landscape paintings including marsh, creek and coast) and Amanda Averillo (ever popular atmospheric monoprints). Di Buttenshaw combines fabric, felt, stitch and other found materials to interpret designs inspired by flora, fauna and coastal themes. Linda Davidson loves screen printing- transferring hand drawn images in layers – an unpredictable and exciting process! Jane Carter-Lilley will be exhibiting her creative contemporary jewellery which focuses on her surroundings and materials collection. Sue Batt is an experimental artist/printmaker, building up layers with photo silkscreen, paper stencils and collage.
This exhibition is only on for one weekend on Friday 16 to Sunday 18 November, so don't miss it!

Tenterden Town Hall TN30 6AN
Friday 16 November – Sunday 18 November.
Open 10am – 5pm daily.