Now in its sixth year, The November Art & Gift show is a collective show of talented local Artists and Makers. There are more than 20 Artists, Makers and Authors working in various media, painting and 3D pieces including oil, watercolour, acrylic, drawing, wool work, scratchboard, sculpture, ceramics, pottery, glass, textiles, jewellery and books. The aim of the show is to offer a wonderful variety of subjects including wildlife, surrealism, abstract, land and seascapes, floral, portraiture, figurative, silver and gemstone jewellery, scarves and throws, children's books, cards and more.
The Show will be open from the 16th to the 24th November from 10am – 4pm daily and will be held in the beautiful Cloisters purpose-built gallery, Powdermill Lane, Powdermills Hotel, Battle. This stunning privately owned 18th century Georgian Country House is surrounded by its own vast acres with lakes, parkland and woods, situated just outside the historic town of Battle in the heart of 1066 country.
The Powdermills Hotel and Orangery Restaurant are open to visitors to the show for morning coffee, lunches, afternoon teas, light snacks and dinner. Perfect for a fascinating day out, explore stunning and usual artworks and gifts. All work is for sale along with gifts and cards, perhaps do a little Christmas shopping! Then enjoy some refreshments and walks at this wonderful location.
Artists who will be exhibiting Include: Bethan Archer, Anna-Marie Buss, Clare Brown, Heidi Bryant, Nicola Colbran, Ruth Cowell, Jenny Dalleywater, Claire Dominic, Juliette Dodd, Julie Frampton, Leelee, Jane Masters, Kate Rundell, Darius Smith, Jackie Summerfield, Julia Swaby, Jane Walsh, Georgie Watson, Adrian White, Carole White, Claudia Wiegand.
Enquires Telephone: 07850 388877
NICOLA COLBRAN – Wildlife Artist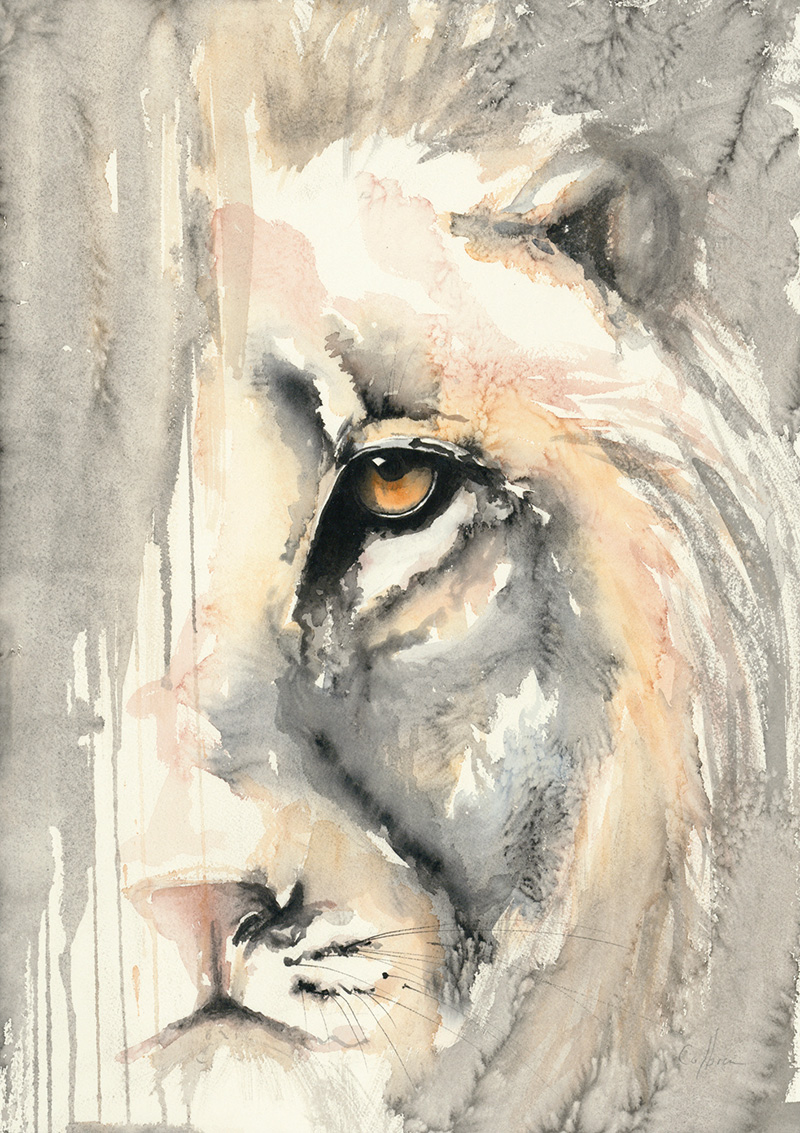 "Wildlife is my passion! Having travelled extensively throughout my life, much of my inspiration comes from observing wildlife in its natural habitat. It is all wildlife, from tiny bees to magnificent elephants that I love to paint. I am hugely aware of the appalling plight so many of these fascinating creatures face in the modern world. I hope my work will go some way to bring their beauty and fate to our attention. I regularly donate to deserving wildlife causes.
I work in oil and watercolour, two very different mediums. Oil is serious where much detail is required, while watercolour is more playful and unpredictable. I feel that switching mediums helps to keep my work alive!
I started with a foundation course at Rochester Art College, but found it too restricting, so joined the big wide world and after training became a fully fledged Make-up Artist for 20 years. Much of my work was on location in far flung places where I would often see wildlife in its natural habitats.
Eventually I came back to art and have been painting for 8 years. I have always and still do, surround myself with furry, feathered and winged friends."
www​.col​bran​.co​.uk, nicky@​colbran.​co.​uk Telephone: 07850 388877
JACKIE SUMMERFIELD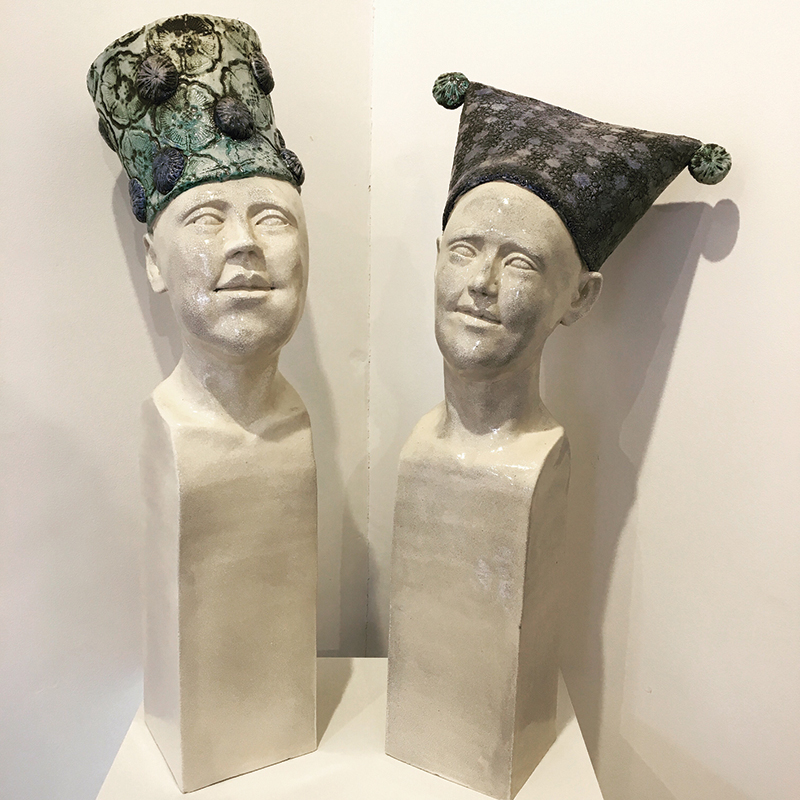 "I am a local artist living and working in my home town of Hastings. As well as being a practising ceramicist I also teach ceramics at Sussex Coast College. I have exhibited throughout Britain and exhibit locally in Hastings, Rye and Brighton.
My handcrafted figurative sculptures are made using traditional techniques of modelling, coiling and slab building. I also produce small editions of slip cast wall hung pieces.
I will happily undertake commissions for original pieces. A portrait of a loved one, a pet or other design for instance. I work from photographs and drawings for this. I work primarily in stoneware clay but fire to earthenware temperatures except where a piece is to be placed outside."
www​.jsum​mer​field​ce​ram​ics​.co​.uk,
jackiesummerfield60@​gmail.​co.​uk
Instagram, jsummerfield21
ANNA-MARIE BUSS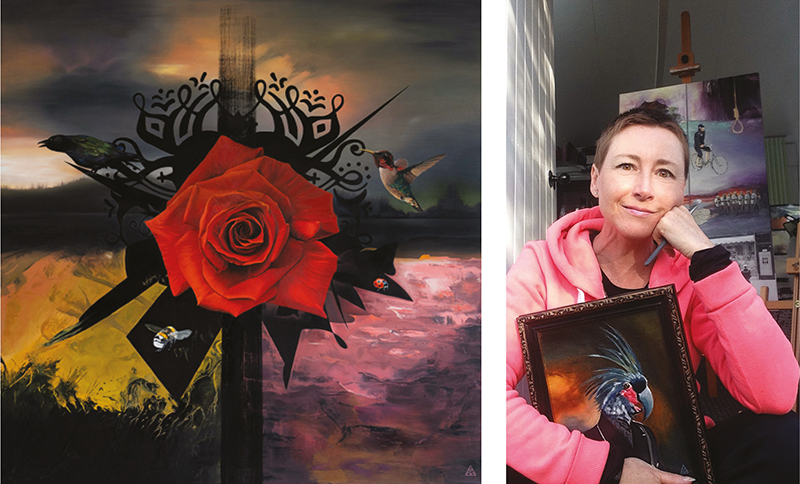 I was born to paint, it's in my blood.
A great painting can sweep you up and take you away
Has the power to brighten the dullest of grey days
It can make you stop and contemplate
Maybe skip a heartbeat, like on a first date.
Creating a painting is like sailing a boat
Moments of still like drifting on a Lilo afloat
Or a sailor in a painting of Hiroshige waves
Sails flapping, wind lashing, trying to be brave.
So although there are occasions of fraught
To be without it I certainly would not
Similar to being in the desert without a drop of water to drink
Mmm an idea for a painting…? I smile and wink.
www​.anna​mariebuss​.com, am@​bussroot.​com
DARIUS SMITH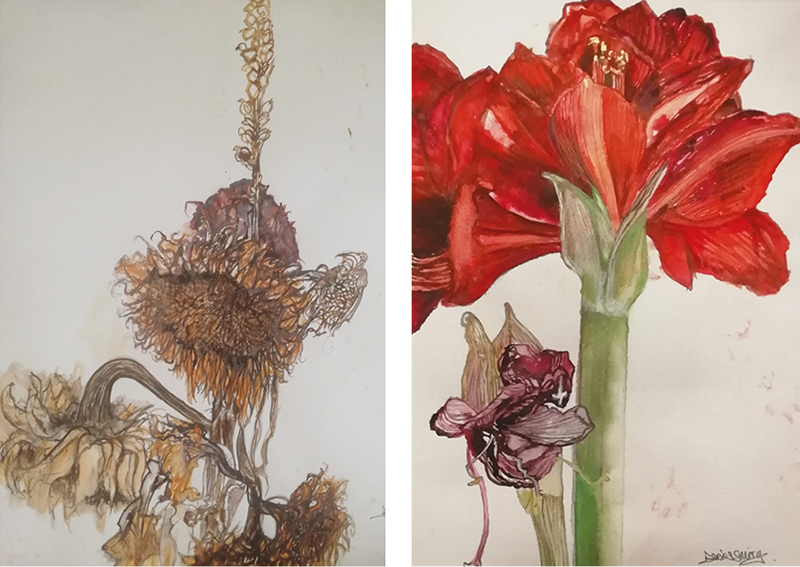 "Working from nature, rarely in a studio setting, I enjoy spontaneity, the immediacy and the unequivocal direct action approach to my subject matter, landscape, seascape, floral and natural phenomenons.
To express through paint without conformity to techniques enables me to produce my own magical, mythical experiences which are governed by the insistence of light. The light outside of me and my light shining within."
Darius was educated at St Anne's College, Oxford University and the Ruskin School of Drawing and Fine Art. He has spent his adult life living in the Middle East, the Persian Gulf, France and other countries. He presently lives in the UK.
www​.dar​ius​-smith​.com, dariussmith@​yahoo.​co.​uk
Telephone: 07502 589435
JULIA SWABY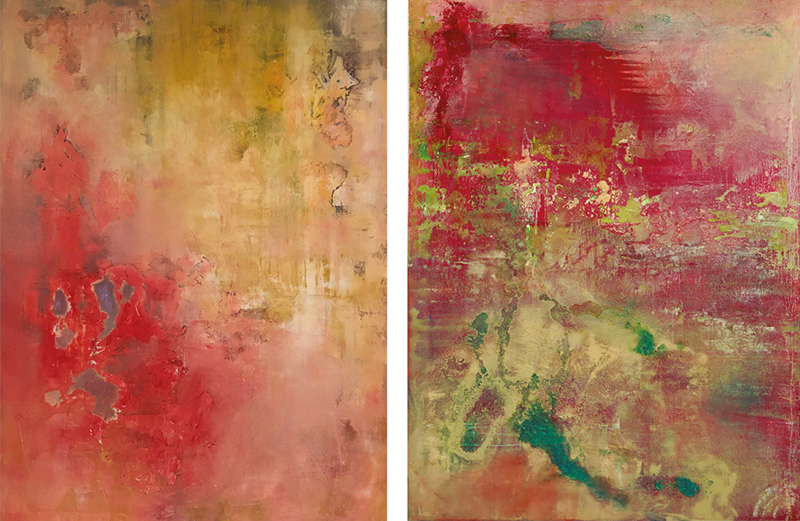 "Although I do sometimes work with neutrals, my signature work is usually rich and vivid. I love colour and formlessness. Within these two are freedom from overthinking and rationalising, which is our Western tradition. Coming from an academic, over-analytic background, I paint to be: abstracts are generous, forgiving and healing. I work primarily in oils because of the level of saturation and pigmentation. I tend to paint large canvases and this is also in celebration
of liberation: it's as though the colour cannot be contained on a smaller surface."
www​.jrswa​by​.com
swaby.​julia@​gmail.​com
Telephone: 07555 753639