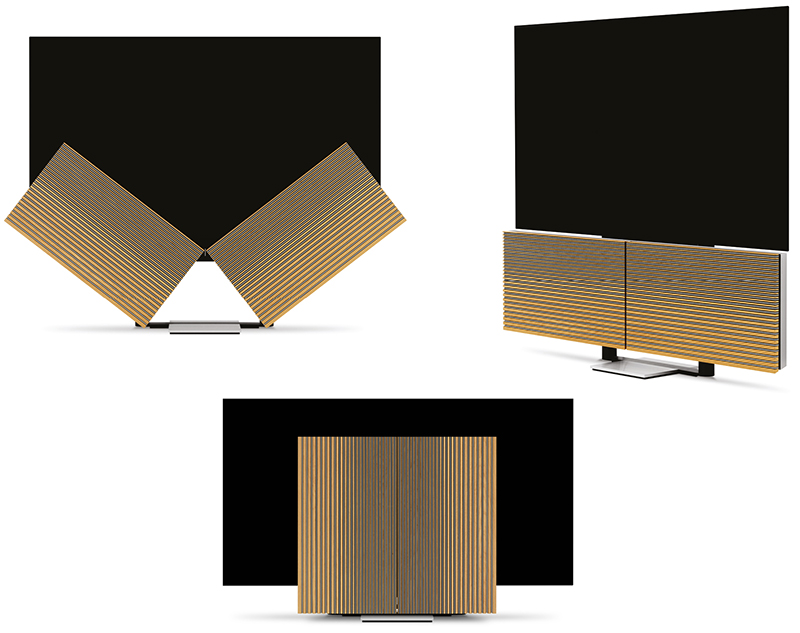 Beovision Harmony is a stunning piece of design that once again demonstrates Bang & Olufsen's uncompromising approach to design, craftmanship and sound performance. Bang & Olufsen has just unveiled Beovision Harmony, a TV experience that elevates the design of any living space and fills it with spectacular sound.
When Beovision Harmony is turned on, the two fronts fan out like a butterfly opening its wings and the screen rises to the perfect viewing height. Turn off the TV, and the finely choreographed sequence plays out in reverse. Pristine picture performance combined with truly immersive sound ensures a mesmerizing viewing experience. When Beovision Harmony is turned off or just playing music, the thin screen rests close to the floor, partially covered by two meticulously crafted oak and aluminium fronts, which house the powerful sound centre.
"Wood has always been an important aspect of Nordic architecture and furniture design because of its individual character, robustness and versatility, and we are proud to carry this forward in our Beovision Harmony " commented Paul Blake, Managing Director of the Bang & Olufsen stores in Bromley, Maidstone, Tunbridge Wells and Cambridge.
The Harmony is designed as a centrepiece for home entertainment. Boasting a robust speaker system with serious sound capabilities. The Beovision Harmony, including the LG OLED C9 77" TV optimized for Bang & Olufsen, is estimated to retail from £15,995.00 and will be available in Bang & Olufsen stores starting October 2019. Beovision Harmony will be available with a combined oak wood/aluminium front or a combined Grey Mélange two-tone fabric/aluminium front and comes with two placement options: floor stand and wall bracket.
Bang & Olufsen will be hosting an exclusive preview event on the evening of Friday 28th June 2019 at the London Golf Club, Stansted Lane, Ash, TN15 7EH. If you would like to attend please RSVP to bexleyheath@​bang-​olufsen.​co.​uk and you will be added you the guest list.