Battle Abbey reach Sunday Times top 100 Prep Schools
Battle Abbey Prep School is ranked in the Sunday Times Top 100 Prep Schools for the second year running and remains the only school in East Sussex to be included. The table, which analyses SATs (Standard Assessment Test) results in Key Stage 2, sees Battle Abbey Prep at 79 in the country.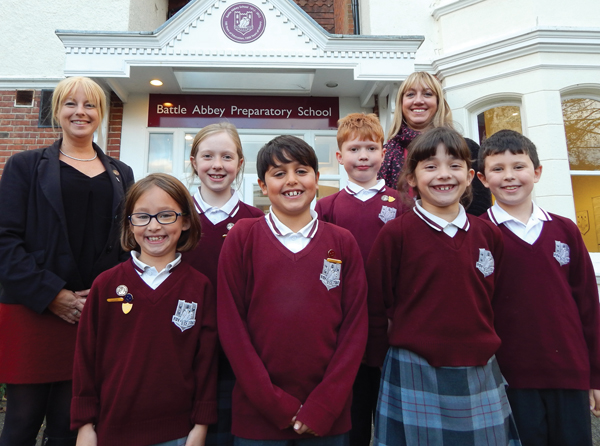 Maria Maslin, Head teacher since 2011, was delighted, ​"I am thrilled with the news and incredibly proud of the children's outstanding, academic results. The Prep School has a fantastic tradition of encouraging the very best from its pupils and the results are testimony to the dedication, effort and energy of all our staff."
"Our pupils aspire to be the best they can possibly be and we are delighted to receive this accolade. The children amaze me as, not only have they performed outstandingly academically, but they also participate fully in many other aspects of school life such as music, drama, sport and charitable works. However the aspect that gives me greatest pride is that we are a non-selective school and our children achieve to a very high standard."
Battle Abbey Prep School in Bexhill has a reputation for producing outstanding pupils, the vast majority of which go on to the Senior School at the Abbey in Battle. Small classes and first rate facilities ensure that each child receives generous amounts of individual attention and enjoys a happy and exciting education. Academic success is achieved because they feel safe, secure and challenged within their school environment.
Both the Prep and Senior Schools are currently at record numbers and competition for places has greatly increased in recent years with many year groups now at, or near, capacity. Battle Abbey Prep School's site boasts an indoor 25m swimming pool, Astro turf and extensive fields; keeping the pupils physically active which converts well into classroom learning. Battle Abbey Nursery School also occupies the Bexhill site with many pupils joining the school at the age of two and staying all the way through to 18.
www​.bat​tleabbeyschool​.com
Battle, East Sussex TN33 0AD
Telephone 01424 772385