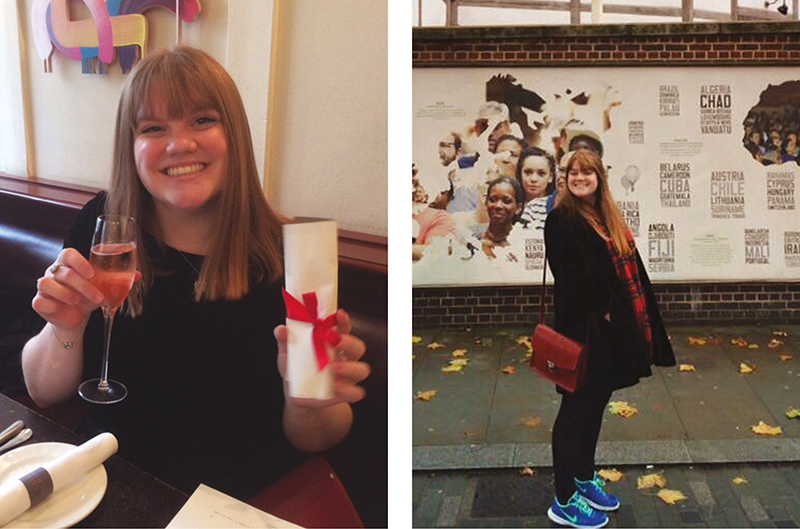 Since leaving Battle Abbey in 2013, I have graduated with a BA in English Literature from King's College London in 2016, followed by a Master's degree in ​'Early Modern English Literature' (Shakespeare & Friends)! This course explored how the receptions of historical literature, predominantly from 1500 – 1700, were shaped by their material manifestations, for example, as printed or manuscript texts, and especially amidst times of political and religious upheaval.
I am now commencing a PhD at King's, with a thesis entitled ​'The Age of Suspicion: Spies and Surveillance in Early Modern England', which includes research about coded, poisoned and locked letters (the Tudor version of encrypted emails), hidden priests, and Elizabethan espionage. Being immersed in the antiquity of the Abbey certainly amplified my interest in History- there are few schools where, when learning about 1066, you could step out of the classroom and walk down to the very battlefields you are studying. This certainly influenced my decision to attend university in London, where the same principles of learning ​'in situ' applied, with the concentration of resources in museums and galleries London provides. Whilst at King's I have had lectures at Lambeth Palace and participated in acting workshops on the stage of Shakespeare's Globe… reminiscent of my (far from Oscar-worthy) performances in BA productions!
During my time at university, I undertook internships at both Christie's Auction House, where I assisted with research for the Masterpiece project, and in the manuscripts department of the British Library. Working behind the scenes at the BL, I was researching holograph letters by Elizabeth I, Mary Queen of Scots & the Medici family, as well as handwritten, literary first drafts by the likes of Jane Austen, Emily Brontë and A. A. Milne. I became particularly interested in the role of the royal secretariat in the early modern period, as they were the courtiers who would have drafted most royal documents. The link to my PhD on espionage is in the name, as the Secretary of State was also the keeper of Secrets!
Whilst in between university courses, I have returned to the Abbey to tutor English, and am currently working in the Bursary helping to draft legal policies. After I complete my PhD, I hope to work somewhere that combines my interests of both research and writing, in an academic university environment, or in media that involves historical content.