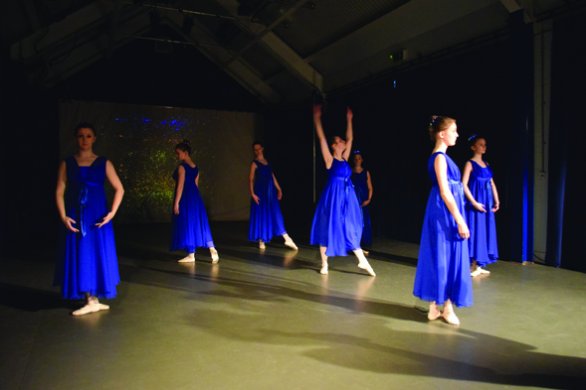 In January a Google promotional film team arrived at Battle Abbey School to film a reprise of the ​'arrastre' performance by Battle Abbey School's dancers, the project having been awarded a Google Education Rise Award. The girls wore LED head dresses, motion sensored lights and pressure pads in their shoes, all used to create a live projection behind them as they performed the 25 minute piece.
The selected Dancers (now both former and current pupils); Aisling O'Keeffe, Beth Hill, Cara Goodman, Lucy Everist, Sarah Lovell, Emily Atkins and Kate Riches, ably supported by a young Tech Team consisting of Battle Abbey Pupils Bertie Young and Finn Acuna, performed for 6 hours while filmed from a variety of angles by Director Oliver Mochizuki and team.
Google RISE Awards are grants for organizations across the globe that both promote Computer Science education and run initiatives that reach girls, underrepresented minorities, and students facing socio-economic barriers under age 18. It also aims to involve students in the creation of new technology rather than just being consumers.
Genevieve's project ​'The Art of Computer Science' is a ​"dance meets data" visualisation project which aims to reduce people's fear of the subject, specifically to engage students in computer science.
The engagement comes from dance choreography, capturing data from the dancers using wearable technology and smartphones, amongst other methods, plotting the dancer's movements. The ultimate goal of the project being to remove barriers to Computer Science and present Computer Science theory in an accessible and non-threatening way.
Paul Golz, the choreographer, said: ​'It has been a pleasure to work with the girls form Battle Abbey School. They have a very high work ethic, that of professional dancers, and they all performed brilliantly on the night'.
Mrs Buckland said ​'What a fantastic opportunity for our students. They have worked so hard and their efforts have really paid off, I am very proud of them… and this is only the start.'