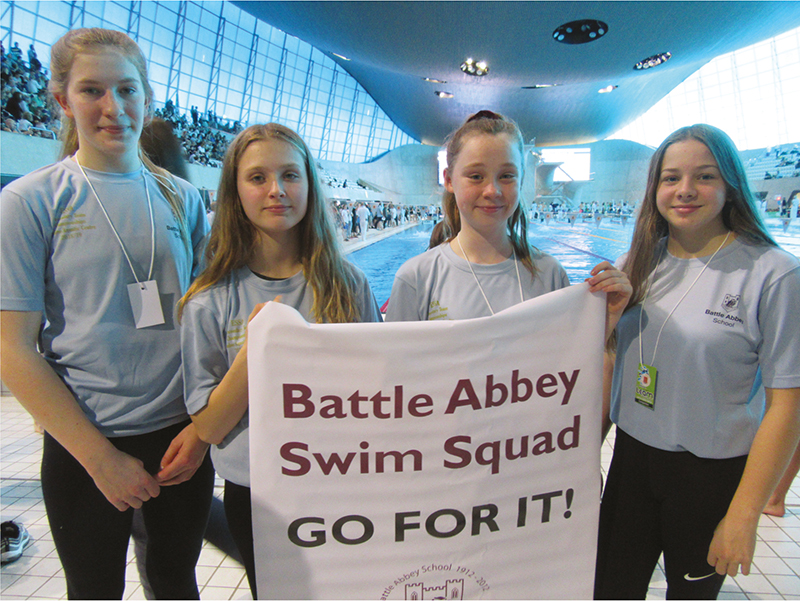 Left to right: Jemimah Berkeley, Lexi Collins, Olivia Mullarkey and Amelie Holdbrook
Battle Abbey School's intermediate girls relay team competed in the English Schools Swimming Association Relay Championships Finals 2018, held at the Aquatic Centre in London.
The girls started their journey back in October when they competed in the county round of the competition held in Horsham. The girls secured their place in the final with a very impressive second place on the day and a time that put them in the top twenty six of schools across the country.
Gemma Govan, Battle Abbey School Head Swim Teacher, said; ​'On the day the girls were nervous but determined to do their best. Going into the event the team was ranked 21st and so had a big task on their hands to try to make the top ten during the heats, but they did it!
The team was given a huge boost when they met Tom Daley who wished them luck and followed their progress on the swim squad's twitter page.
The girls swam an amazing heat and secured themselves a spot in the final! The girls really did give it all they had and finished in a very impressive 10th place, meaning they are officially the 10th fastest intermediate girls team in the country. The girl's hard work and commitment to their training really paid off on the day. To make the finals having been seeded 21st is a huge achievement and to see the girls hold their own against much larger schools, particularly schools that specialise in swimming, was a massive achievement. The school could not be more proud of all that the girls have achieved.'