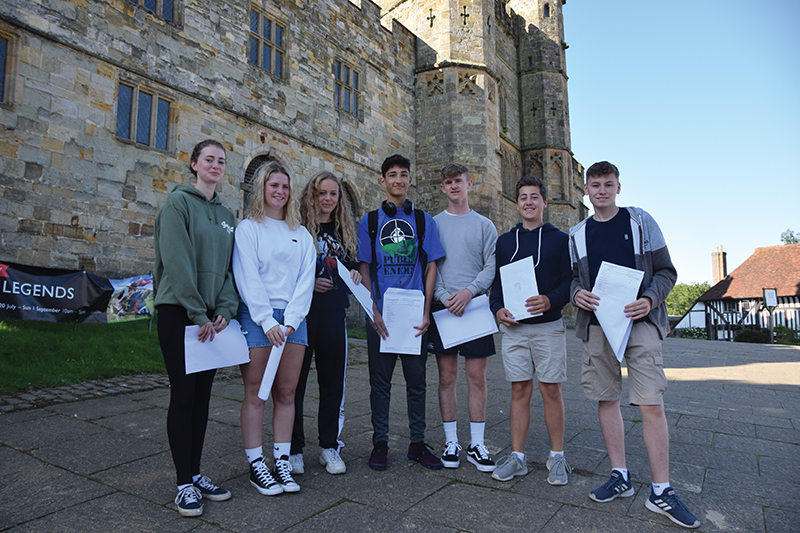 Battle Abbey School are celebrating their best year for GCSE results since recent records began.
Craig Austen White, Direct of Studies at Battle Abbey School said ​'To put it simply the results are absolutely fantastic. It's a small cohort and as such every one of them constitutes a significant percentage of the overall results meaning all pupils had to bring in personal bests to set a new record. It makes these stunning results all the more remarkable when you consider the fact that we are a non-selective school.'
'Overall 10% of our grades were at grade 9, the highest grade possible. The National Average for percentage of 9 grades is 4.5% so we are more than double the UK average. Amazingly 44% of all grades were at 7 – 9, the old A* – A equivalent.'
'Some subjects in particular were notable for the quantity of 9 grades achieved. RS and Maths led the way with 25% and 22% of all grades in their subjects at the very highest standard. Dance and Latin both saw every single one of their cohort receive 7 – 9 grades (old A* – A grade) with Textiles (67%) Maths (65%) and PE (59%) also putting in excellent results.'
Headmaster David Clark said, ​'The exams this year were harder than ever following the Michael Gove reforms and yet our students bucked the national trend – particularly at the top level. Several of our departments made a particularly strong showing. Our nationally ranked Maths department saw a 100% pass rate with a staggering 22% of students achieving the top grade 9 – an achievement that only a handful of the very best schools in the country will achieve. The Creative Arts and Humanities remained as strong as ever and Triple Science grades were especially pleasing this year as were the results in Dance. Overall, the whole cohort is worthy of praise for turning in a truly excellent set of GCSE results.'
'Several pupils deserve special mention. Oliver Skeet achieved a remarkable twelve 9 grades and an 8 – ranking him as one of the very best candidates in the country. Many other students did great things too with several securing all grades at 7 – 9 and Harrison Todd needs recognition for his A* distinction in Further Maths, despite taking the qualification a year early, meaning that he is already one of the very best mathematicians in the UK. Equally important for us were the many personal bests achieved by students, often in subjects where they had previously lacked confidence. Some of the grade 5s were amongst the most satisfying of all – and credit is due to both the students and teachers for their combined efforts.'
Mr Clark went on to say that ​'We had high hopes for our GCSE cohort. They are a group with bags of natural ability who have worked extremely hard in the run up to the exams, and we are delighted that their efforts have paid off. Great credit goes of course to our teachers, pupils and parents for their extraordinary commitment to these achievements. We are suitably excited about the potential they represent as part of our sixth form'.
According to the latest Government produced league table reported on the BBC, Battle Abbey School is ranked as the top secondary school in East Sussex, West Sussex and Kent for pupil progress and achievement at A Level. In real terms, the figures indicate how much progress students who studied A Levels at schools and colleges made between completing their GCSEs and the end of their A Level studies, compared to similar students across England.
Overall for the progress scores Battle Abbey School was ranked first in the whole of Sussex and Kent and came in at number 26th nationally out of nearly 4500 schools.