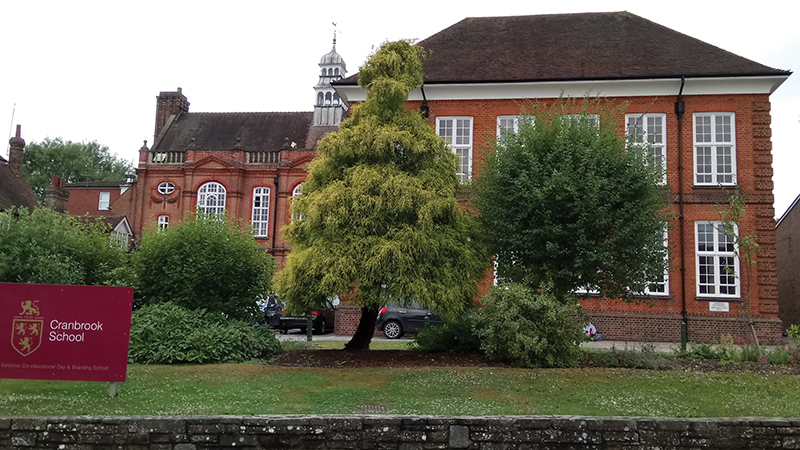 "You will be interested to hear that Cranbrook School is proud to be celebrating its fifth centenary this year and is doing so in style. If you have been following their publicity and excellent web-page: www​.cran​brookschool​.co​.uk/​c​a​l​e​n​d​a​r​/​5​0​0​t​h​-​c​e​l​e​b​r​a​tions – you'll know that a series of anniversary lectures is being delivered by high profile Old Cranbrookians. The first two of these – ​"Is our tax system fair?", given by Rob Joyce (OC), ​"Saving our Home Planet" by Josh Powell OC – drew large audiences and proved highly entertaining. Soon to follow are lectures on Everest, the nation's defences and the world of policing – all promising to be equally exciting and popular, so do get along if you can.
At the heart of the 500th year programme is a Festival Week scheduled for the last week of June this year, when a host of events is planned including an extravaganza in the heart of the Cranbrook community on 23rd June, a celebratory choral concert on 26th June a Battle of the Bands for students and Summer Balls for parents and alumni on successive nights on 29th and 30th June. So whether you are a parent, prospective parent, former student or simply a member of the Cranbrook community, all are welcome!
The school is also proud that its fascinating history has been a talking point in the community for some time since the publication of ​"The First Five Centuries", by former Deputy Head Peter Allen in 2015. Not only is this a great read, it also spells out both the age of the school and its illustrious past. From its founding by Yeoman and Armourer of Henry VIII, John Blubery, to its re-founding by Elizabeth I in 1574, to the Space Shuttle exploits of NASA scientist Piers Sellers, ours has been a most varied and colourful history. If you would like to purchase a copy, do visit our website at the address listed above and order online.
You might be wondering how the students at the school in the modern era are benefiting from the festivities. Headmaster John Weeds explains, ​"2018 is a great opportunity for all of us to learn a little more about our local history since 1518. Secondly, we are including more general historical themes in our work as a school in honour of this great birthday. This means reflecting on all that has happened in key areas of our curriculum in the last half a millennium, as well as understanding better the flow of the nation's history since 1518. We are developing a series of timelines around the school to illustrate the key achievements and personalities in our academic subjects from Hooke, Linnaeus, Crick and Watson in Biology to the first Ordnance Survey Map, Krakatoa and Sir Edmund Hillary in Geography. Last but not least, November 2018 will give us an important moment to reflect on that dark period in 1918 when the Great War finally ended its grim toll of young men from the school, remembered today by means of the Memorial Field in Cranbrook."
Telephone
01580

711804

.
www​.cran​brookschool​.co​.uk