David Beckham's 7 Foundation with UNICEF send letter of congratulations to Buckswood
This year, Chelsea Football Club Foundation, who run a Junior Football Academy at Buckswood, accompanied the group to deliver football coaching and training in support of social cohesion projects run by the Swaziland Police."I thought it would be an excellent opportunity for the children of Swaziland to benefit from the same level of coaching that my pupils gain, well if Beckham can visit the Kingdom of Swaziland, so can Chelsea!' Buckswood Headmaster, Mr Sutton said of the trip. David Beckham had visited Swaziland earlier this year with Unicef as part of his own 7 Foundation to raise awareness of AIDS in the country. The school wrote to Beckham care of UNICEF ahead of the trip to tell him about the 12 years of charity work they have been doing in Swaziland and received a letter congratulating the School and students on the work they have done in the country. ""It was wonderful to learn about Buckswood longstanding project in Swaziland It is always brilliant for us to hear how willing young people are to help others who have so little. Your students sound like fine advocates for children's rights around the world". Said a Unicef spokesperson.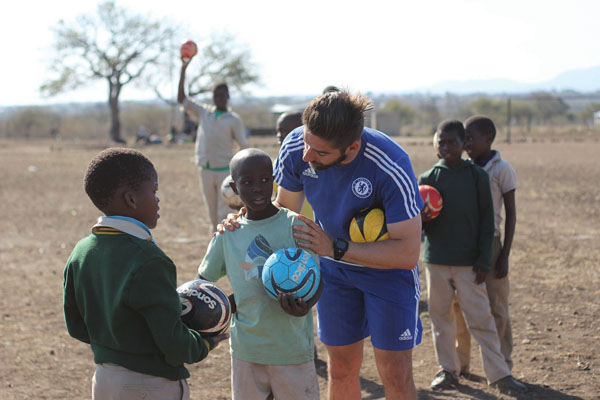 Chelsea Football Club Foundation deliver football coaching
The group fixed windows, chairs and tables at schools and decorated the classrooms with bright, colourful cartoon characters. Whilst they were there the group also got stuck into classroom studies helping the children with their reading, writing, running around in the playground and helping at meal times. The group donated money and equipment to the Good Shepherd Hospital, donated food to local communities and set up an support programme to help orphans gain valuable skills in an apprenticeship scheme.
One of the students commented ​"the trip is really hard work, but very rewarding. I have never done such physical work and was so tired at the end of each day, but the smiles on the childrens' faces when they saw what we had done for them was enough to spur us on to do more and work through the tiredness. I never realised how lucky I was and just how much I took for granted. The things I have seen and done in Swaziland will stay with me forever and I believe the trip has made me a better person."
Now work begins to raise money for next year's trip at Buckswood, where the wider school community raises funds throughout the year to enable the Buckswood group to do more and more each year.