Home Secretary welcomes students at International Day celebration
Member of Parliament for Hastings and Rye Amber Rudd opened the proceedings at this year's International Day at Buckswood School with a ​"Britain is open for education" message.
Buckswood, situated in her constituency, is home and school to over 460 students and is a happy blend of students from over 48 different nationalities as well as 50% local day pupils who travel in every day. Every year the school hold their International Day celebration and raise money for charity whilst celebrating their cultural diversity at the same time.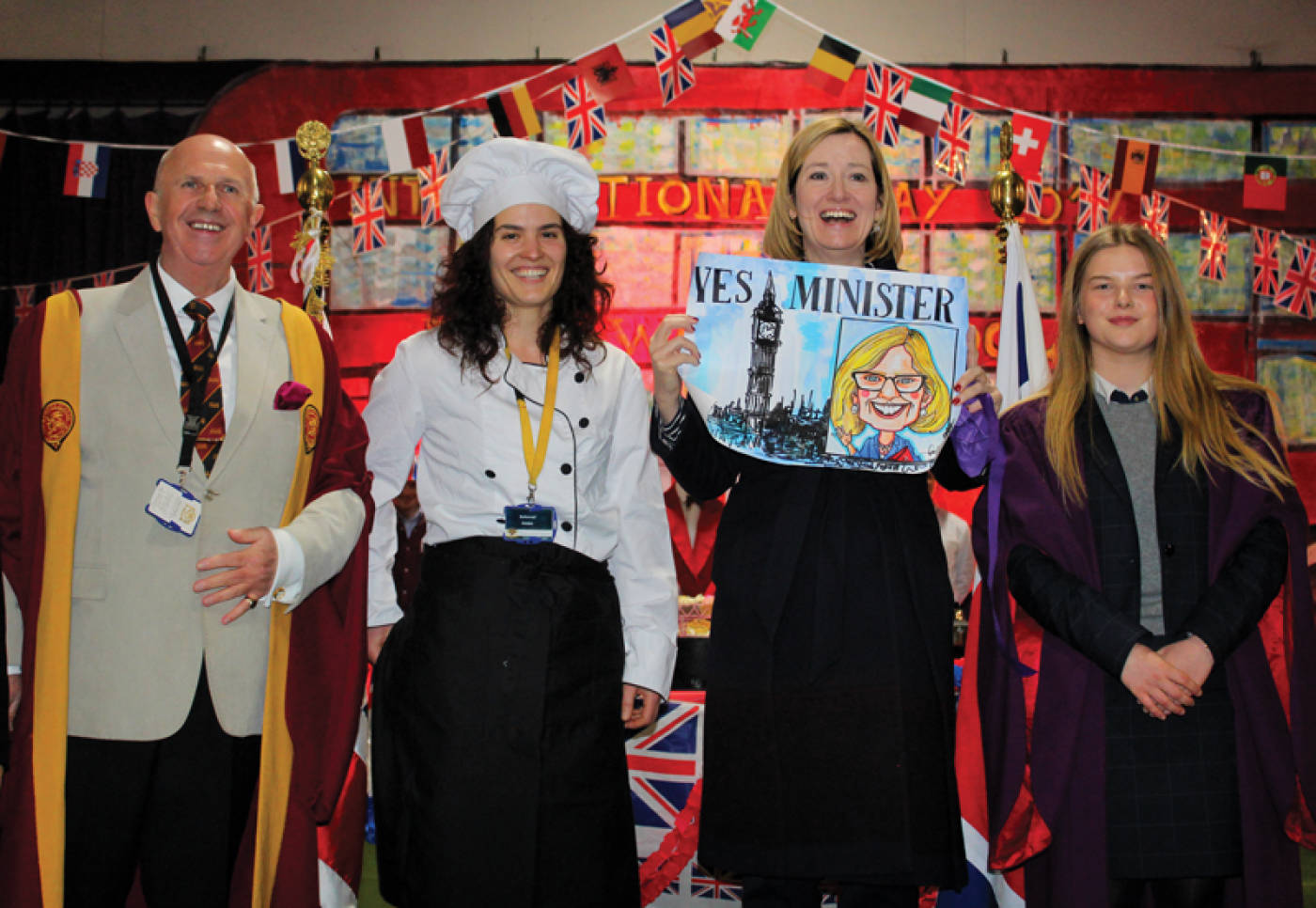 Pictured (from left to right) Sean Cassidy and Maria Garcia (teaching staff at Buckswood School), Amber Rudd and Buckswood Head Girl Victoria Gander
"Since the school began in 1933, Buckswood has always been international in its outlook. We have always recognised the value of an international education and the contribution that Britain's hîave made abroad at the same time as the open-mindedness fostered when children learn alongside contemporaries from a wide range of cultural backgrounds. Our annual International Day celebration is the only day of the year when we are aware that we herald from different corners of the globe, and the Sports Hall is transformed into a colourful festival of flavours and costumes from around the world", said Mr Sutton, Buckswood Headmaster.
In her opening speech Amber Rudd welcomed the Buckswood students to the UK to study and said that Britain will always be a warm and friendly place open to all. After the official ribbon cutting ceremony where she was presented with a cheeky ​'Yes Minister' caricature, the MP visited all of the exhibition stalls to speak with all of the students and sample foods from far and wide.
Amber Rudd was among 300 people who visited Buckswood School to attend the International Day event to find out more about the education on offer at Buckswood School. The school's reputation around the world attracts many overseas students who pick Buckswood to further their English, study under the UK curriculum and take advantage of the school's strong university preparation as most want to stay in the UK for higher education.
The day was organised by Buckswood head of Languages, Wei Callaghan, who said ​"I am pleased to announce that we raised over £1000 which will be used to support the charity work Buckswood undertakes in Africa".
Telephone 01424 813813
www​.buckswood​.co​.uk