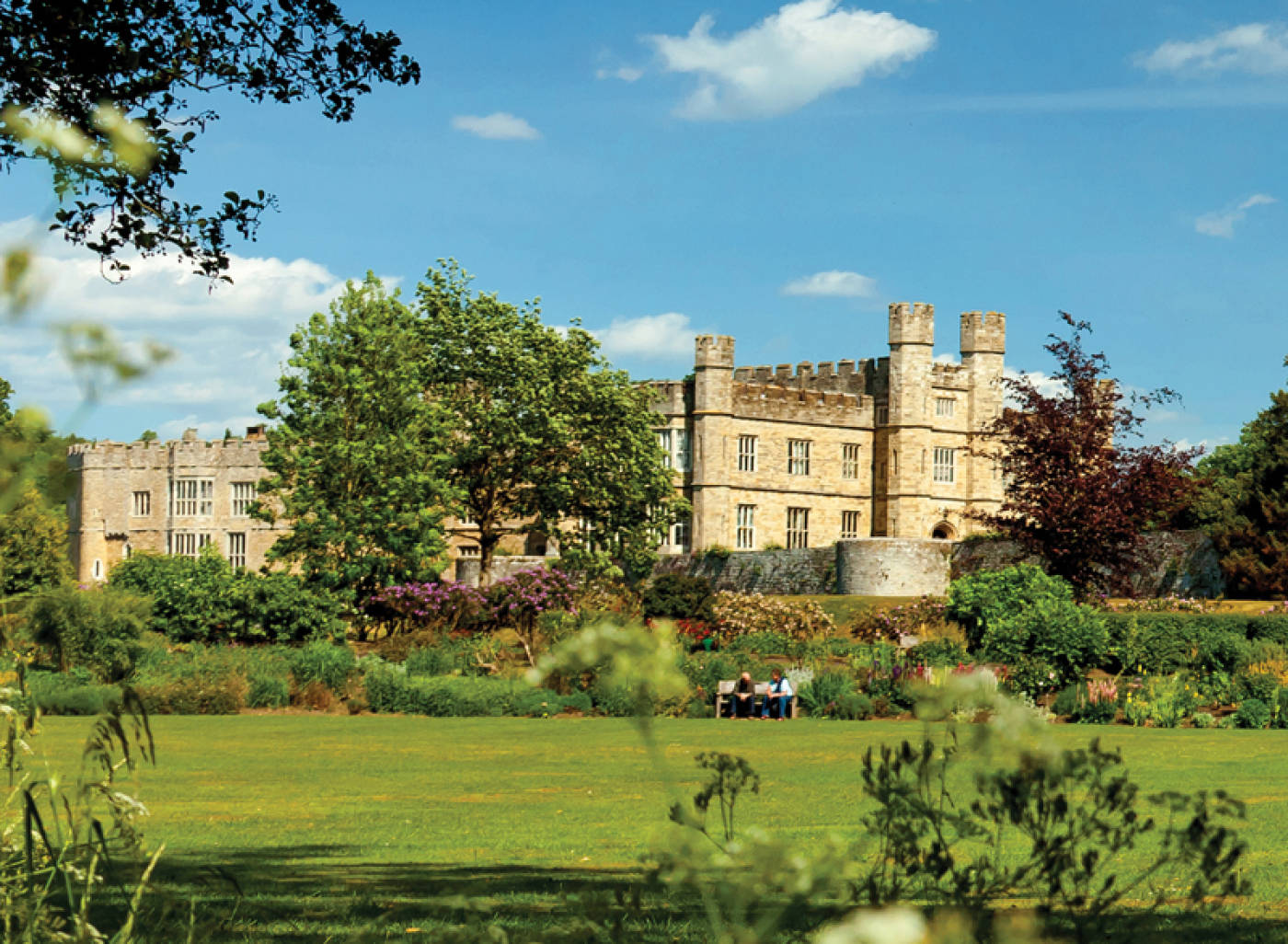 Ladies at Leeds
Leeds Castle, near Maidstone, Kent, has been described as ​'The loveliest castle in the world.' This enchanted place stands on two islands in the middle of a lake encircled by 500 acres of green parkland. The original Leeds was a simple timber keep built on the larger island in 857 by Saxon nobleman Ledian, chief minister to Ethelbert IV, King of Kent. Amongst some sixty owners there have been many great names in British history, including William the Conqueror, William Rufus, Edward I, Richard II, Henry IV and Henry VIII. But Leeds, over the centuries, has been the home to a handful of feisty females who also left their mark on this castle's history.
A stone castle built here in 1119 by Robert de Crevecoeur was owned In 1278 by William de Layburn who passed it on to his old friend and companion-in-arms, Edward I and his queen, Eleanor of Castile, with these words, ​'to the august prince and my most dear Lord Edward the noble King of England and my fair Lady Elinor Queen of England.'
Eleanor of Castile (1241 – 1290)
Although second cousins once removed, Edward and Eleanor's marriage had been arranged as part of a political deal over French or English ownership of the duchy of Gascony. Their wedding on the 1 November 1254 took place at the monastery of Los Huelgas, Burgos, in Castile, a lavish affair that was attended by royalty from many countries. Edward was in his late teens, Eleanor just thirteen but pregnant with their first child, a girl, who was stillborn in May 1255. Although theirs had been a dynastic marriage, they fell deeply in love and their union produced sixteen children, although only six survived
to adulthood.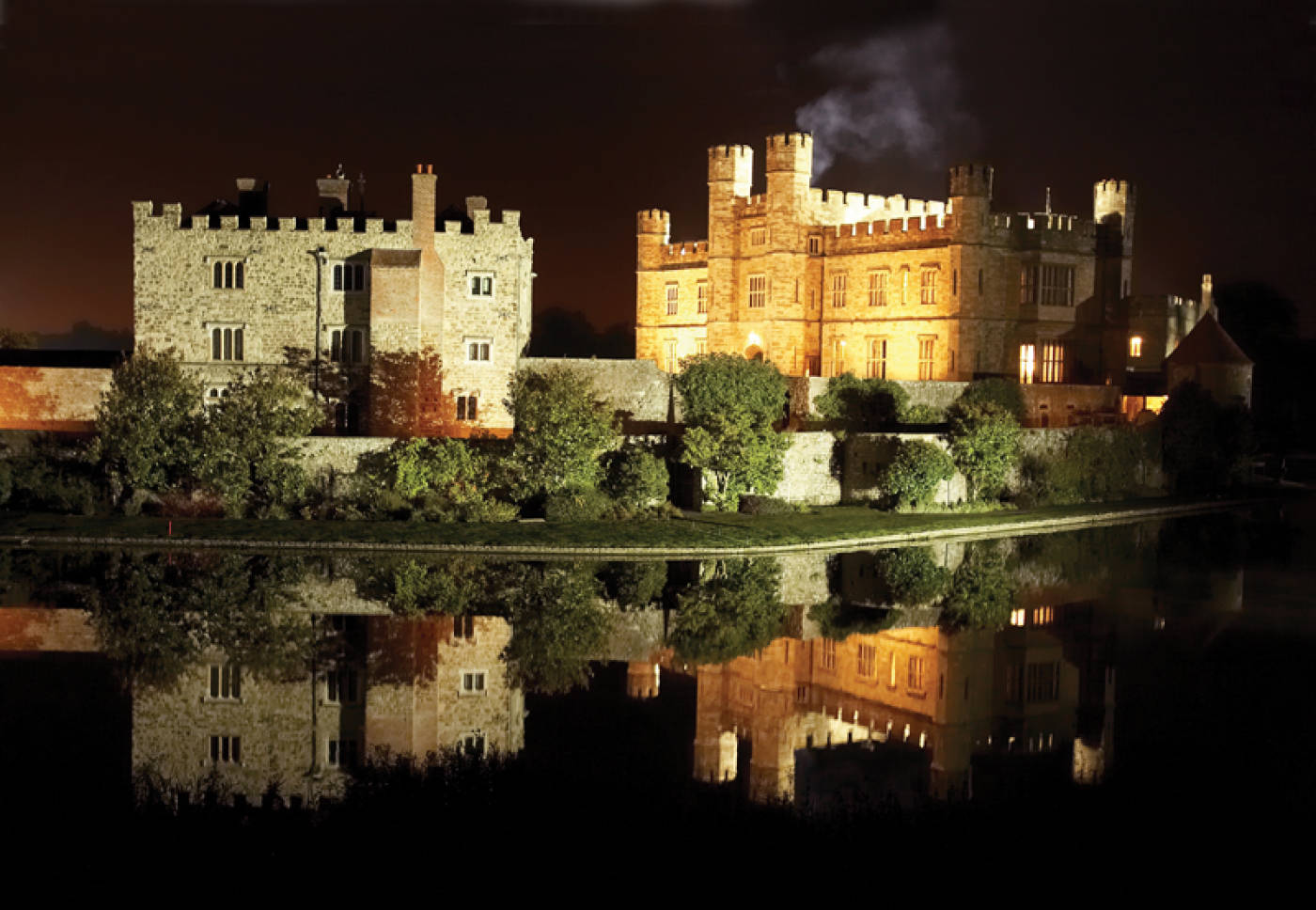 When they were living at Leeds, Edward improved the castle's defences and created the surrounding lake. Eleanor brought with her a love of falconry and the couple often rode out together to hunt pheasant, duck and partridge put up by ​'springing dogs' and ​'setting dogs' she had brought from Spain. In spite of her almost continuous pregnancies, Eleanor was an astute businesswoman, and between 1274 and 1290 she acquired land and estates worth above £2500 yearly.
In the autumn of 1290 the couple set out on a tour north to view Eleanor's properties. Although a healthy woman for most of her life, she appeared far from well after the birth of her last child. Financial accounts from Edward's household recorded frequent payments for medicines ​'for the queen's use.' She died aged forty-nine, when lodged at the house of Richard de Weston, at Harby, near Lincoln. A distraught Edward, married for thirty-six years, wrote,' My harp is turned to mourning, in life I loved her dearly, nor can I cease to love her in death.'
Margaret of France (1279 – 1318)
Although still cherishing his dead wife's memory, to improve relations with France, Edward married Margaret, sister of Philip III of France in 1299 and after honeymooning at Leeds named their only daughter Eleanor. He gifted her the castle, so, from these earliest days of royal ownership, Leeds became known as ​'a lady's castle,' where it was to become the custom that Leeds became part of the dower of the queens and was retained by them during their widowhood.
Isabella of France (1295 – 1358)
Leeds castle was home to Queen Isabella wife of Edward II for thirty-one years. Beautiful as well as intelligent, she was promised in marriage, for political profit, to King Edward II. On the 25 January 1308, at the age of twelve, Isabella married Edward at Boulogne-sur-Mer. She was described by one Geoffrey of Paris as ​'the beauty of beauties….in the kingdom, if not in all of Europe.'
Her husband was tall, handsome and athletic looking, but preferred music and poetry to the royal pleasures of hunting and jousting, but she soon discovered that his sexuality was in question as he made it obvious that he preferred the close company of ​'male favourites.' Even at their wedding celebrations Edward chose to sit with his latest conquest, Piers Gaveston, ​'an arrogant, ostentatious, reckless and headstrong soldier.'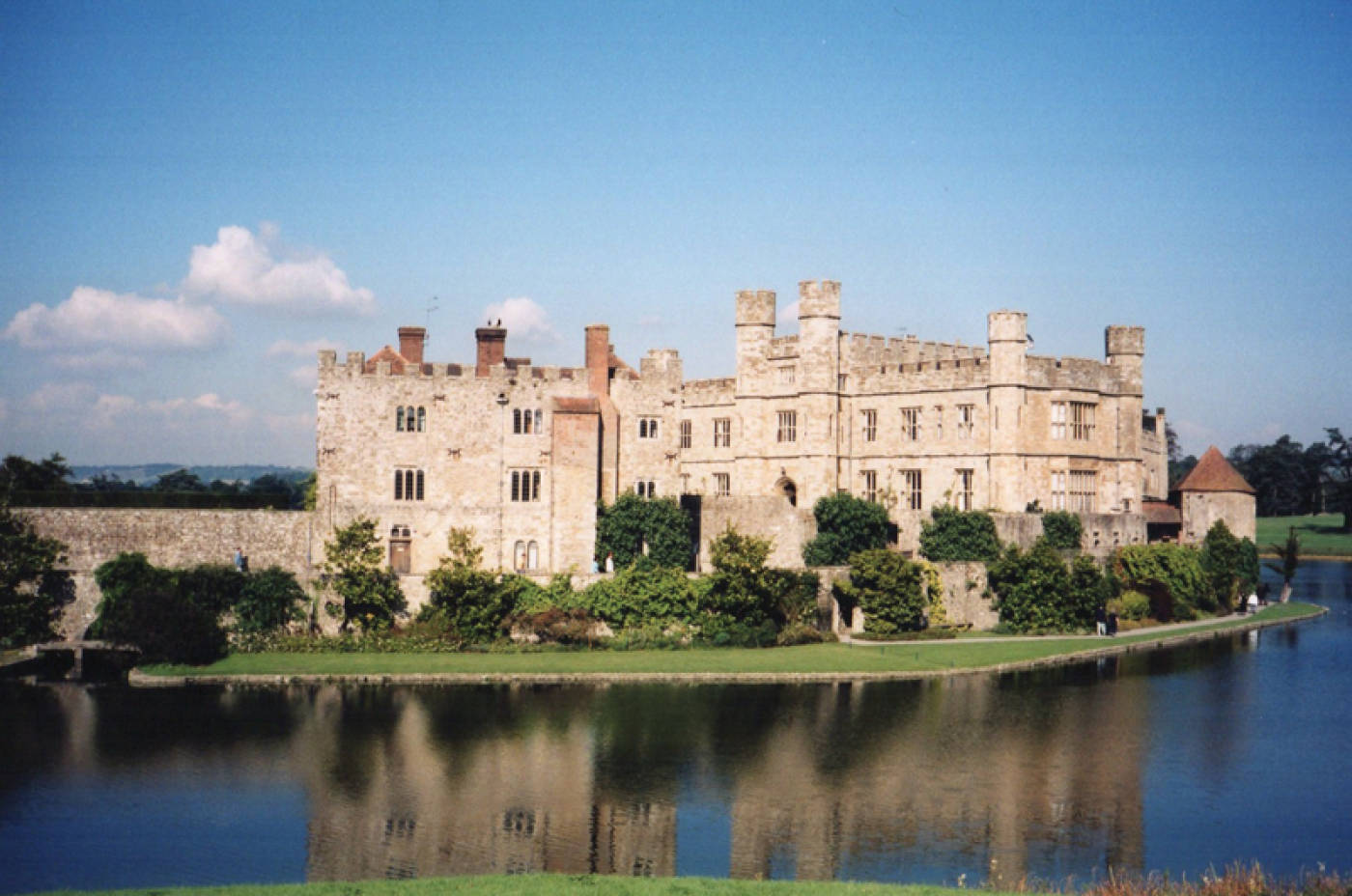 With the three of them in this relationship and growing conflict between the king and powerful barons, Edward, to appease the opposition, was forced to send Gaveston away for a while, openly turning his affections much more towards Isabella. When things quietened down, Gaveston slipped back. But it all ended in disaster when Edward left Isabella at Tynemouth Priory in Northumberland and accompanied by Gaveston, went off to fight the barons in a civil war. Gaveston was captured and executed, Edward escaped.
Isabella no longer had a rival for Edward's affections and in 1312 she gave birth to the future Edward III. She had another son, John, in 1316. But her husband found himself another favourite, Hugh de Despenser, who proved to be a real thorn in her side. She simply could not get on with him at any level.
Edward, in better times, had gifted Leeds Castle to an ambitious nobleman, Lord Bartholomew de Badlesmere, a steward of the King's household. But by 1321 he had switched loyalties and joined the ranks of Edward's opponents. Edward now had good reason to get rid of an enemy and his immediate response was to intervene and laid a successful siege to the castle, gaining access on the 31 October 1321.
This same year Isabella separated from Edward, leaving him to carry on his intense relationship with Hugh Despenser. But by 1324 Edward and the Despensers had confiscated all of Isabella's lands and removed her children. In retaliation, her brother, King Charles IV of France, seized Edward's French possessions. By the following year Isabella had gathered together an army to oppose Edward. She was helped by English exile, Roger Mortimer, a powerful lord. By December 1325 Isabella and Mortimer had begun a passionate relationship; one historian said that their affair was ​'one of the great romances of the Middle Ages.' They organised a lightning campaign using a mercenary army of some 1,500 men, and caught her fleeing husband and accompanying lover in South Wales. Isabella forced Edward to abdicate and he was placed under house arrest at Berkeley Castle on the Welsh borders for the rest of his life. On the 23 September 1327 Isabella was informed that her husband had died from ​'A fatal accident.'
Isabella, as appointed regent, ruled for four years until her son, Prince Edward, came of age. In that time she acquired great sums of money and large areas of land and requested that Leeds Castle be returned to her. In 1328 her son married Philippa of Hainault in 1328, a marital alliance that had been arranged three years previously. In contravention of the usual custom, Isabella refused to hand over her dower lands to an exceedingly wealthy Philippa. Her son decided to take action and, with twenty-three armed men, gained entry through a secret tunnel into Nottingham Castle where his mother and lover were residing. Overwhelmed, Mortimer was dragged away and a distraught Isabella, allegedly pregnant with Mortimer's child, threw herself at Edward's feet crying, ​'Fair son, have pity on gentle Mortimer.' This had no effect and she was helpless to stop Mortimer's trial for treason or his execution at Tyburn. Held under house arrest at Windsor Castle, she suffered a nervous breakdown which manifested in ​'occasional fits of madness,' and she died on the 22 August 1358.
Joan of Navarre (1370 – 1437)
Henry IV granted Leeds castle to his queen, Joan of Navarre in 1403. ​'A plain, plump woman,' she had married him at Winchester Cathedral on 7 February the same year, having lost her previous husband John IV, the Duke of Brittany in 1399. She found happiness in this second marriage although not popular in England because of her foreign birth. Her husband, having suffered for a number of years from the disfiguring disease, leprosy, died in 1413, and was succeeded by Henry V. At first, Joan appeared happy to stay in England with her stepson, residing in her dower properties and was often referred to as the ​'Queen Mother.'
But Henry was finding it costly to fund the expenses of the French wars and began to have ideas about laying his hands on some of Joan's immense wealth. Trumped up charges accused her of witchcraft and plotting his death by ​'compassing the destruction of our lord the king in the most treasonable and horrible manner that could be devised.' This resulted in her being imprisoned at Leeds and Pevensey castles and Henry was able to confiscate her possessions and seize her income of 10,000 marks to put towards his costs for fighting French wars.
When Henry V was dying from dysentery, he bitterly regretted how his stepmother had been treated, saying,' We, doubting lest it should be a charge unto our conscience for to occupy for longer the said Dowager in this wise, the which charge we be avised no longer to be on our conscience…' Joan was released without fuss, her dowry and all possessions were restored to her and she moved back into Leeds Castle. She died in July 1437 at the age of sixty-nine years.
Catherine De Valois (1401 – 1437)
Catherine de Valois, a lively young girl, was widowed at twenty-one by the death of her husband, Henry V, ​'a somewhat dour spouse.' She had received the castle in 1422, and set about arranging the repairs of the Hall, study, cloisters and steward's chamber. She fell in love with Owen Tudor, a Welsh squire whose job was Clerk of the Wardrobe, in charge of her dresses and jewels. He was an ardent, handsome young man whom Catherine found irresistible. They started a secret affair, even managed to marry and had a son Edmund, but gossip soon revealed this scandalous relationship between royalty and a member of staff and both were imprisoned. Catherine was eventually freed and Owen escaped from the Tower.
In 1552, Leeds Castle moved into private hands as a gift from Henry VIII to Sir Anthony St. Leger, a ​'wise and warie gentleman' in appreciation of his work as Lord Deputy of Ireland.
Hon. Olive Lady Baillie (1899 – 1974)
After the death of Cornwallis Wykeham-Martin, the owner in 1924, his family were faced with crippling death duties and were forced to put Leeds Castle up for sale. Randolph Hearst, an American newspaper tycoon was seeking an English castle at the time and sent a telegram to his agent, ' WANT BUY A CASTLE IN ENGLAND, PLEASE FIND WHICH ONES AVAILABLE.' But the report of the inspection on Leeds was not favourable – ​'QUITE UNIQUE AS ANTIQUITY BUT NEEDS EXPENDITURE LARGE SUM TO MAKE IT HABITABLE. NOT A BATH IN PLACE ONLY LIGHTING OIL LAMPS AND SERVANTS QUARTERS DOWN DUNGEONS….' Hearst walked away, but Olive and Arthur Wilson Filmer didn't and bought the castle in 1926. It was in poor condition and Olive, an Anglo-American heiress, spent a considerable amount of her fortune on restoration of the building and grounds.
But the marriage gradually fell apart and the couple divorced in 1931. Olive retained possession of Leeds Castle and the same year went on to marry Sir Adrian William Maxwell Baillie, 6th Baronet, thus earning her the title of Lady Baillie. The continuing restoration, decorating and furnishing of her beloved home became her life's work; she spent over thirty years improving not only the castle but the grounds as well.
Although famous as a society hostess, it was less well-known that she had a great affection for exotic birds. In 1957 she started to build up an extensive collection of rare and endangered species which, over time, became the most complete and well presented in the UK.
On her death in 1974, to comply with her wishes, a private charitable trust was created, The Leeds Castle Foundation, ​'To maintain the Castle, gardens and parkland for the enjoyment of visitors in perpetuity.' This was financially supported with a substantial endowment from her estate.
Susan Remington-Hobbs, Lady Baillie's daughter from her first marriage and her sister Pauline, spent their childhood days at Leeds Castle. Susan stayed on and helped to oversee the transition from private ownership, including the opening of the castle to the public in 1976.
Historian Lord Conway, wrote, ​'Wonderful in manifold glories are the great castle visions of Europe:….but are not comparable in beauty with Leeds, beheld amongst the waters on an autumnal evening when the bracken is golden and there is a faint blue mist amongst the trees – the loveliest castle, as thus beheld, in the whole world.'