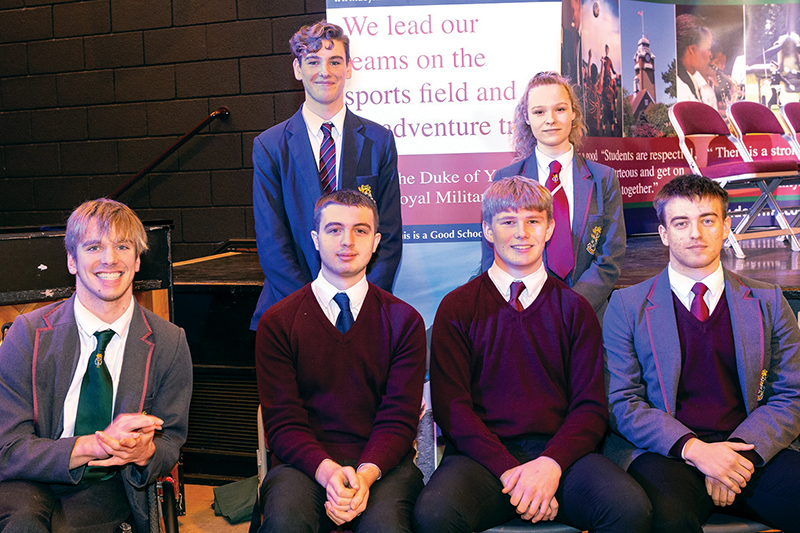 An outstanding 120 students celebrated gaining their Duke of Edinburgh's Bronze, Silver and Gold Awards at a special ceremony with parents, staff and governors at the Duke of York's Royal Military School.
The Dover school is a DofE accredited centre, and guest of honour who presented the awards was former student and chief school prefect Simon Daglish who is Deputy Managing Director of the commercial division at ITV. In his own time, Simon has raised more than £5 million for Walking with the Wounded, a charity he co-founded to help former armed forces personnel who need support. This has included walking to the North and South Pole, riding a bike through the Australian interior, and rowing across the Irish Sea. He is also Chairman of The Dukies' Association, the school's alumni.
Some 79 students passed Bronze awards which involved volunteering projects to improve the local environment, various physical goals, and learning about ceremonial drill as part of the skills section. The award's highlight is the expedition which takes place in the local area where students plan and navigate a 12 – 14km walk for two days, and camp overnight.
There were 32 students who received Silver awards at the ceremony on February 14, and guests also recognised the achievements of former students Georgina Waddington, Sam Collinson, Lewis Parry, Valen Patchet and Skye Stockings who will receive their Gold awards at St James's Palace later this year. Current students who have completed or are close to passing Gold awards are Chloe Still, James Sherburn, Sodyan Cross, Neal Cater, Felix Daglish, Tom Freeman, James Howell and Josh Still.
Kerry Duffield, the school's DofE manager, said: ​"Students have shown great commitment to complete their awards which play an important part in our school activities and develop our core military values of courage, integrity, respect, commitment, loyalty and self-discipline. They also gain a real sense of achievement, confidence and useful skills that put them in good stead for life. It has been another bumper year and I am proud of each student who has received a certificate and badge."