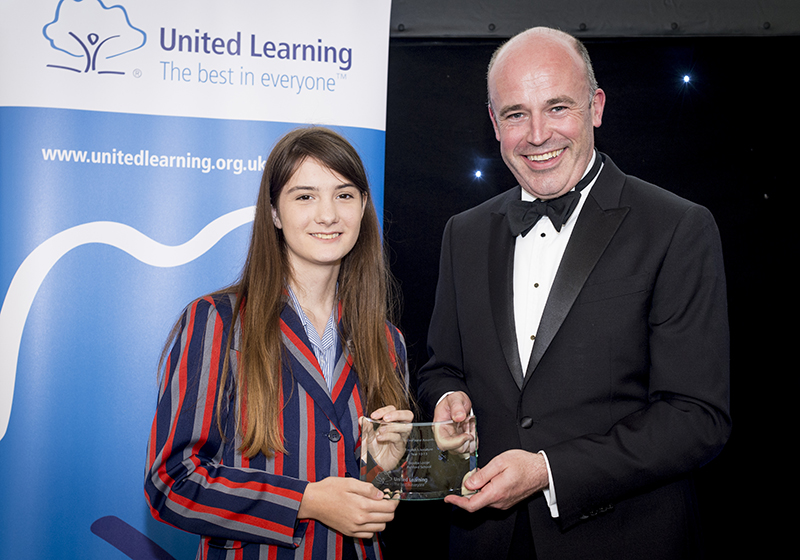 Ashford School is celebrating after picking up four awards at United Learning's national Best in Everyone Awards. The pupils were recognised at a spectacular black tie gala held at the Cutlers' Hall in Sheffield on Friday 28 June.
The Best in Everyone Awards celebrate the impressive achievements of pupils and staff at United Learning schools across the country. They include awards for academic excellence, extracurricular achievements and for service to school communities. As well as showcasing the talents of the Group's pupils and staff, they also recognise some of United Learning's most dedicated, hard-working and inspirational individuals.
The winning Ashford School students are:
• Victor Ye who won the Business Award;
• Jacoba Looije who won the English Literature Award in the Years 10 to 13 category;
• Alisha Tahir who won the English Literature Award in the Years 7 to 9 category;
• Zichuan Charlie Miao who won the Science Award in the Years 10 to 13 category.
Each of these students had been nominated by their teachers for their exceptional achievements. In winning the awards, they saw off strong competition from a field of excellent candidates from across United Learning.
Victor was given the award for consistently displaying a real enthusiasm for business. Not only has he excelled in the classroom, he has also thrown himself into the role of Managing Director of the school's Young Enterprise company and worked with younger students. Likewise, Zichuan Charlie Miaso won the Science Award for his exceptional academic performance and for conducting his own independent research into AstroPhysics and Statistics.
Literary enthusiasts Jacoba and Alisha won their awards for their outstanding achievements in English Literature. Both have displayed a real love of reading and have worked hard to achieve excellent academic results.
Congratulating the winners, Michael Hall, Headmaster of Ashford School, said:
"We are thrilled to have picked up four awards this year. Each of the students has shown incredible dedication to their studies and are a real credit to themselves, their families and the whole school community. Victor, Jacoba, Alisha and Zichuan always go the extra mile in whatever they do and their commitment to their subjects will inspire our other students to work hard and reach similar heights. Congratulations to our winning students. We are immensely proud of you."
For further information, please contact Jess Wilson on wilsonj01@​ashfordschool.​co.​uk