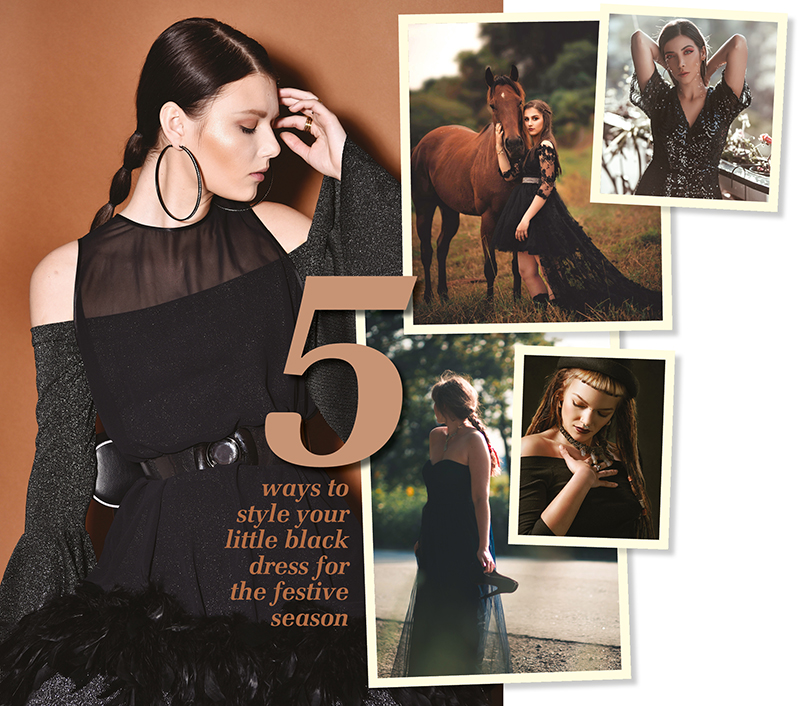 Whatever your personal style, chances are you have a little black dress (LBD) tucked away in your closet. If you don't, it's about time you invested in one. Not only is it a wardrobe staple but with the right know-how and mix of accessories, it's super easy to switch up a LBD look for different events.
With the holidays fast approaching, chances are your diary is quickly filling up with dinners, drinks, parties and other such festivities — and your LBD is going to be your best friend throughout them all. In fact, you can transform your dress from cosy-casual to party princess with just a few quick tweaks. Don't believe us?
Here are five ways to style your LBD for the festive season.
Turn it into a skirt
Turn your little black dress into a little black skirt by slipping on some knee high boots and a cosy jumper, in a festive colour or print. Crop jumpers typically work best for this outfit, as the hem stops at your waist. This means it won't fall heavily over your tummy or hips, helping create that hourglass shape. Fitted turtleneck jumpers also work well, especially when layered over a form-fitting dress.
Classic
It's called the classic look for a reason. This is the look that most people visualise when thinking about LBD looks. Bare legs, strappy heels and accessorised with 2 – 3 delicate jewellery pieces, to give the look a tiny touch of sparkle. It's elegant in its simplicity — and when done right, it looks effortlessly chic. This look is a minimalist's bread a butter.
Layers, layers and more layers
As a colour, black can feel like a rather plain and boring colour to wear, especially when you're surrounded by so much holiday sparkle. That's why we love adding layers to the classic LBD. Different fabrics and textures can transform the dress and make it look and feel unique and luxurious.
Try a tailored jacket or blazer, as these will add dimension your outfit. Plus, they'll help keep you warm, making this a great combo for outdoor events. Meanwhile, thin and flowy jackets, blazers and vests can add movement as well as texture. If you're in a pinch, you can even wrap and shawl over your shoulders and pin on a glitzy broach.
It's all in the legs
Tights are the quickest and easiest way to switch up an LBD look. Plus, mixing up your legwear is a great way to express your personality and style. There are hundreds of different patterns, prints and colours. Add some extra glitz and glamour to your outfit with some rhinestones or embrace the colours of the season by slipping on a pair of Christmas red tights. Make sure to match the colour of your shoes to your tights, as this will make you look taller.
All things sparkly
So far we've talked about adding different items of clothing to your LBD to change up your look, but you don't need to layer on the fabric to switch up your outfit. Sometimes it all comes down to the right accessories. More specifically, necklaces. The length and style of a necklace can give your LBD a whole new neckline, transforming the shape and style of the dress.
A collar necklace or chocker with sparkly jewels, for example, will give you a higher neckline. Meanwhile, longer chains will elongate the neck and torso. Alternatively, you can even spice up your look with some coloured jewels or beads.
Written by Aspect County Fashion Editor Samantha Allaker.