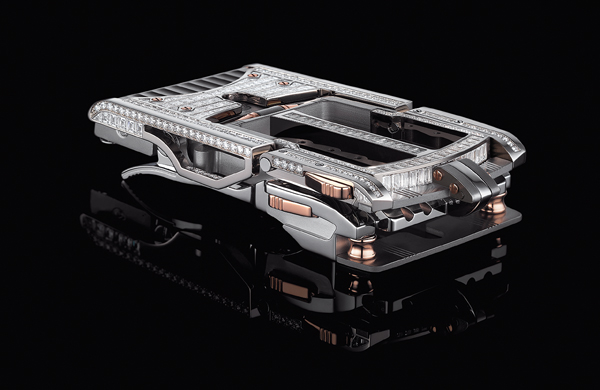 The seriously playful Roland Iten Calibre R822 ​"Predator" mechanical belt buckle features four impressive complications. The ​"Predator" is designed, manufactured and assembled to ensure that all mechanisms are self-cleaning with no lubrication required. The white gold body with red gold accents is fully-diamond-set with 387 diamonds totalling 14.15 carats, while the platform is made from high-tech titanium.
Quadruple complication
The full-pavé set ​"Predator" features four complications for:
• Quick and simple changes of the leather strap.
• Effortless engagement of the buckle with the leather strap.
• One-handed operation of the buckle to tighten the leather strap.
• One-handed operation of the buckle to loosen the leather strap.
Ergonomic design
In true Roland Iten style, Roland conceived the Calibre R822 ​"Predator" calibre with wearer comfort in mind. To that end, the Predator's ergonomic design allows the wearer to:
• Quickly change the leather strap for another to complement attire.
• Insert the end of the leather strap in the buckle so that the double ardillion tang engages effortlessly with the holes in the leather strap.
• Easily tighten or loosen the leather strap with just one hand. Security pushers ensure against accidental release.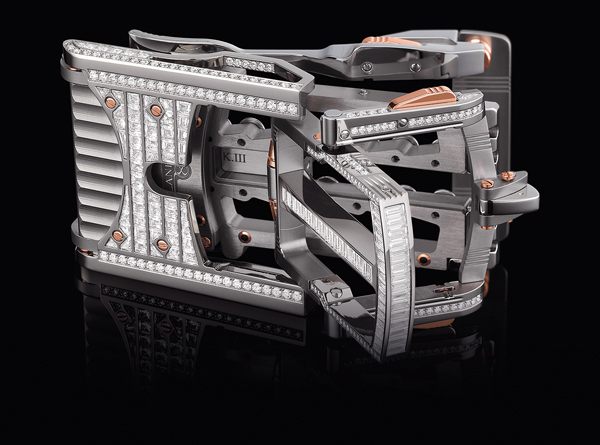 Tactile pleasure
Operating the Calibre R822 is a veritable tactile pleasure. The ​"Predator" offers a simple one-handed adjustment for two positions, e.g. driving/sitting (looser) or walking/sport (tighter). It is equipped with 16 (two rows of eight) self-cleaning track wheels that guide the ardillion slide precisely and securely, while a sprung ball bearing tensioner and dampener ensure smooth operation.
A patented, in-line double ardillion enables the pins to have a smaller diameter than the holes in the strap. The equal weight distribution offers resistance-free operation, minimizes wear, and maximizes security.
Scintillating diamonds
The Calibre R822 ​"Predator" dazzles thanks to 387 VVS1+ quality baguette-cut and round-cut diamonds which total 14.15 carats and adorn the buckle body.
The Roland Iten Calibre R822 ​"Predator" quadruple complication belt buckle is a diamond-set model in an ultra-exclusive limited edition of just 3 pieces.
Calibre R822 ​"Predator" Technical Specifications
• Limited edition of three full-diamond-set pieces in white gold.
• Features: Four complications including safety catches to minimise accidental release of belt or buckle opening.
• Materials: 18K white gold with titanium frame
• Gems: 387 TW VVs1+ baguette-cut and round-cut diamonds, 14.15 carats
• Total weight: 160 grams
• Gold weight: 77 grams
• No. of axels: 10 (plus the 16 track wheels)
• No. of components: 167
• Finishing: Haute horlogerie level of fine finishing
• 100% Swiss made
Roland Iten Manufacture (RIM)
Roland Iten is a prolific inventor of high-end men's accessories with many patents to his name, the majority of which are completely new. The unique designs and mechanisms in his range of seriously playful mechanical luxuries demand the highest quality, custom-made components.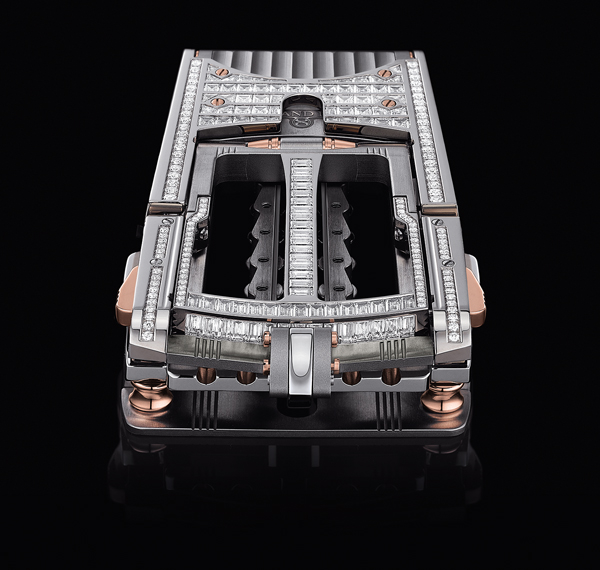 All Roland Iten creations are limited editions, which both maximizes exclusivity and allows Roland more time for developing new inventions.
To maximize prototyping and development capabilities, act as an incubator for Roland's ideas and minimize dependency on 3rd party suppliers, Roland Iten established a manufacture in Neuchatel in 2013.
The Roland Iten Manufacture (RIM) houses a full-scale engineering and 3D prototyping facility to enable Roland and his team to quickly investigate and test new ideas and concepts. There is also equipment for making specific components in gold, steel and titanium components in-house
As well as fabricating and hand finishing high-precision components, the Roland Iten Manufacture also assembles inventions, conducts quality control testing and offers quick and efficient after sales service.
Having an in-house manufacturing capability also allows Roland Iten to offer clients individual personalization, with special finishes and/or engravings to make their piece unique.