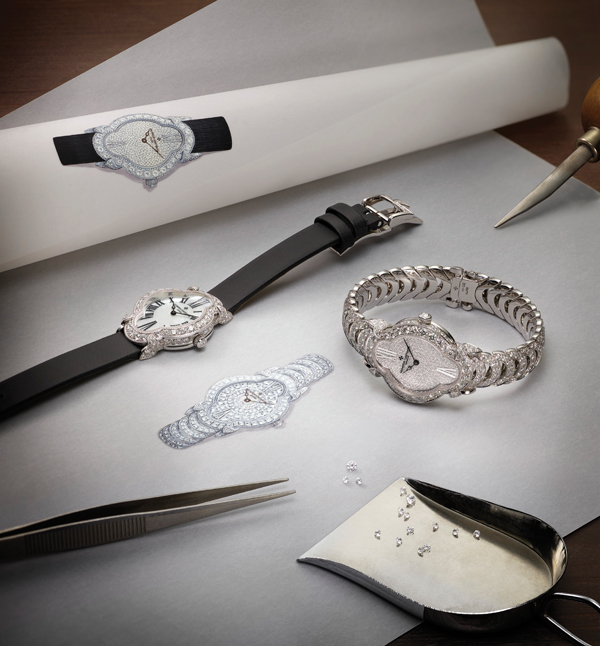 HEURES
CRÉATIVES
The new Vacheron Constantin collection
Inspired design in a stimulating dialogue with sparkling diamonds, timeless feminine lines, a delightfully mischievous touch… Such are the attributes of the new Heures Créatives collection by Vacheron Constantin. The expertise of master watchmakers and jewellers is magnified by a graceful design opening up enthralling new prospects.
Vacheron Constantin is extending its ladies' watch range with a new jewellery collection featuring a unique design and an exciting creative approach. These extraordinary 18-carat white gold watches exclusively set with diamonds are a perfect illustration of the imaginative powers that Vacheron Constantin has been demonstrating for the past 260 years.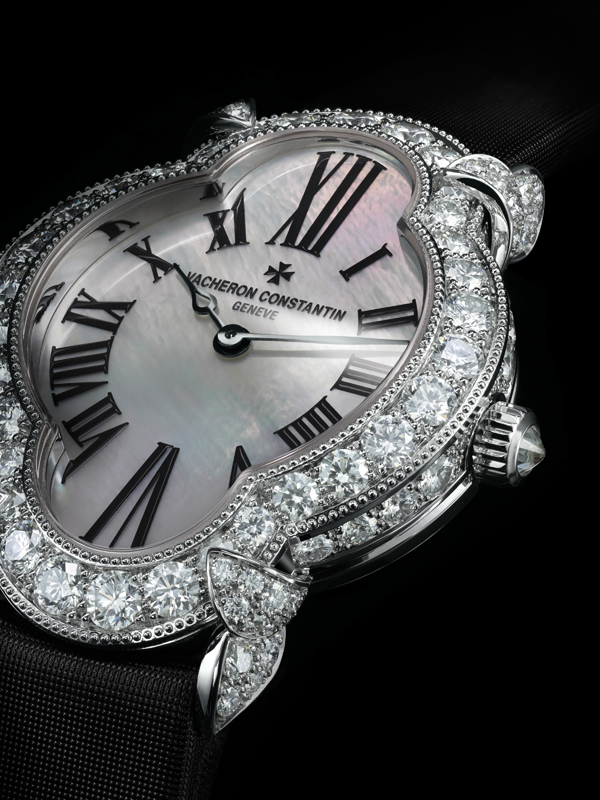 The Heures Créatives models engage in an intense conversation encompassing three emblematic artistic periods: Art Nouveau, Art Deco and the 1970s. The Heure Romantique, Heure Discrète and Heure Audacieuse timepieces form a stunning trilogy dedicated to three women with very different appearances, yet all drawn to the same vision of elegance. Like a lively discussion amongst friends, the collection proves in turn expansive, confidential or playful. The three watches converse admirably against the background of their differences, united by the same expressive vibrancy.
Vacheron Constantin has drawn on the most beautiful historic pieces studding its heritage in order to conceptualise this dialogue between contemporary watches, whose complex construction in no way detracts from their luminous aesthetic. These three graceful silhouettes are enlivened by the same mechanical hand-wound movement, Calibre 1055.
Vacheron Constantin and the ladies' watch: the wealth of a heritage
Since 1755, Vacheron Constantin has been creating horological masterpieces in a spirit of complete freedom. Influenced by history, manufacturing techniques, the creativity of its designers and a constant quest for excellence, the Maison has consistently contributed to the perpetual reinvention of feminine watchmaking. It has indeed been honouring women since 1810, when its first ladies' watch was produced: a quarter-repeating pocket watch, directly ordered by a woman!
In an age when it was deemed that ladies had no need whatsoever to know the time and even less to enquire about it in company, the Maison became involved in the design of true watchmaking gems. Smaller than those intended for men as well as more fanciful, ladies' models required considerable efforts in the realm of miniaturisation together with a talent for decoration – both of which were perfectly mastered by Vacheron Constantin. Symbols of standing and status, these watches gradually became essential accessories: worn on a necklace, hanging on a chatelaine, pinned to a dress or hidden in a brooch, they required all the imagination of the craftsmen of the Maison, master watchmakers as well as engravers, enamellers, guillocheurs, jewellers and gemsetters.
At the end of the 19th century, the ​'watch-bracelet' (that would soon be dubbed a wristwatch) asserted its aesthetic and functional legitimacy. History shows that it was designed for women before being adopted by men… In 1889, the Maison created the first movement exclusively dedicated to the ladies' wristwatch. True to its reputation for workmanship, it was equipped with a revolutionary system enabling winding and time-setting by simply turning the bezel, thus avoiding the need for a winding crown. This watch won an award at the Universal Exhibition in Paris.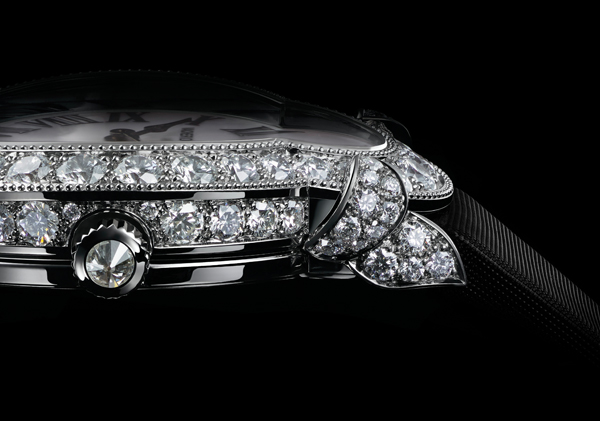 It was also at this time that feats of miniaturisation set new standards: the ​"baguette" shaped wristwatch expanded the design possibilities of jewellery-style watchmaking while continuing to meet precision requirements. Various styles and trends inspired quite a number of models that to this day bear witness to the artistic profusion of the 20th century. From pendant watches to cuff watches, triple wrap-around wristsbands, woven links, as well as satin or leather ribbons, Vacheron Constantin's feminine creations successfully staked their claim to freedom and daring over the years… Their predominance can be seen through countless advertising campaigns turning the spotlight on women and launched between 1940 and 1980.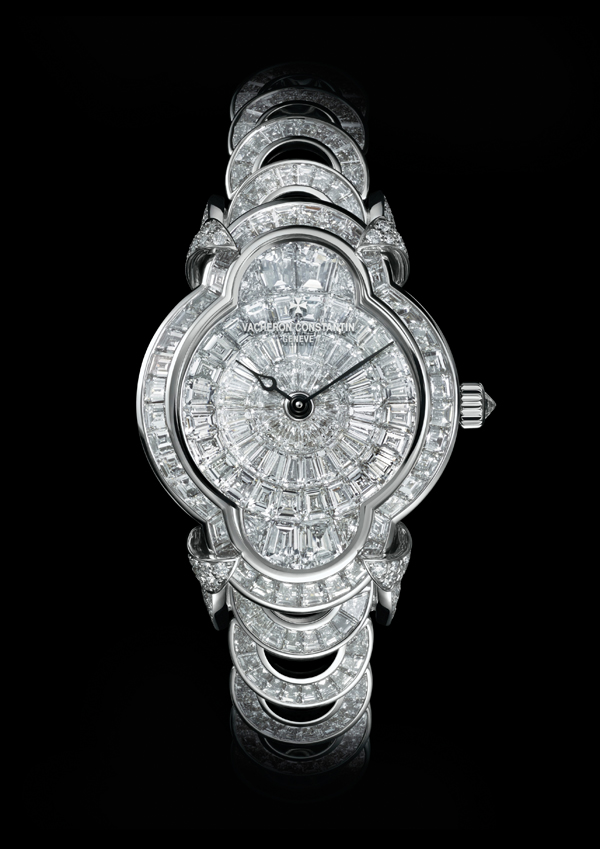 The luminous art of gemsetting
The Maison has united its exceptional skills to give birth to a collection with as many faces as a feminine conversation can have. The Heures Créatives timepieces feature a brilliant exchange between three distinctive and contrasting universes. Both in jewellery and in watchmaking, success is inevitably determined by compliance with an intangible rule: it results from long hours of work and patient humility. Using skilled gestures inherited from bygone eras, the jeweller – master of light – sets off to conquer material and focuses on even the smallest details until perfection is achieved. This is all about meticulous and authentic work on materials, in which different gemsetting techniques were required to reveal the splendid lines of the Heures Créatives collection.
The elegant and contemporary Heures Créatives collection illustrates the full extent of the expertise of these master watchmakers and jewellers. Combining ingeniousness, technique and daring design, it is destined to be annually enriched and continually inspired by the rich past of the Maison.
Heures Créatives Heure Romantique
At the dawn of the 20th century, Europe experienced a period of intense industrialisation. It was as a reaction to this energetic whirlwind that Art Nouveau was born. This movement sent a fresh breeze blowing through artistic circles which began advocating a return to Nature, with undulating shapes, organic swirls and effusive arabesques. This was art in all its voluptuousness, marked by a profusion of decoration. The elegant and inventive women of this era took refuge in pastel-hued, vaporous, voluptuous romanticism. The Heure Romantique model is inspired by this delicate trend. Crafted in 18-carat white gold and adorned with 104 round-cut diamonds (approximately 2.5 cts), its bezel undulates around a mother-of-pearl dial. Four gemset lugs deliciously accentuate the smooth contours of a slightly curved case punctuated by a winding crown enhanced with a diamond. Inspired by a model highly emblematic of the Belle Epoque and dating from 1916, this reinterpretation is devoid of all superfluity and retains only its quintessential elegant roundness. This exceptional timepiece is worn on a black satin strap, secured by a white gold gemset folding clasp.
The Manufacture's artists have pushed virtuosity to its extremes by creating a second version that is fully paved with round-cut diamonds including the dial, case and bracelet. The latter is articulated around 30 crescent moon-shaped links set with 264 precious stones (approximately 6.3 cts), extending the smooth curves of the case. Bearing vibrant testimony to the mastery of the artistic crafts cultivated at Vacheron Constantin, the fully paved version is graced with 621 diamonds totalling approximately 9.7 cts.
The contours of the Heure Romantique are further accentuated in the version set with baguette-cut diamonds. The sparkle of faceted precious stones (totalling approximately 17 cts) forms a river of crystalline light poised to nestle in the hollow of a graceful wrist.
The art of aestheticism
These models are driven by a movement with pure, uncluttered technical content, entirely focused on aesthetics so as to ensure that the magic weaves its unique spell. They are equipped with the extremely precise mechanical hand-wound Calibre 1055 that accurately counts off the hours and minutes. The 115-part, 21-jewel movement with its almost 40-hour power reserve beats at a cadence of 21,600 vibrations per hour. As always, the decoration and finishing vividly reflect the Manufacture's expertise. Featuring a dainty diameter measuring barely 15.7 mm (6 .'''), this movement fits smoothly and seamlessly into the three form cases to ensure an aesthetically appealing design.
Discover the Heures Créatives dedicated website: cam​paign​.vacheron​-con​stan​tin​.com/​e​n​/​h​e​u​r​e​s​-​c​r​e​a​t​i​v​e​s​-​l​a​d​i​e​s​-​d​i​a​m​o​n​d​-​w​a​tches
TECHNICAL DATA
Heures Créatives Heure Romantique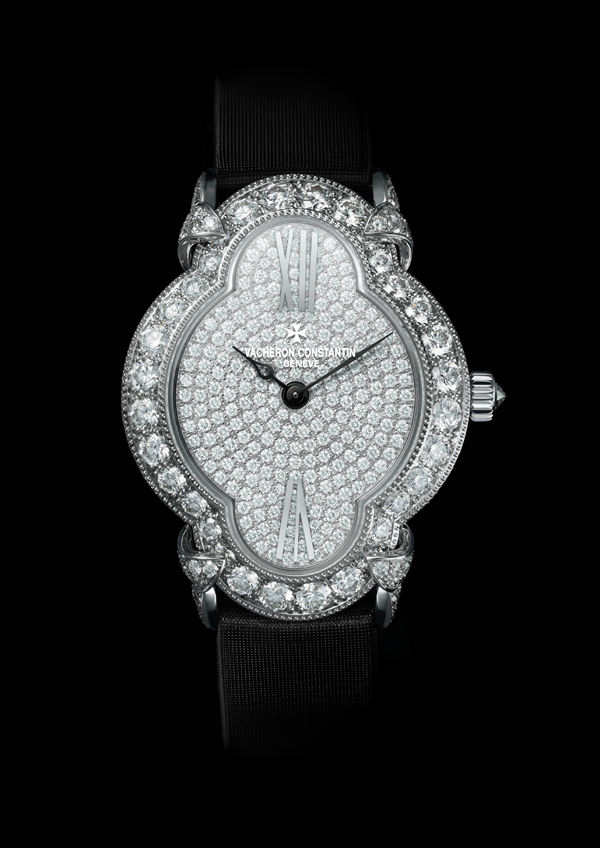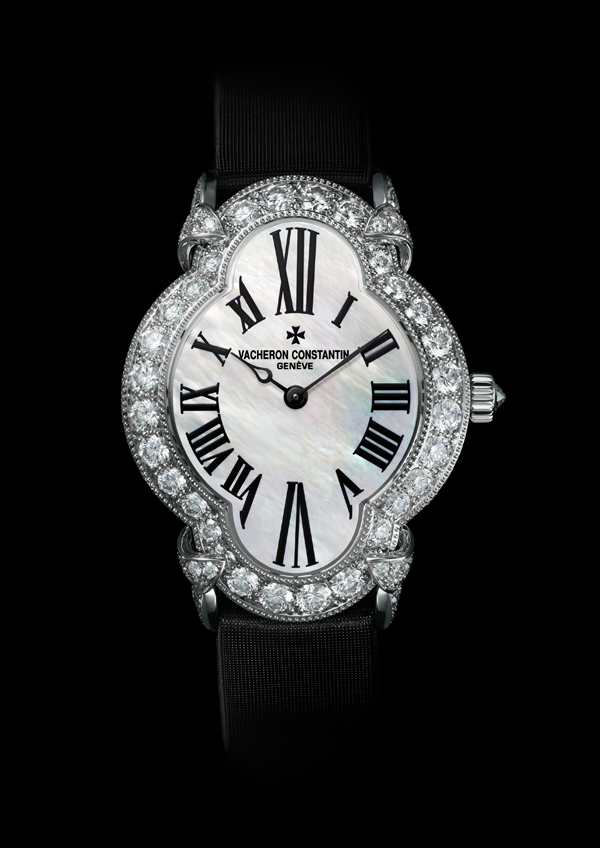 References
• 37640/000G-B021
• 37640/000G-B030
Only available in Vacheron Constantin Boutiques
Calibre 1055
• Mechanical, manual-winding
• 15.7 mm (6'''.) diameter, 2.1 mm thick
• Approximately 40 hours of power reserve
• 3Hz (21,600 vibrations/hour)
• 115 components
• 21 jewels
Indications
• Hours, minutes
Case
• Paved 18K white gold (104 round-cut diamonds) with millegrain finishing
• Diamond-set crown (1 round-cut diamond)
• 26.5 × 34 mm, 8.4 mm thick
• Water-resistance tested at a pressure of 3 bar (approx. 30 meters)
Dial
• 37640/000G-B021: Paved 18K white gold (252 round-cut diamonds), 18K gold applied hour-markers
• 37640/000G-B030: White mother-of-pearl
Strap
Black satin, stitched-tip
Clasp
• 18K white gold folding clasp
• Diamond-set half Maltese cross-shaped (18 round-cut diamonds)
Total diamond-setting
• 37640/000G-B021: 375 round-cut diamonds, for a total weight of approx. 3.5 carats
• 37640/000G-B030: 123 round-cut diamonds, for a total weight of approx. 2.6 carats
TECHNICAL DATA
Heures Créatives Heure Romantique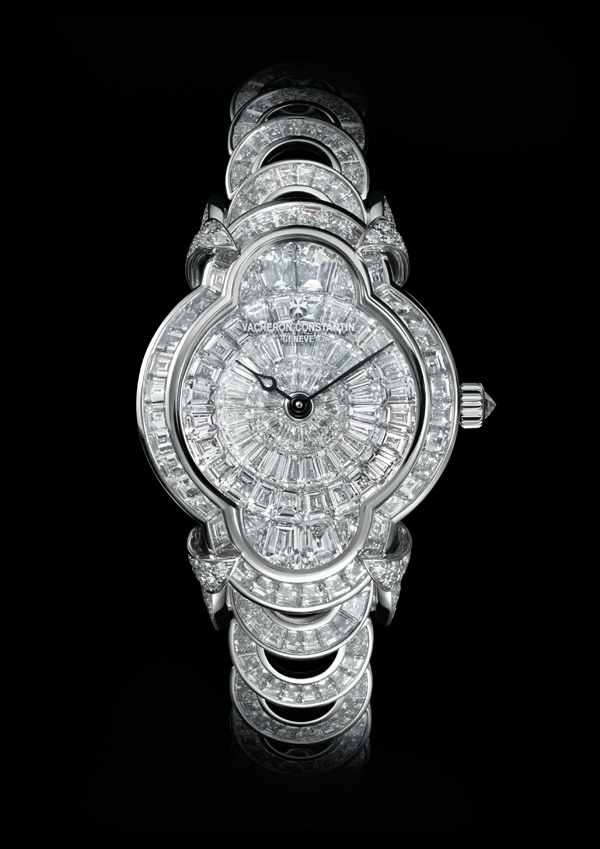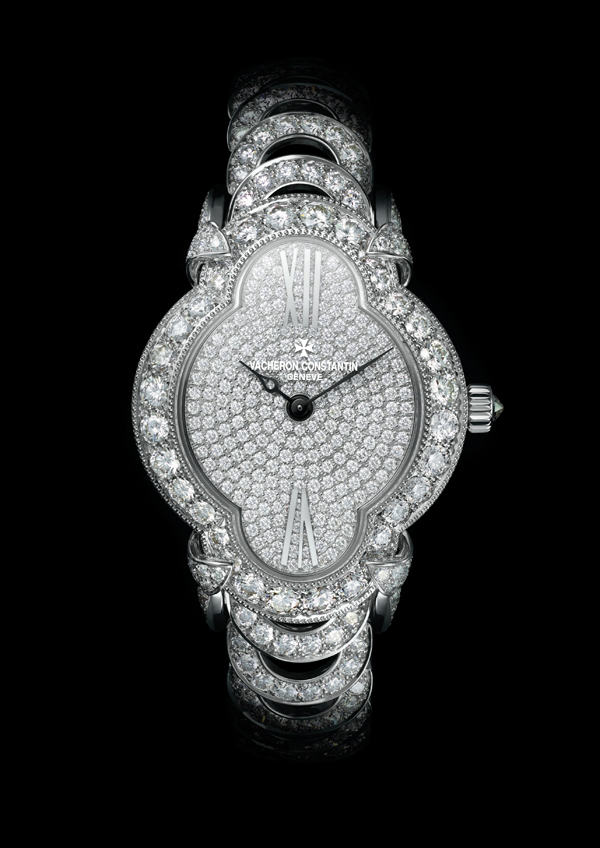 References
• 37641/F03G-B031
• 37640/F02G-B021
Only available in Vacheron Constantin Boutiques
Calibre 1055
• Mechanical, manual-winding
• 15.7 mm (6'''.) diameter, 2.1 mm thick
• Approximately 40 hours of power reserve
• 3Hz (21,600 vibrations/hour)
• 115 components
• 21 jewels
Indications
• Hours, minutes
Case
• Paved 18K white gold
• 37641: 60 baguette-cut diamonds and 82 round-cut diamonds
• 37640: 104 round-cut diamonds, millegrain finishing,
• Diamond-set crown (1 round-cut diamond)
• 26.5 × 34 mm, 8.4 mm thick
• Water-resistance tested at a pressure of 3 bar (approx. 30 meters)
Dial
• Paved 18K white gold
• 37641: 68 baguette-cut diamonds, invisible setting
• 37640: 252 round-cut diamonds, 18K gold applied hour-markers
Bracelet Paved
• 18K white gold
• 37641: 316 baguette-cut diamonds
• 37640: 264 round-cut diamonds
Clasp
• 18K white gold jewellery clasp
Total diamond-setting
• 37641: 444 baguette-cut diamonds and 83 round-cut, for a total weight of approx. 17 carats
• 37640: 621 round-cut diamonds, for a total weight of approx. 9.7 carats