The world of fine watchmaking is like a complex maze full of centres of ingenuity, traditional workshops and daring laboratories. Within this world, there lies a unique place, the heart of horological excellence, known only by the chosen few. This place is so enchanting that it seems as if natural laws have been suspended, know-how has made way for learning, and apprenticeship has become the handing-down of secrets. Here, in this annex to eternity, the Imperial Blue was born. Showcasing a transparent mainplate on which floats a flying tourbillon, adorned with a blue-tinged sapphire bridge that leaves no room for doubt as to its noble origins, this luminous yet mysterious watch holds within it a Sonnerie Westminster Carillon. The quintessential watch complication, it rings out on four notes for every passing hour. It is an object of immense rarity.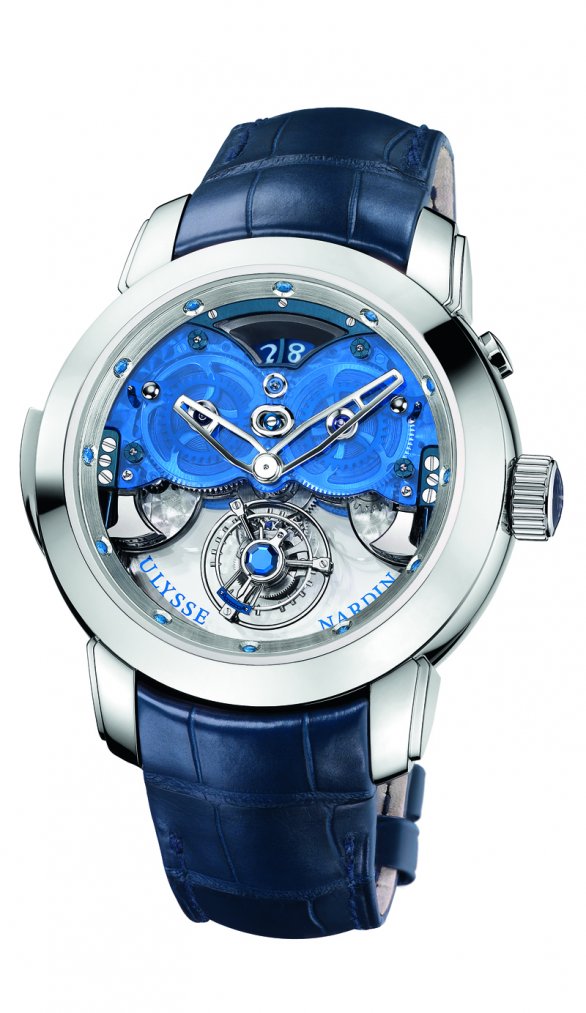 While Grande Sonnerie wristwatches today are the exclusive domain of some half-dozen prestigious manufactures, the invention of this function dates back, paradoxically, to the origins of watchmaking. In around 1300, a century before most dials and hands made their appearance, the first monumental clocks were designed to ​"sound" the time, so they could be heard from a distance or at night. Over time, the bells on these mechanisms were made increasingly smaller, until they fitted into table-top clocks, then pocket watches.
Ulysse Nardin occupies an illustrious place in the history of Sonnerie watches. In 1893, at the Chicago World's Fair, it was the only watchmaker to win a gold medal for its minute-repeater chronograph. A century later, Ulysse Nardin was also one of the first to revive the tradition of Jaquemart watches, with the San Marco in 1989, followed by the Genghis Khan. Now, once again, the watchmaker has retained its place in the pantheon of fine watchmaking with its Imperial Blue.
Energy management was undoubtedly the most difficult aspect of crafting this masterpiece. The sounding of the passing hours, as well as the hours, quarter-hours and minutes on demand, is powered by the same barrel. This barrel is wound either partially by activating the repeater slide on the case middle at 9 o'clock or fully by rotating the crown counterclockwise. Furthermore, an ingenious system controls the level of energy available, thereby always guaranteeing a fully operating Sonnerie.
Thus, every hour, a delightful sparkling melody ​"Sol" rises from the watch case. In the colors of white-gold and blue-tinged sapphire, bathed in light, the Imperial Blue is a watch for the connoisseur. Just 20 numbered pieces will be produced, each bearing witness to the ultimate mastery of the watchmaker's art.
Reference: 9700 – 125
Limited Edition: 20 pieces
Movement Caliber: UN-970
84 jewels, bridges and plate in sapphire
Power Reserve: Approx. 50 h
Winding: Manual winding
Functions: Flying tourbillon, Display of the hours, minutes and date, Striking of hours automatically, repeating hours, quarters, minutes on demand, Four different chimes (Mi-Do-Re-Sol)
Case: 18 ct white gold
Diameter: 46 mm
Water-resistance: 30 m
Crystal: Anti-reflective sapphire crystal
Case-back: Sapphire crystal
Crown: Water-resistant
Band: Leather strap, with folding buckle