A gourmet bistro, where you'd least expect it!
By chance, whilst looking for somewhere different to walk, I came across The Crown, a gourmet Country Bistro contained in a charming 300 year old building in the sleepy hamlet of Stone in Oxney, found on the edge of the Isle of Oxney, near Tenterden. Fresh off a walking trail, I arrived bedraggled and slightly damp.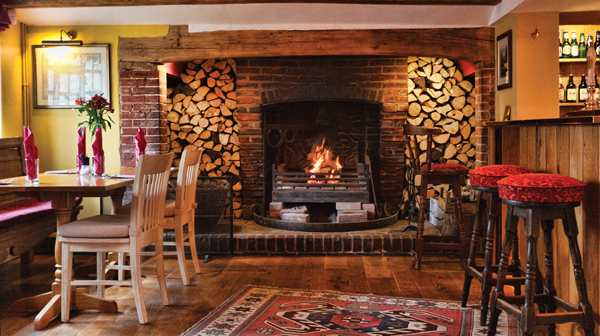 The Crown exudes the time-honoured appeal of English hospitality, complete with hearty log fires and patrons dozing dogs. The proprietors, Chris and Nicki Conrath, make every effort to receive all their guests personally and sat me by a fire to warm through. Although a food dominant establishment, they carry a good selection of wines by the glass together with bottled lagers and beers – including the locally brewed Old Dairy range.
The building has been painstakingly restored, keeping much of its character. It's spacious too, with modern, clean lines. There's a feel of refinement about the place as the soft colours and stylish décor exude tranquillity; undoubtedly a cut above the rest.
I have a discerning pallet and am very fussy about my food and felt certain I would get a bit sniffy when perusing their menu options. I should have known better as what I read indicated a carefully created and imaginative menu, one that's skilfully thought out and not seemingly overextended. The focus is on good seasonal ingredients with a few quirky touches and some exciting vegetarian options.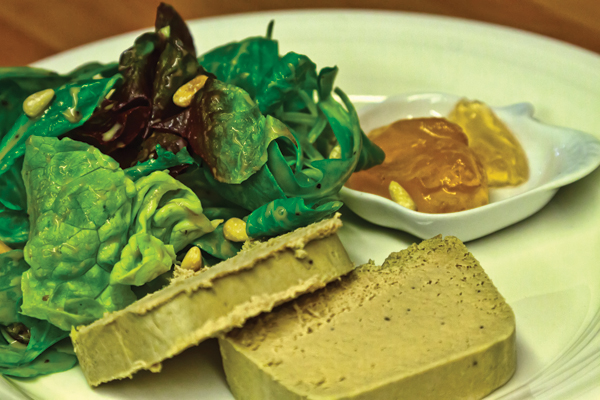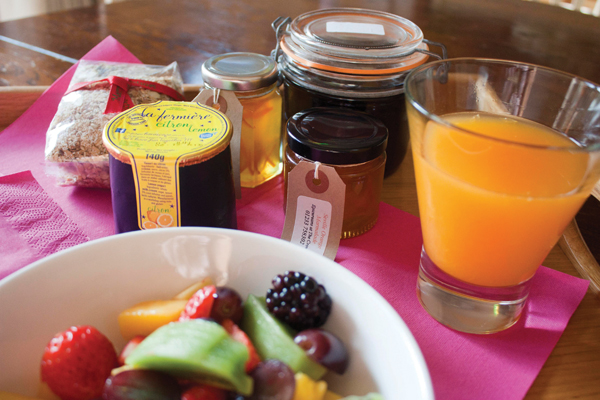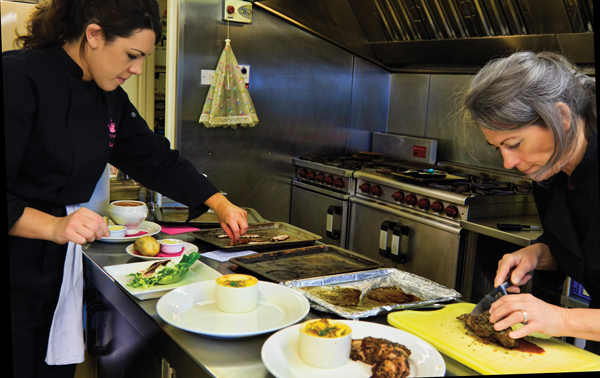 The aromas from the kitchen were tempting, arousing my now attuned senses. Chef Nicki has worked at hotels across Europe and previously as private chef to property and media moguls; she was also the former head chef at London's largest party designers and ably demonstrates her culinary skills by delivering the gastronomic works of art to the tables around me. There's little wonder The Crown is included in the 2015 Michelin Guide.
My starter of chicken livers and spicy chorizo with crisp bacon in a Pedro Ximenez cream sauce served on homemade soda bread is melt in the mouth good. For mains it was a succulent turkey breast stuffed with sausage meat and apricots soaked in Grand Marnier then wrapped in pancetta and served with potato Boulangères. For me, the dessert choice is always a difficult one. I asked principal chef Ruby, for her recommendation. Should I go for the ice creams (specifically commented on by the Michelin inspector) or a generous wedge of deep filled treacle tart and double cream? Not to waste an opportunity I decided to have both. My expectations were high and I wasn't disappointed.
During lunch Nicki spent time at each table talking about new dishes she was creating for her next menu. ​"We change the menu monthly to reflect seasonal availability and this keeps the kitchen on its toes; it helps us to continually develop new ideas." She's passionate about her food –and it shows. ​"Our Sunday lunch menu, whilst not extensive, is a selection of traditional roasts together with a vegetarian option; and is accompanied by generous sharing platters of fresh vegetables and roast potatoes suffused with goose fat – and there's no universal gravy served here; each roast has its own specific gravy."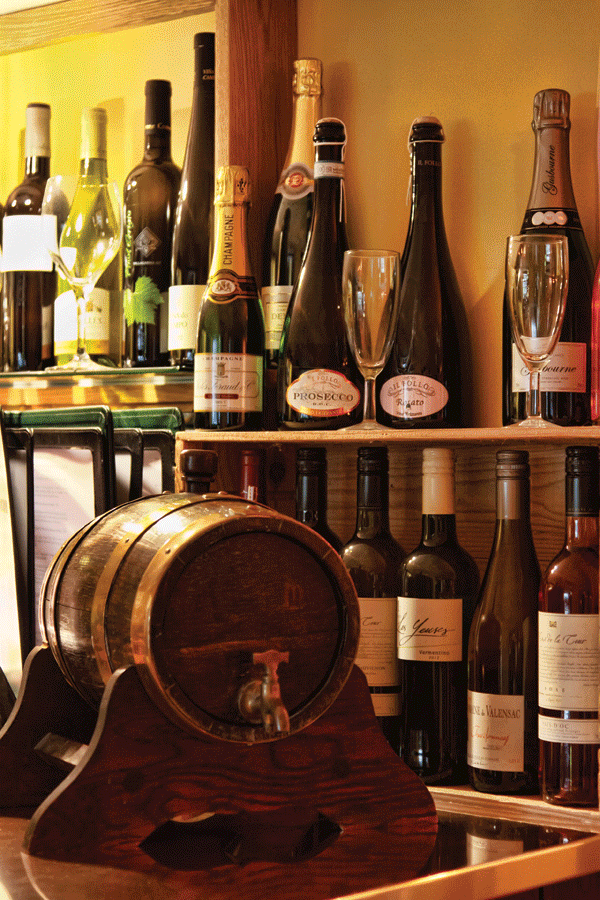 The kitchen, as you would expect, runs like a well-oiled machine and when I popped my head around the door to say goodbye I couldn't help but notice that the spotless stainless steel counters were stacked with an array of cook books and menu notes – a sign of a serious foodie.
It seems I'm not the only one who thinks the Conrath's have found a formula that works. Along with the Michelin accolade, The Times have noted them as being ​'one of the 30 best places in the country for Sunday lunch' as well as ​'one of the 50 best places to spend a country weekend'. In addition they have been included in the 2015 Hardens Restaurant Guide.
The Crown is a definitive culinary destination. They're impressive and deliciously different and the place to go to be certain of an interesting, well priced gourmet meal.
See their website for opening times, forthcoming events, offers and children's policy.
www​.the​crown​inn​stoneinoxney​.co​.uk
Sleep tight
Before heading to my car I crossed the terrace (home to a wood-fired pizza oven) and took the stairs to the two B&B rooms above the Bistro. The period rooms are undeniably stylish ‑one is a large double and the other a twin. There's an adjoining kitchenette with a breakfast room where guests are served a delectable continental breakfast. Rye, Tenterden, Camber Sands and plenty of vineyards are all in close proximity, which all goes to making this an ideal weekend getaway.
Things to do in nearby Rye
Hidden amongst Rye's historical buildings is a host of fascinating and unusual shops, a Pandora's box of vintage fashion boutiques like My Sweet Old Etcetera; Herald & Heart milliners; Britcher& Rivers – a specialist sweets-in-a-jar shop; bespoke jewellers; galleries exhibiting local potters and artists; quaint antique shops; Grammar School Records for vinyl record collectors; a cheese delicatessen; and Ironmongers Extraordinary – the kind of place you'll discover all the kitchen knick-knacks you did not know you needed; hand painted model soldiers, maritime photographic prints, tapestries and teddy bears. Then there's the Thursday general market beside the railway station and the Farmers' Market on Wednesday mornings on Strand Quay.