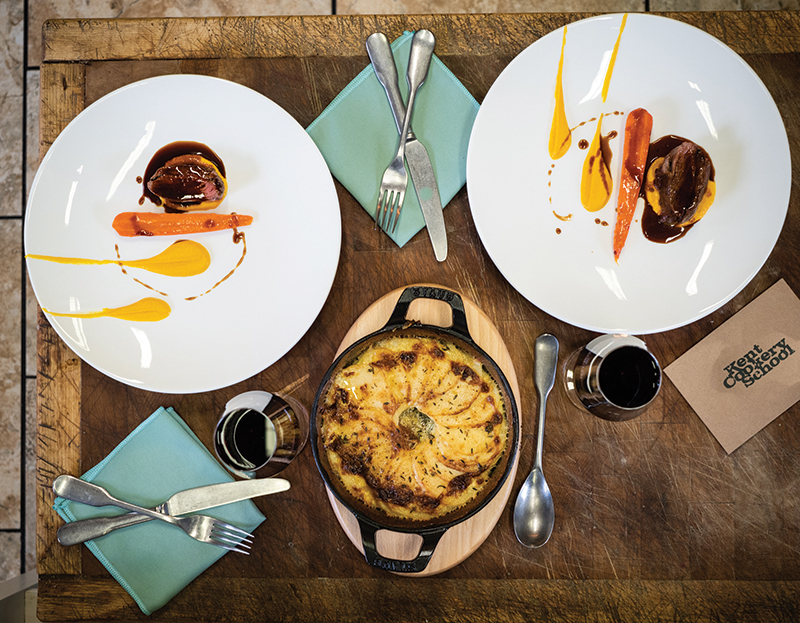 As the warm spring sunshine hovers over the cobbled courtyard, the coffee and local loose-leaf tea is being poured for guests, who are eagerly anticipating what their chosen course will bring.
A warm welcome from the team is shortly followed by finding your station, fully equipped with everything you could ever need! From Demeyere pans, pressure cookers, smoking pans, Zwilling UK knives and utensils there is nothing to want for at your station! Each workstation is fitted out with top of the range induction hobs from Miele as well as their combination ovens to enable exceptional results within the time constraints of a course.
A short introduction puts everyone at ease, from sharing disasters in the kitchen to perhaps explaining a particular skill they would like to learn, it is a window to get to know your fellow participants and have a bit of a giggle. The tutor explains how the course works with a combination of demonstrations, group tasks and of course lots of hands on cooking! He then explains there is no washing up to do, fantastic as this is the worst part of cooking!
The most unexpected things are learnt on one of these courses, from handy tips and tricks to cookery hacks that will change your way of cooking completely. What is also paramount and clearly an important part of the school's ethos is sustainability in seasonal cooking. People are all guilty of not using seasonal ingredients, life is busy. But by trying to get people to think about the seasons and perhaps not buy those strawberries in December but wait until May/June when Kentish strawberries are at their best. It not only makes the dish you are cooking taste better, but it is a far more sustainable way to cook. Similarly, with recipes, the tutor is very clear that they are just guidelines (apart from pastry and desserts) and that in order to cook well, we need to have the confidence to try new things, make mistakes and most importantly enjoy the process altogether.
In using seasonal ingredients, it gives the participants the chance to see, feel and taste the difference in this type of cooking. As well as having the bonus of supporting local producers which of course is so important, especially as we are so blessed in Kent to have some of the best producers in the country!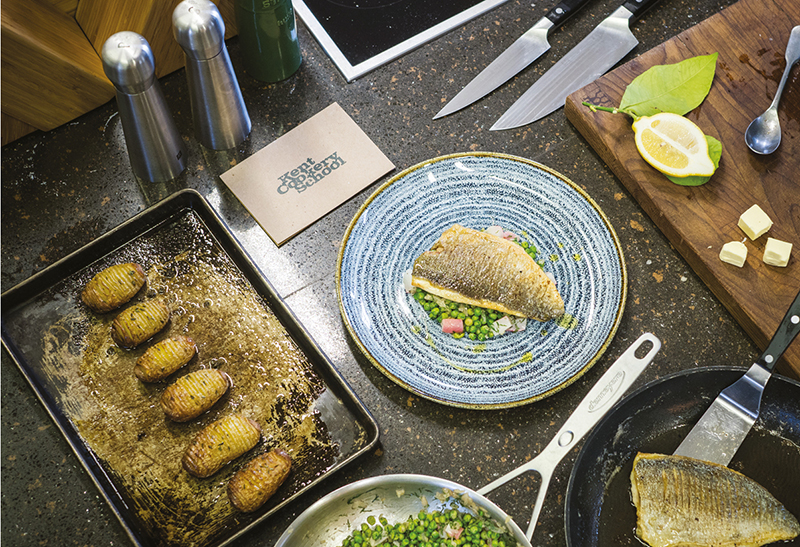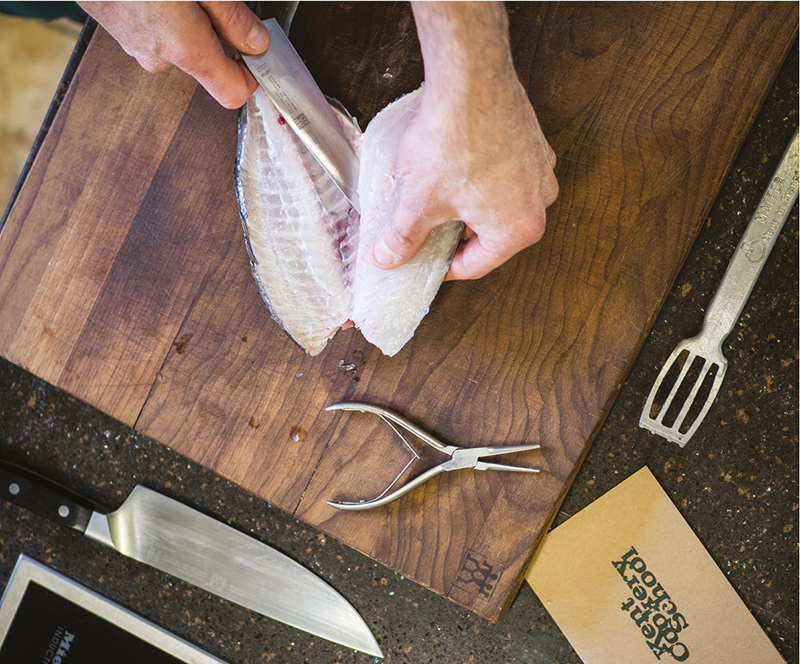 The experience is completed by a ​'family meal', where everyone gets to sit down, enjoy and relax. There is a strong sense of community in this type of cooking and learning about great Kentish produce and how to do it justice in the kitchen is a wonderful thing.
The Kent Cookery School courses that most champion Kentish cookery and seasonality are run on a regular basis:
• The Kent Cookery Course (4 Hours) £120pp
• Couples Cooking (3 Hours) £120per couple
• The Fish Course (5 hours) £130pp
From building confidence, to learning skills that will enhance the way you cook the most important part of the experience is that is it fun, inspiring and celebrates all that is great about Kentish produce.
​"It was so informative and I have no doubt will not only have lifted my skills set but boosted my confidence tremendously"
info@​kentcookeryschool.​co.​uk
Tel: 01233 501771
www​.kent​cook​eryschool​.co​.uk