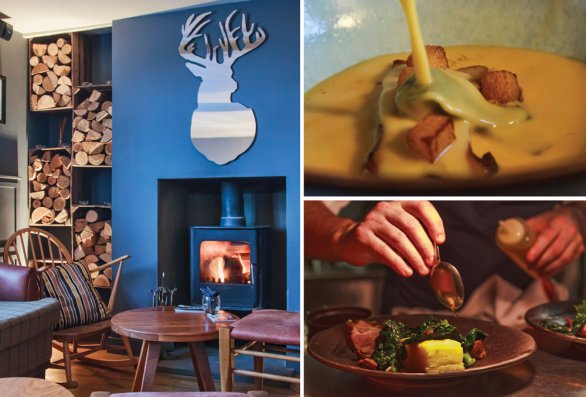 For some people a Michelin Star says it all. They are an indication of excellence within the restaurant world, awarded to top restaurants owned by the likes of Gordon Ramsay, Heston Blumenthal and Gary Rhodes. Now, allow me to introduce you to Head Chef Michael Mealey of The Curlew Restaurant who has retained its Michelin Star for the fifth consecutive time.
Located on the outskirts of the magical 14th century village of Bodiam is The Curlew Restaurant, a white timber-clad building that in a previous life was a coaching inn. Today though it's an understated temple to fine cuisine, encased with gun-metal grey walls, white and black cow wallpaper, dinner plate art and uncluttered wooden tables.
On arrival you're given the VIP treatment by the Maitre'd who offers you a fireside drink before leading you to your table. The interior of the restaurant has been well planned and had a great ambience. The quirky décor is quietly understated but sophisticated. We were seated at a table that gave visual access directly into the kitchen and the theatre within of chefs working their magic. The irresistible aromas soon had us in a gourmet mood.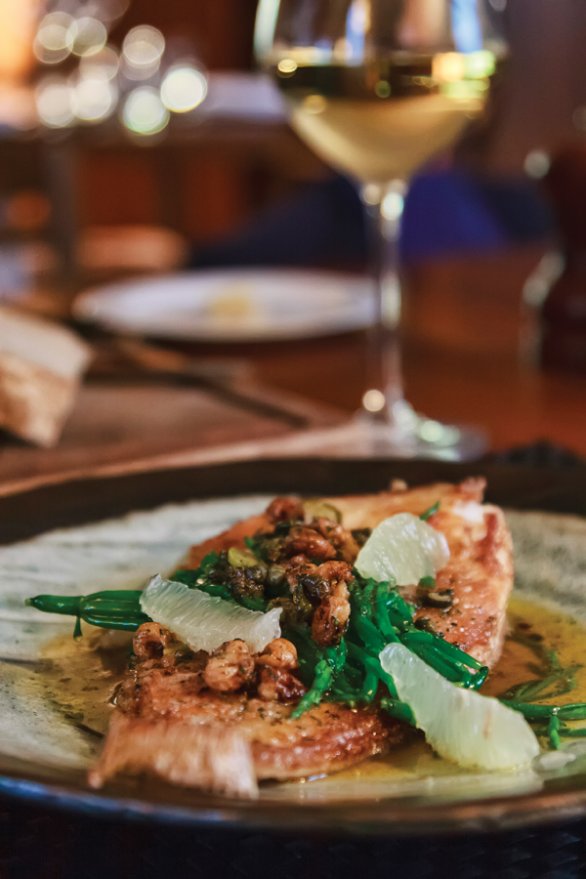 The cunningly understated yet imaginative menu changes through the seasons. Today our starter menu choice was butternut squash veloute with Somerset brie, walnut and sage; Scorched Mackerel ceviche, beetroot and horseradish. For mains Monkfish with masala spiced chicken, cauliflower and puy lentils; and Lemon Sole with brown shrimp butter, cream potatoes and samphire.
Tasty aperitifs arrived, followed by a board of homemade soda bread, wine, and finally masterly plates oozing with high-end skill, patience and brilliance. This is gourmet at its best – every single element cooked and imaginatively presented; plates of culinary delight with complementary and heavenly flavours and textures that married up perfectly. The smoky, subtle flavours of the humble butternut; the fillet of fish – crispy on one side, succulent on the other; the Monkfish, the Lemon Sole, both super-charged with unique flavours. Every course is a taste sensation demanding each exquisite, ultra-fresh mouthful be savoured slowly. The menu aimed high and surpassed itself demonstrating the genuine talent in the kitchen.
After two courses, an apéritif and an amuse bouche I had difficulty finding space for a pudding, but I did. This is where my love affair with deconstructed carrot cake began as mine was served with white chocolate, carrot purée and crème fraiche; my lunch date succumbed to dark chocolate malt cake with chocolate sorbet and crème fraiche mousse – a religious experience, he claimed.
The discrete serving staff will simply keep you replenished, explaining the menu as you go along. You are made to feel very special yet at no time do you sense that you're the focus of attention. The chefs are visible and happy to interact (it's good to hear them instructing the staff on how best to present their dish at the table). The sheer attention to detail in the preparation and presentation of food was perfection – even the crockery! And the glass wine cellar in the room is genius.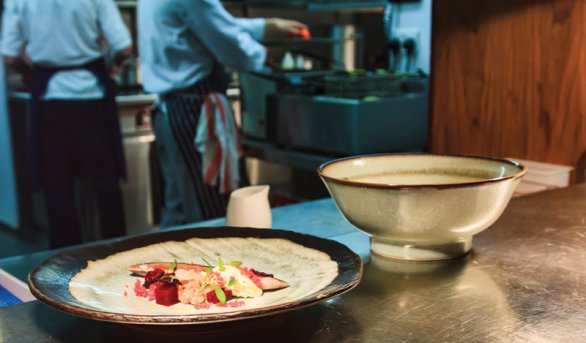 This is one of the best dining experiences I've had in 2014, which sadly came to an end following coffee and petit fours. The three hours spent at Curlew's flew by in a whirl of superb food and several glasses of Viognier at the end of which we were presented with a very reasonable bill.
Says The Curlew's proprietor, Mark Colley: ​"Sara and I opened the restaurant in 2009 after painstakingly restoring this former 17th-Century coaching inn. We shared a vision of delivering quality gastronomy to our community who are equally passionate and informed about food. This desire has earned us a country-wide reputation, numerous awards and a Michelin Star."
The Curlew Restaurant, Junction Road,
Bodiam, East Sussex, TN32 5UY
the​curlewrestau​rant​.co​.uk – online booking available.