'What about Crockstead Farm Hotel?' Ever keen to find new places to settle down to a good meal after a winter walk, my partner was looking at the walking map and had put her finger on it, literally.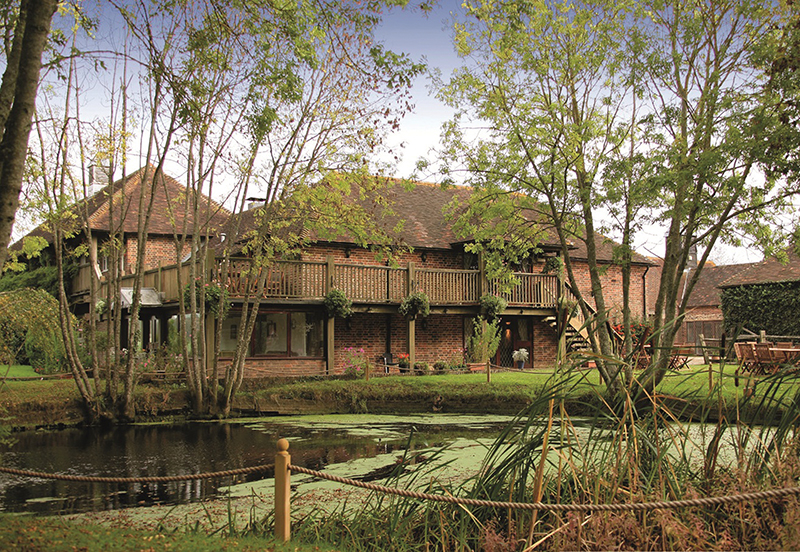 The Halland venue is a small country hotel set in 200 acres of Sussex parkland, and as well as offering comfortable B&B accommodation in its 12 rooms, two suites and woodland yurt for the discerning luxury glamper, also caters for guests and by-passers alike in its upstairs bar/restaurant.
We decided to try the evening menu because the Sunday roast lunch sitting was full. Even in the fading February light the entrance steps from the car park – we drove there; arriving in muddy walking gear to supper is not a good look – offered a pleasant view over a small pond through a stand of silver birch trees. Set against an exterior of mullioned windows and wooden walkway balcony leading to the outside doors of the rooms and suites, the effect was ​'Tyrolean Gasthoff, a theme repeated in the upper-floor restaurant. Its barn-style wooden roof supports and brick walls, we were told by the waitress who showed us upstairs, was constructed out of materials salvaged from an original 19th century barn that had stood on the Crockstead Farm estate.
It's comforting to know that the hotel builders were keen to reclaim and use local produce, as it were, as the kitchen today sources its food ingredients locally where it can, too. The sense of continuity is satisfying.

We went directly to our table, given that the other diners there were a group of rather lively hotel guests, and eschewed the opportunity to sit in one of the squashy leather sofas set before a picture window to sip a pre-supper G&T. It was a shame, as the bar offers a selection of speciality gins and we're always happy to taste-test. As the restaurant stopped serving at 8.30pm, however, maybe it was just as well.
The menu offers tried and tested, home-style, warming dishes rather than overly-fancy fare. I opted for a starter of crispy breaded Arancini balls, stuffed with the carnivore's choice of smoked cheese and pancetta and served with a ​'zesty lemon' mayo (£6.50 – the blue cheese/ fresh chive/ spicy harissa mayo option is £6.25), washed down with a honey-toned 175ml glass of Spanish Macabeo/Chardonnay Castell Montblanc (£6). My partner was tempted by the deep-fried crispy squid with a fresh zesty lemon mayo (£6.25), partnered with a small glass of Sauvignon Blanc El Picador from Chile (£5.50). Its sharper finish fitted her fishy primo – the batter was crispy and the mayo had a good lemon tang. While my Arancini were just crunchy enough on the outside.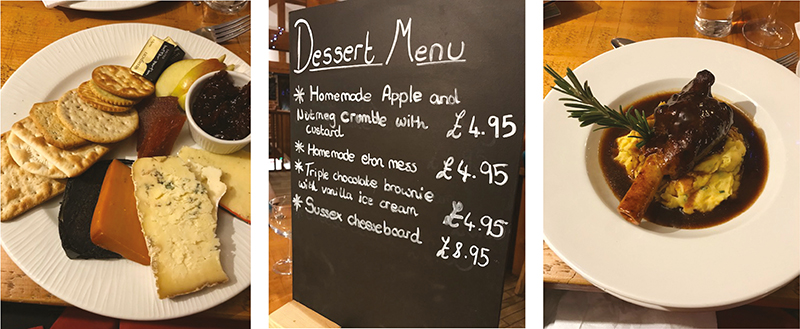 Having worked up a good appetite from our walk, there was plenty of satisfyingly stomach-lining creamed root mash serving as a plump bed for my braised lamb shank (£15.95), the meat of which fell off the bone and melted in the mouth, moistened by a slightly salty but nonetheless good red wine jus. There were few seasonal vegetables in the accompanying side dish and they were overly buttery for me, but my partner has a penchant for buttery vegetables and polished them off in good order alongside her own. She declared her pan-seared cod loin (£11.95), resting on its equally plump bed of tomato risotto, the winner of the evening. Vegetarians are as well catered for as meat eaters, rest assured, as are any dietary requirements, so it's worth calling ahead.
For dessert, we shared our two selections. Hers was a crunchy homemade apple and nutmeg crumble (£4.95) with custard – not enough for two, but fighting over a small jug of what is, in my book, the best gift the Romans ever gave us (forget the indoor heating and the roads) is undignified. I ordered a plate of five cheeses served with biscuits, apple slices, quince jelly and chutney (£8.95). I was impressed that we were offered all five – charcol Cheddar, smoked Cheddar, Brie, Stilton and a lovely smoked cheese.
Crockstead Farm Hotel's restaurant is obviously a family favourite, because its prices, more pub grub than haute cuisine, mean a group bill won't break the bank, and you can bring gran and grandad along for the afternoon too. Our meal for two (starters, mains, desserts, wine and coffees) came to just under £80 including tip.
We enjoyed the experience overall, and decided to keep it as somewhere to fill up on stomach-warming, sturdy fare on a weekend afternoon.
As we left, a full moon came out from behind scudding clouds and shone through the branches of the birches onto the pond. We could almost hear the wolves howling in the Bavarian forests of the imagination. Tyrolean Gasthoff? Check. Ready to face deep winter snows? Check.
Crockstead Farm Hotel, Eastbourne Road, Halland BN8 6PT.
Telephone: 01825 841022.
Hotel tariffs range from £90 to £500 per night.
www​.crock​stead​farmho​tel​.co​.uk
Written and photographed by Bryony Weaver