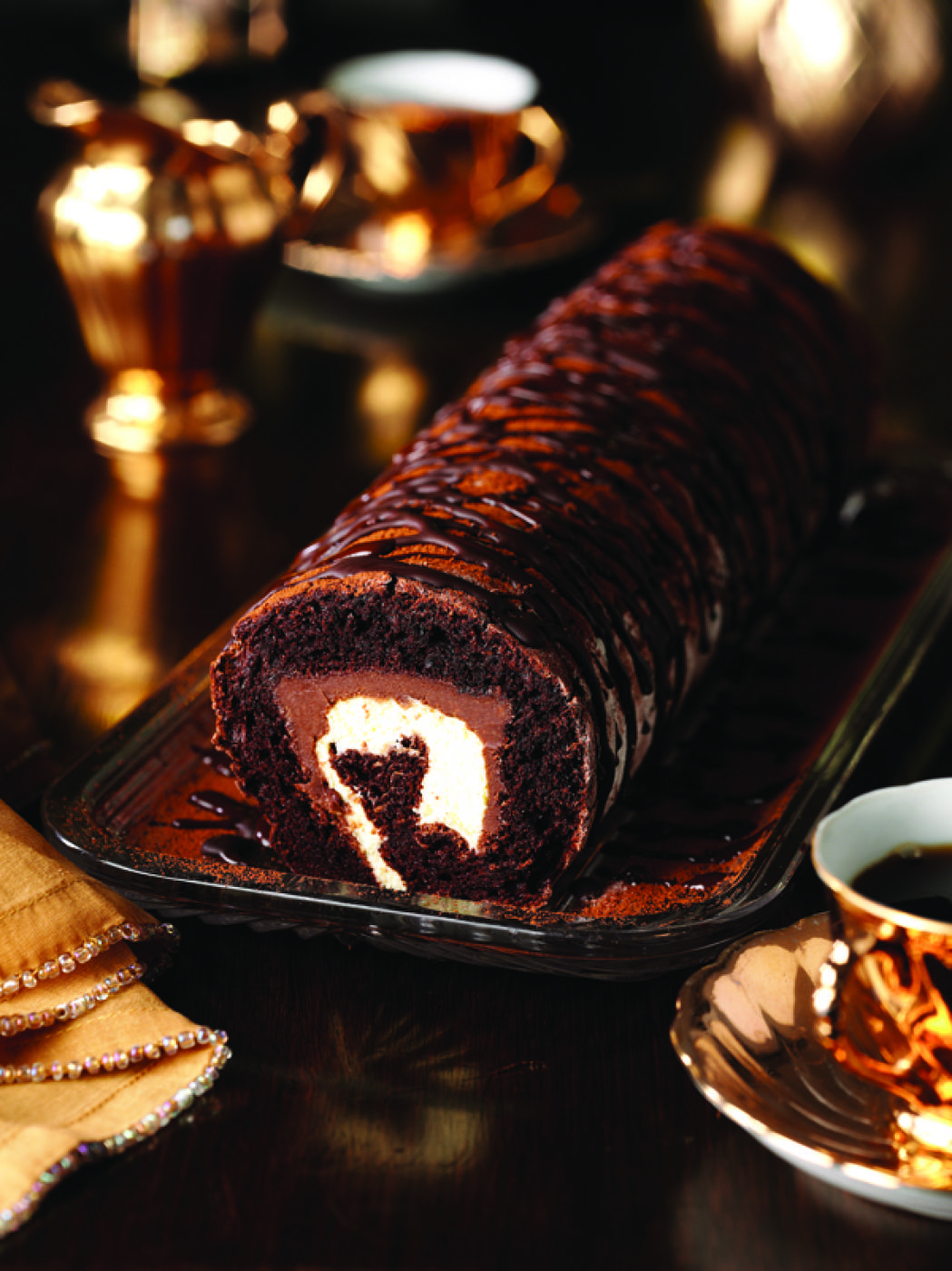 Allegra McEvedy's unashamedly

70

s Chocolate Roulade
Ingredients
For the cake:
6 eggs, separated
200g caster sugar
50g cocoa powder, plus plenty extra for dusting
a little icing sugar, for dusting

For the filling
150g milk or dark chocolate (70 per cent cocoa solids; preferably Fairtrade), plus extra for squiggling
250ml double cream
2 tbsp brandy or water
50g icing sugar
30 × 20 × 5cm baking tray
Method
For the cake:
Preheat the oven to 180°C/fan 160ºC/Gas 4. Line a high-sided baking tray with greaseproof paper and butter the greaseproof.

Whisk the egg yolks and all but a tablespoon of the sugar until pale (this takes a few minutes), then sift in the cocoa powder.

Whisk the whites separately and, once fluffy, add the last tablespoon of sugar and whisk again until firm.

Fold the whites into the cocoa base in three stages: the first will loosen up the chocolatey mix, the second will lighten it further and the third will make it airy, just be careful not to overwork the mix, or you will knock the air out of it.

Tip the mix evenly into the prepared tray and don't play with it too much. Bake for 20 – 22 minutes until cooked but still springy – if overbaked, it won't roll. Meanwhile, tear off a second sheet of greaseproof paper about 5cm bigger on all sides than the sponge, and dust it lightly with cocoa powder and icing sugar.

Cool the cake in the tin for 6 – 8 minutes (no more), then turn out on to the dusted greaseproof paper. Peel the old greaseproof off the sponge. Position the cake with one of its long sides closest to you, fold the border of new greaseproof over this long side and use it to help you roll the cake up tightly like a Swiss roll or newspaper (rolling the paper into it too). Leave it rolled up while you make the filling.

For the filling
Melt 130g chocolate with 50ml of double cream either in a heatproof bowl set over a pan of simmering water (don't let the bottom of the bowl touch the water), or in the microwave. Stir in the brandy or water, and if it seizes up a bit, warm it gently again to make it spreadable.

Whip the rest of the double cream with the icing sugar, until smooth but firm. Now unroll the sponge and spread it with the chocolate, leaving a gap of about 2cm at both short ends, which makes it easier to roll.

Once the chocolate layer is completely cool, cover it with the whipped cream, again leaving that 2cm gap, and you're ready to roll. Using the greaseproof paper again to guide you (though not rolling the paper inside it this time), roll her up as neatly, tightly and proficiently as you can – don't worry if she gets the odd crack as they'll get covered up in the final step.
Once done, dust the whole thing with copious amounts of cocoa powder, then melt the last of the chockie and squiggle it on top using a teaspoon and a limp wrist. A‑mazing!
Credit: Divine Chocolate