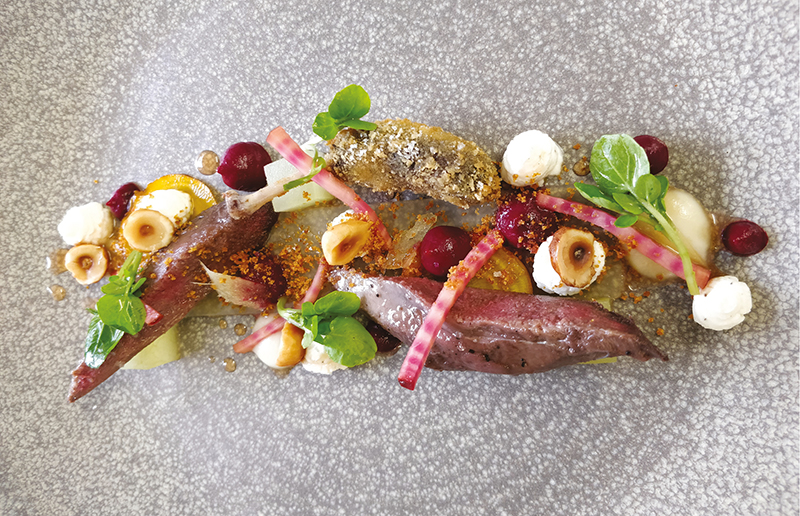 Roasted breast, on the crown, we remove the legs and carcass, colour in a pan in oil. Once caramelised cook at 185 degrees for 4 minutes. Leave to rest at room temperature for 10 minutes. Then remove the breast and then the skin, clean and trim edges
French trim the legs, by removing the bottom leg bone and turning half the top bone and clean so it resembles a lolly pop. I then roll tightly in cling film and confit at 85 degrees for 10 hours. Once soft and tender unwrap dry off and pane through flour with finely chopped thyme, egg and fine breadcrumb, making sure the end of the bone is clean.
Cider vinegar syrup, reduce 100mls of cider vinegar, 300mls of apple cider, 300mls apple juice, 50g fresh thyme, until it has a syrup consistency.
Beetroot purée, 1 kilo red beetroot peeled and diced, one large white onion diced. Sweat down in a little oil with no colour until tender, cover with water and cook down till the water is reduced, then while hot blend in food processor with 50mls of olive oil until smooth. Add salt and sugar to taste.
Apple purée, peel and dice 10 apples removing the core, vacuum pack in a bag with juice of one lemon, pinch of salt and 25g of sugar, steam for 30 minutes, then blend, again with a little olive oil until smooth and creamy.
Pickled candy and golden baby beetroot, clean and trim the stalks and skin, slice the golden into thin slices in the shape of the beetroot and the candied into thin strips (julienne). Bring 200mls of cider vinegar, 100g of sugar, 5 peppercorns and few sprigs of thyme to the boil and pour over the cut beetroot, leave to cool naturally.
Toasted hazelnuts, roast at 185 degrees for 5 minutes until golden brown with a little salt, sugar and hazelnut oil
Peppered goats curd, beat the curd with a little cream until pliable and season with fine ground black pepper, salt and sugar to taste.
Confit ginger, remove skin from the ginger (best to use a spoon and scrape it off), slice as thin as possible, then bring to the boil in cold water. Repeat three times, then leave to warm gently in stock syrup (equal quantities of sugar and water) for one hour.
To serve place the breast in a bag with a little of the syrup and sea salt, vacuum and warm in a water bath at 64 degrees for 3 minutes. Fry the pane leg until golden brown, season both with sea salt, add dots of the apple and beetroot purée, diced fresh apple, goats curd. Cut the breast in half and arrange between the dots with the leg in the middle add a few pieces of pickled ginger and both pickled beetroots, finish with some more of the syrup and picked fresh watercress and enjoy.
Telephone 01580 861394.
www​.the​curlewrestau​rant​.co​.uk