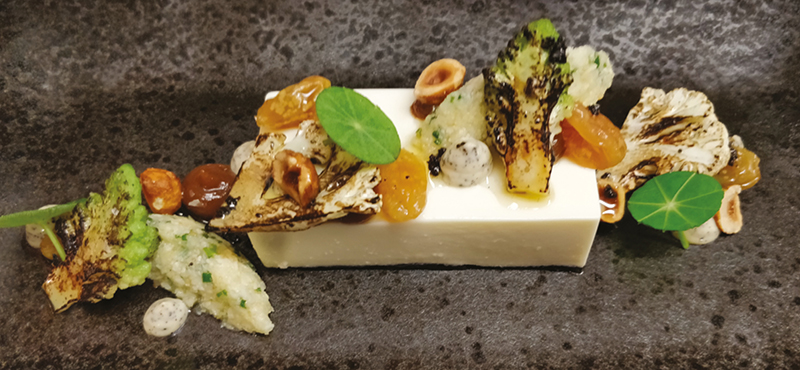 To make the pannacotta: One large cauliflower, 2 small leeks 3 small shallots, 500mls milk, 300mls of cream. Finely chop the cauliflower, leeks and shallot, season with salt and sugar, sweat in a little oil on a low heat to release the flavour. Add the milk and cream, lightly simmer for 30 mins. Strain through a sieve. Soak 8 leaves of gelatine, then mix into the cauliflower mix, (set in moulds as required)
Raisin purée:
250g of raisins, 500mls water, a pinch of salt.
Boil in a heavy based pan until water is reduced and then blend until smooth, set aside to cool.
Pickled raisins:
100g golden raisins, 50ml white wine vinegar, 50mls water, 50g sugar, a sprig of rosemary and thyme, and a pinch of salt.
All in one pan bring to the boil the vinegar, water, sugar, salt, rosemary and thyme, once boiled leave to infuse, then pass onto the raisins and leave to cool at room temperature.
Truffle mayonnaise:
60gegg yolk, 15g Dijon mustard, 4g sugar, 6g salt, 10g red wine vinegar, 20g aged balsamic vinegar, 4g black truffle oil, 20g fresh grated truffle, 500ml rapeseed oil.
In a food processor add the vinegar, egg yolk, mustard, salt and sugar, blend slowly together, while it's mixing, slowly pour in the oil bit by bit, it will start to emulsify together and thicken, once all oil is incorporated stir in the freshly grated truffle and check for seasoning.
Charred cauliflower:
1 small cauliflower 1 small Romanesco cauliflower.
Cut the cauliflower into large florets and carefully slice about 3 – 5 ml thick, then floret the Romanesco into small florets, blanch in salted water for 3 minutes and dry. To serve season both with salt sugar a drizzle of oil and slightly char with a blowtorch.
Candied hazelnuts:
250g blanched (no skin) hazelnuts, 300mls stock syrup, 500ml vegetable oil
Boil 300mls of water with 300g caster sugar, set aside to cool, then add in the hazelnuts and bring back to the boil, leave for 30 minutes off the heat to soak, then drain through a sieve and leave to dry. Add the oil to another pan and bring to 180 degrees, add in the hazelnuts and fry till golden brown, remove from the oil and leave to cool.
Cauliflower couscous:
half a cauliflower, 10 candied hazelnuts, 1 lemon, chopped chives, olive oil
On a fine grater, grate the cauliflower into a bowl, also carefully grate the hazelnuts inside, grate half the zest of a lemon into it and add some finely chopped chives, season with salt and sugar and bind with a little olive oil. Ready when at the right consistency like a couscous and holds together.
To serve, remove pannacotta from the mould and place in the middle of the
plate, add a few dots of the raisin purée
and truffle mayonnaise. Place a few
pickled raisins and hazelnuts, 2 pieces of each charred cauliflower, two quenelles of the cauliflower couscous, dress with a little fresh olive oil and sprinkle with a little sea salt and enjoy.