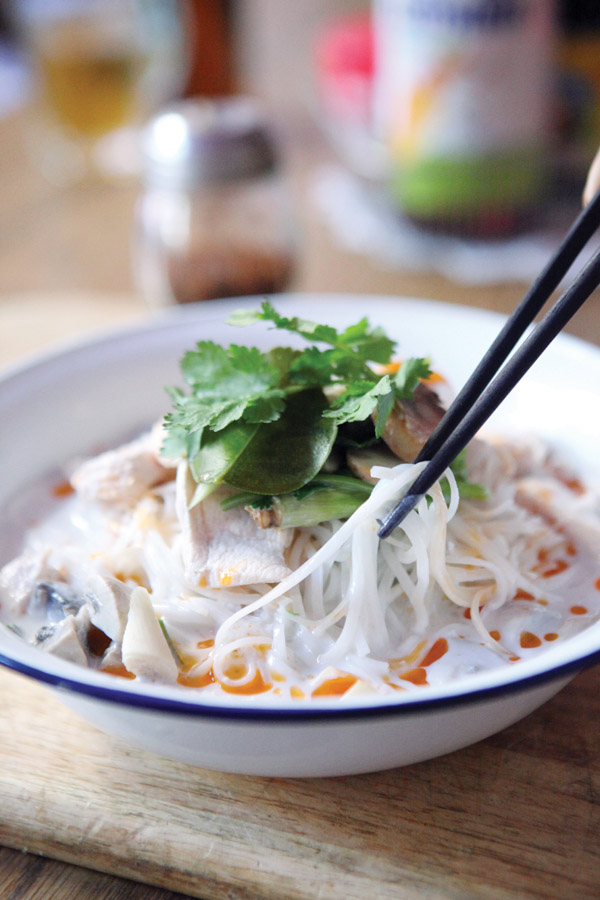 Chicken & Coconut soup (tom kha gai)
When enquiring after the recipe for the coconut soup at Rosa's Thai Café, a gorgeous little Thai restaurant in Soho (which, in 2008, started out as a street-food stall in Brick Lane), the proprietor sat me down and explained its origins and making.
"Coconut soup is fantastic any time of year," says Saiphin Moore, co-founder of Rosa's alongside her husband Alex. ​"It's satisfying and will always make you feel warm inside. My auntie, who had many coconut trees, taught me how to cook it. When the coconuts ripened, there were so many we'd have enough for months. I must admit, I've always had a bit of a love-hate relationship with this recipe. Not because of the taste – which is wonderful – but because each time we made the soup we had to go to my friend's farm to kill a chicken. The peppery galangal adds a unique flavour to the soup, which is salty and sour, with a little spice."
One per person serving:
• 250ml of coconut milk
• A pinch of coriander root
• 2 slices of galangal
• 2 red chillies
• 2 diagonal slices of lemongrass
• 1 tbsp of fish sauce
• 1 tbsp of lime juice
• 250g raw thinly sliced chicken
• 3 cherry tomatoes, sliced in half
• 5 button mushrooms, sliced into quarters
Saiphin explains that the coconut milk needs to be heated in a pan, until it starts to boil. Add the lemongrass, galangal, chillies and coriander root, stir for a minute or so and then add the chicken. Keep stirring on high heat until the chicken is almost done; now add the mushrooms and tomatoes and season with the fish sauce and lime juice. Stir on high heat for another minute or so until the chicken is cooked all the way through. Now mix it up. Add a handful of rice noodles for a heartier meal. Serve and enjoy.