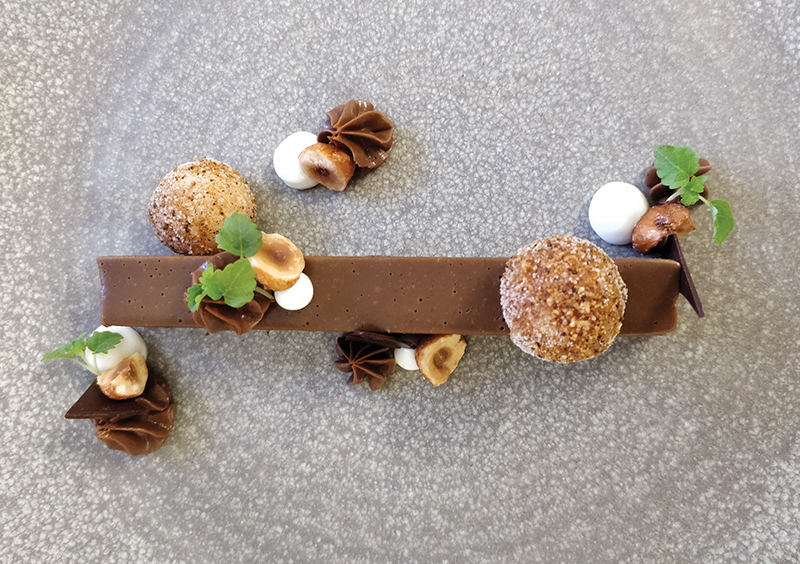 A perfect way to end the meal, small and delicate as if you were having a coffee with a hit of chocolate and hazelnut, what more would you want to finish with?
The dish itself Is extremely rich, which is why the addition of buttermilk gives the fresh acidity to cut through the duo chocolate ganache.
To start I make a feuilletine base which are dried crêpe flakes: (200g feuilletine, 120g dark chocolate 70% and 15g instant coffee)
I melt the chocolate in a bowl over a pan of boiling water with the coffee granules until dissolved, the stir in the feuilletine, once combined roll between two sheets of greaseproof paper till a few milometers thick, set in the fridge.
Buttermilk sorbet: (500g buttermilk, 2 limes zest and juice, 250mls stock syrup)
To make stock syrup is 200g of caster sugar, 200mls water, bring to the boil and leave to cool. Once cool mix in the buttermilk and lime, for best results I would churn in an ice cream machine, but if you don't have this luxury you can place in a container and stir in the freezer every 20 – 30 minutes till it starts to freeze through. Leave to firm completely.
Dark chocolate ganache: (200g dark chocolate 70%, 50g salted butter, 125g milk)
Again, over a pan of water melt the butter and chocolate in a bowl till all combines, warm the milk to roughly 50degrees and slowly fold in to the chocolate which will turn to a shiny smooth texture. Then the feuilletine base you need to cut to the size of the mould being used, I use a rectangular metal frame, but a small high edged baking try will be fine as long as the bottom is covered. Pour the ganache over the top and smooth out till level, place back in the fridge to set.
White chocolate and coffee ganache: (200g white chocolate, 30g instant coffee granules, 50g salted butter, 100g milk, 2 leaves of gelatine)
Add the milk to a pan, bring to 50 degrees and melt in the coffee. While this stands, melt the chocolate and butter over a pan of boiling water but make sure it doesn't get too hot as the white chocolate has a high fat content and may split. Soften the gelatine in cold water, once jelly- like stir into the milk and coffee. Again, once both are combined, slowly add the milk till smooth and shiny. (if this does split may be because the mix is too hot, add a splash of ice-cold water to bring it back) Pour this mixture on top of the other ganache, this should level itself out.
Whipped buttermilk: (100g buttermilk, zest of one lime and half the juice, I leaf of gelatine)
In a bowl whisk the buttermilk with the lime zest, soften the gelatine in cold water, then melt in a pan with the half a lime juice, beat this in to the buttermilk and place in a piping bag, chill in the fridge.
Chocolate delice: (70g dark chocolate 70%, 25g egg yolk, 15g sugar, 50ml double cream, 70 ml milk, 10g praline paste 60d whipping cream)
The delice is mainly used for decoration and an extra hit of nutty flavor. First preferable in a stand mixer, whip the egg yolk and sugar till light and thick called a sabayon, bring the milk and double cream to the boil, pour this over the chocolate until all melted together, leave to cool to room temperature then slowly mix into the egg mixture. With the whipping cream, whisk to soft peak where it folds over if you remove the whisk. Fold through the chocolate and egg mix, and add the praline paste, for effect place in a piping bag with a star shaped piping nozzle.
Finally roast some blanched whole hazelnuts with a sprinkle of salt ​'till golden brown in an oven at 175degrees, once cool just split in half with a small knife.
To assemble slice a portion of the layered ganache on the plate, decorate with dots of the buttermilk, star piping's of the delice, some halved hazelnuts and finally the buttermilk sorbet, I have balled and rolled them in a coffee crumb for effect but again is not a necessity. Enjoy alone or impress some friends! Bön Appetite.
www​.the​curlewrestau​rant​.co​.uk
Telephone 01580 861394.