It's the holidays and a short break is needed, Unfortunately I've chosen the wrong place to look for grapes as I am off to Reykjavik, the capital of Iceland. This is a breathtaking land of ice and fire. Long winters, frozen lakes, spouting hot springs and big woolly jumpers, which dot an otherworldly, volcanic landscape now familiar to all Game of Thrones fans. Around three-quarters of the island is barren of vegetation. Plant life consists mainly of grassland, which is regularly grazed by sheep (sheep outnumber Icelanders almost 3 to 1)
Black death
Iceland's national spirit is Brennivín. Its potency has earned it the nickname ​'black death'. This is a type of schnapps distilled from potato mash and caraway seeds and well known for washing down the taste of the putrefied-shark dish, hákarl. This spirit is only brewed in Iceland and only in one distillery!
Imagine then my relief when I read that Iceland also has a booming craft distillery culture!
The Icelandic climate has only twice in recorded history allowed for decent amounts of grain – first during settlement times, and now, due to global warming. The early settlers grew and brewed barley into mead and ale, and after barley production died down, schnapps or potato vodka became the drinks of choice for Icelanders. But now, with barley production growing again, the equation has changed.
Eimverk Distillery
I'd contacted Eimverk Distillery ahead of time and they invited me to visit on one of their afternoon distillery tours. Arriving at the small distillery in an industrial estate on the outskirts of Reykjavik, I was greeted by CEO Halli Thorkelsson, an extremely personable, dry-witted, entrepreneur with a huge passion for his family run distillery. The business has already received critical acclaim for their gin, named Vor, which won a Double Gold Award at the 2014 San Francisco World Spirits Competition. But we're not here to just to praise their gin, we're here to taste their whisky, which is the first of its kind to be made in Iceland.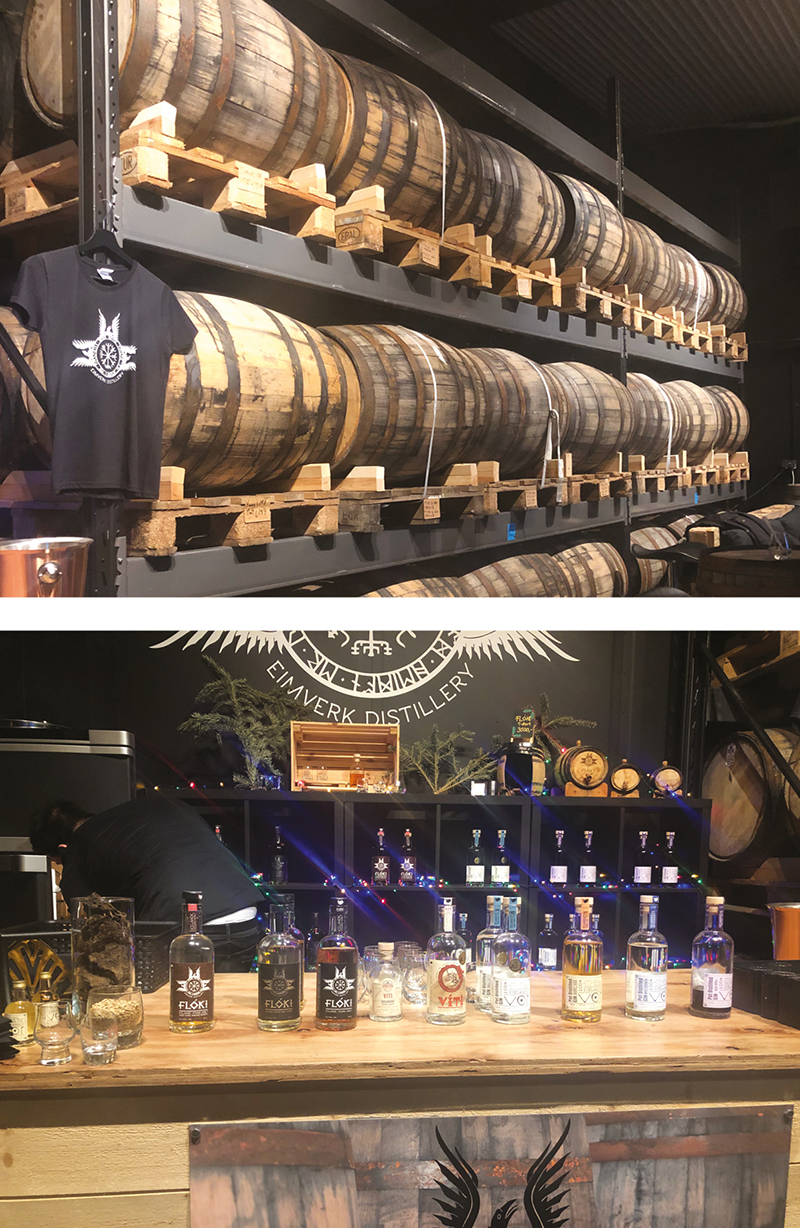 Pioneering spirit
Halli and his brother Egill wanted to see if they could make their own whisky, just for the fun of it. So they started to experiment with a small still and after more than 160 different recipes, learning the ropes along the way, they found one in 2009 that their friends and family finally feedback was worth pursuing. Everything sprung from there.
Eimverk sources most of their grain straight from the family farm. It's 100% organic, being exposed to nothing but the harsh Icelandic winter. With a shorter growing season, the barley with its low starch and sugar content concentrates the flavours. The second ingredient, water, is a commodity that Iceland has in abundance and is so pure has no need to be treated – it comes straight from the tap!
Their Young malt is called ​'Flóki, named after the first settler in ​'Iceland and has a toasty, buttery oak aroma and tastes of oak leather and brown bready maltiness with hints of caramel shortcake honey and vanilla.
Sheep Dung whisky
Their most unique take on whisky however comes in the form of their ​"Sheep Dung" Whisky. ​"We wanted to make a whisky to emulate the peaty flavours of Single Malt but in Iceland we do not have any peat" said Halli " The water in the ground is almost permanently frozen so it cannot form. The early settlers used to burn sheep dung to generate warmth. This shit is really good shit!!" He says with a smile. The barley is smoked over the burning dung to give it sweet almost green smokey notes which compliment the intensity of the barley. You may even find vanilla and white pepper.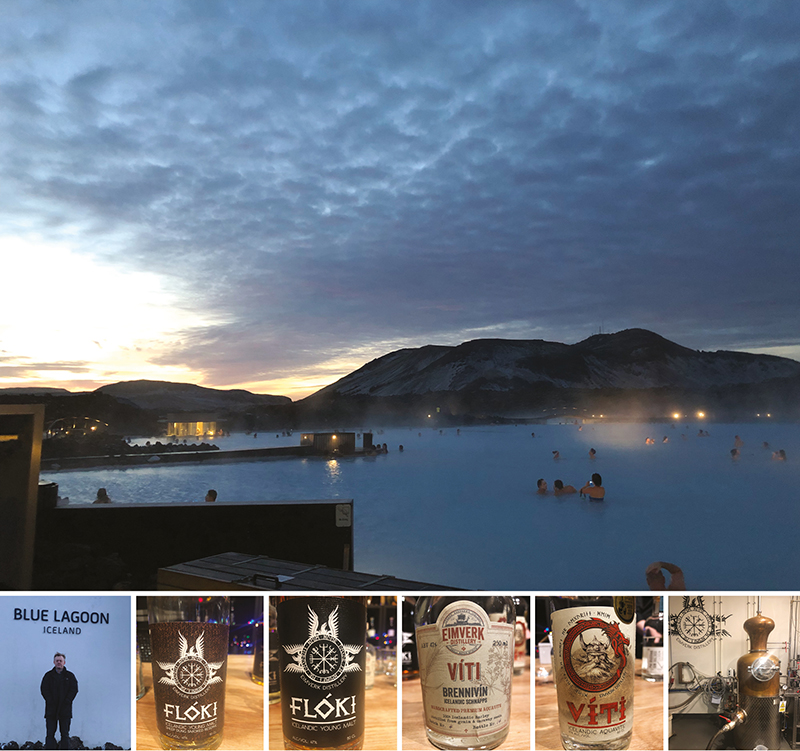 Native botanicals
Halli goes on to explain the inspiration behind their range of gins ​"Again we wanted to stay true to our heritage and only use native Icelandic ingredients. Vor, their small batch, barley-based, pot-distilled gin contains nine botanicals, wild picked Icelandic juniper, crowberries, birch leaves, thyme, Icelandic sea kelp and organically grown rhubarb and kale. One variant is barrel-aged in first-fill virgin white oak barrels to give the gin a slightly woody, smoky character.
The surprise tipple of the day was their very pleasant ​'aquavit — Viti – dominated by caraway seeds and dill perfect as a digestif and awarded a Double Gold at the San Fransisco World Spirits competition.
Pall, the charismatic, smooth-talking Sales and Marketing Manager took us through a wonderfully entertaining and informative tasting and tour. If you want to learn more, then please head over to my website www​.the​grapewiz​ard​.com to read an interview with the CEO (Halli ) and see more of Pall's tour around the Distillery and Iceland.
You get a real sense that the bold, pioneering, yet down to earth nature of Iceland is alive and kicking here at Eimverk. It's still very early days for this young distillery so it would not be fair of me to compare its products to the more established distillers yet I do believe given time, these super-cool, passionate and friendly mavericks will mature into one of the Icelands main attractions.