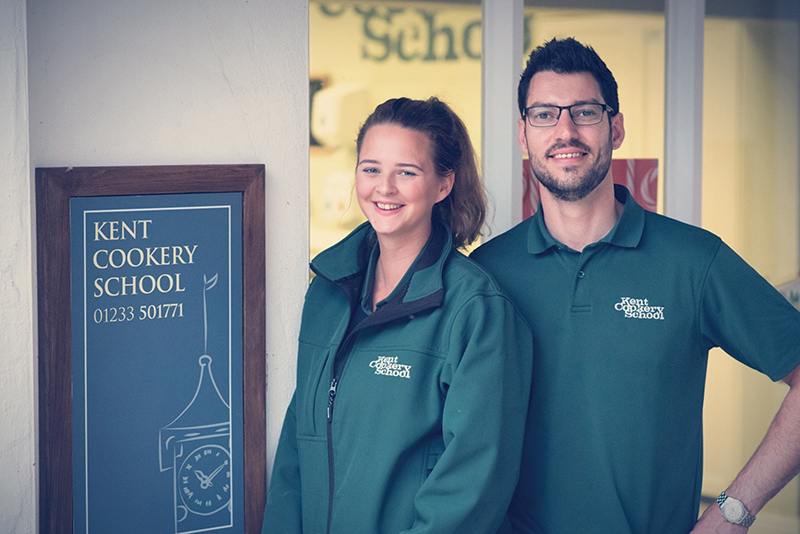 Based in Mersham just outside Ashford, The Kent Cookery School was founded by husband and wife team James and Autumn Palmer Rosser back in 2016. If you've ever joined them on a course, you'll have heard chef James jokingly mention the story behind the school: the couple were on holiday when Autumn asked what their five year plan was: start a business, or have children? James quickly opted for a business – and the pair began a search for something food-led to get their teeth stuck into.
'The Kent Cookery School was the perfect fit for both of us: having worked as a chef his whole life, James now gets to pass on his skills and knowledge – and crack an awful ​'dad joke' every now and again," Autumn laughs, ​"while I get to promote our courses and sample the food!"
The School offers a relaxing and friendly environment for cooks of all ability levels to come and learn – there's a huge range of culinary experiences to be had, ranging from Thai street food classes, Mexican banquets and making your own sushi – to even learning new skills like butchery, knife work and barbequing.
What's your favourite course?
James – ​"Mine would probably be either the Fish Course or the Zwilling Knife Skills – I love getting to teach people important skills, and giving them the confidence to go home and practice."
Autumn – ​"I'd choose the Thai or Dim Sum courses – it's great watching people learn to make new dishes and everything tastes delicious!"
Chef's Top Tip?
James – ​"If you can cook with seasonal ingredients, half of the hard work has already been done by the producers: we just have to pair the right ingredients together and treat the produce with respect. Seasonality is so important for sustainability, but it also means everything just tastes better. "
To book your next course or buy a gift voucher for a present, head to www​.kent​cook​eryschool​.co​.uk or call 01233 501771